Sports roundup: Vikings football uses first quarter onslaught to blow past Cut Bank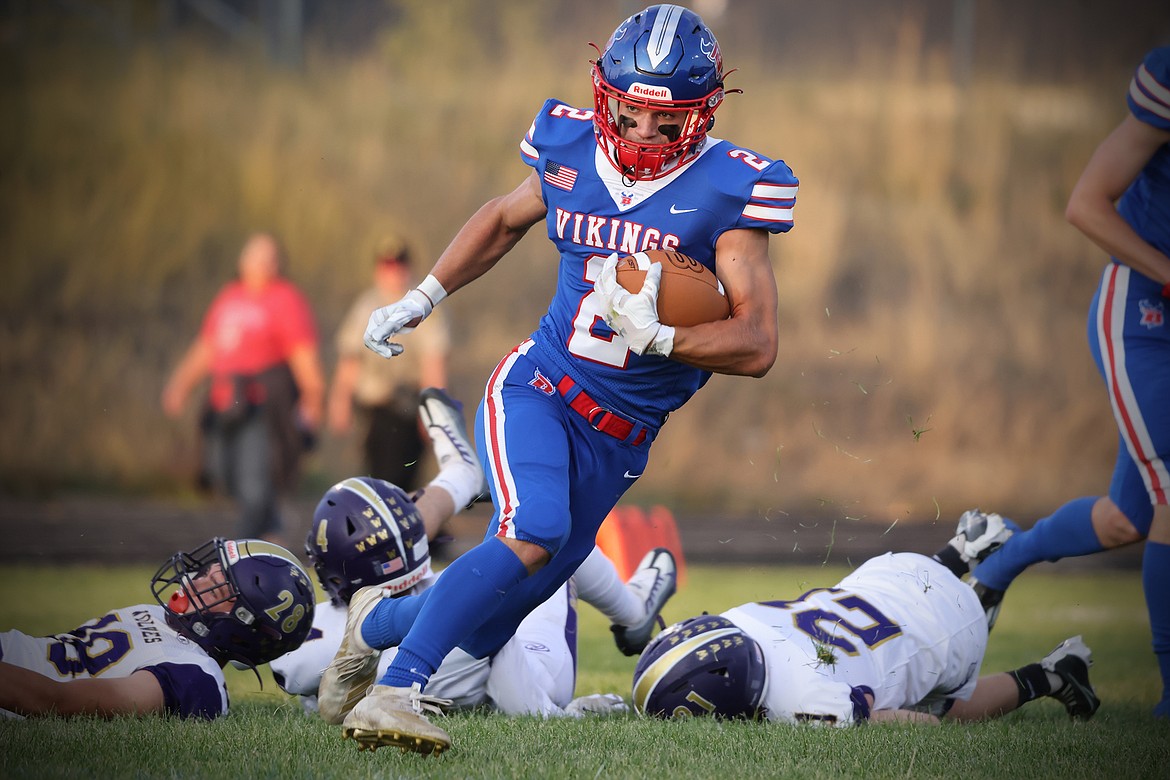 Bigfork's Jackson Nelson leaves Cut Bank defenders in his wake as he returns a punt 65 yards for a touchdown Friday. (Jeremy Weber/Bigfork Eagle)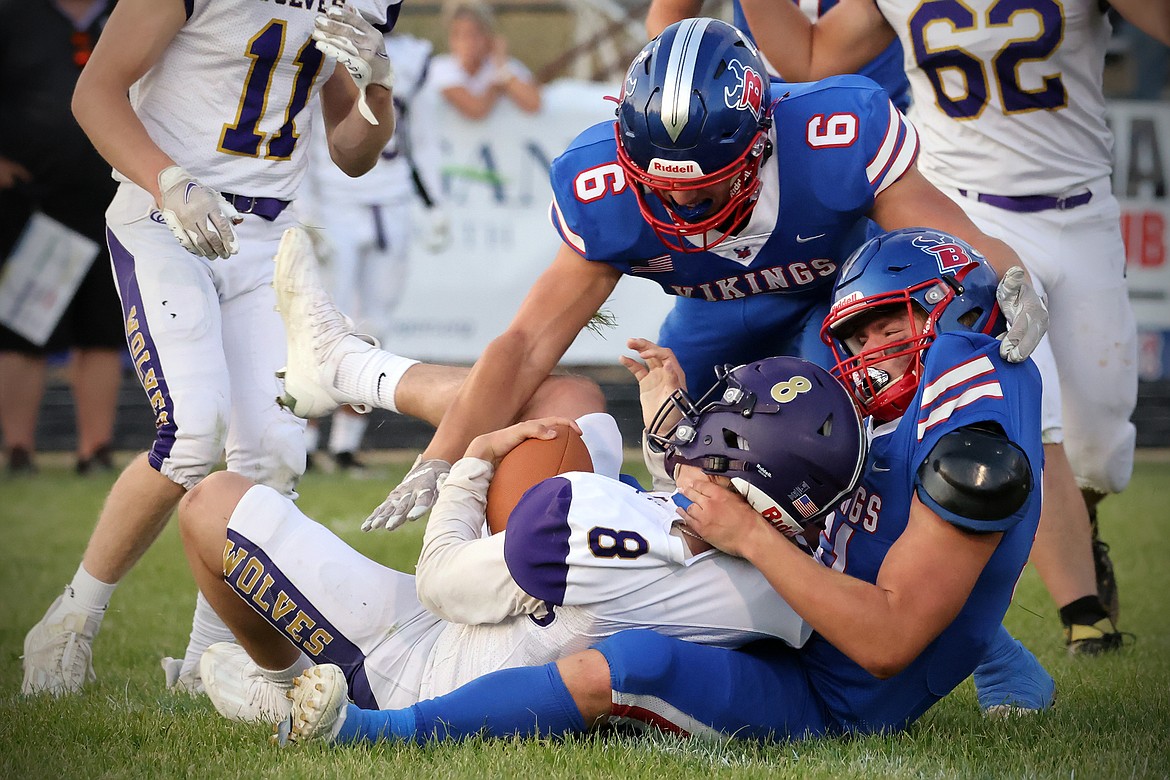 Bigfork's Manny Baldi sacks Cut Bank quarterback Caleb deManigold in the first quarter of the Vikings 54-8 win Friday. (Jeremy Weber/Bigfork Eagle)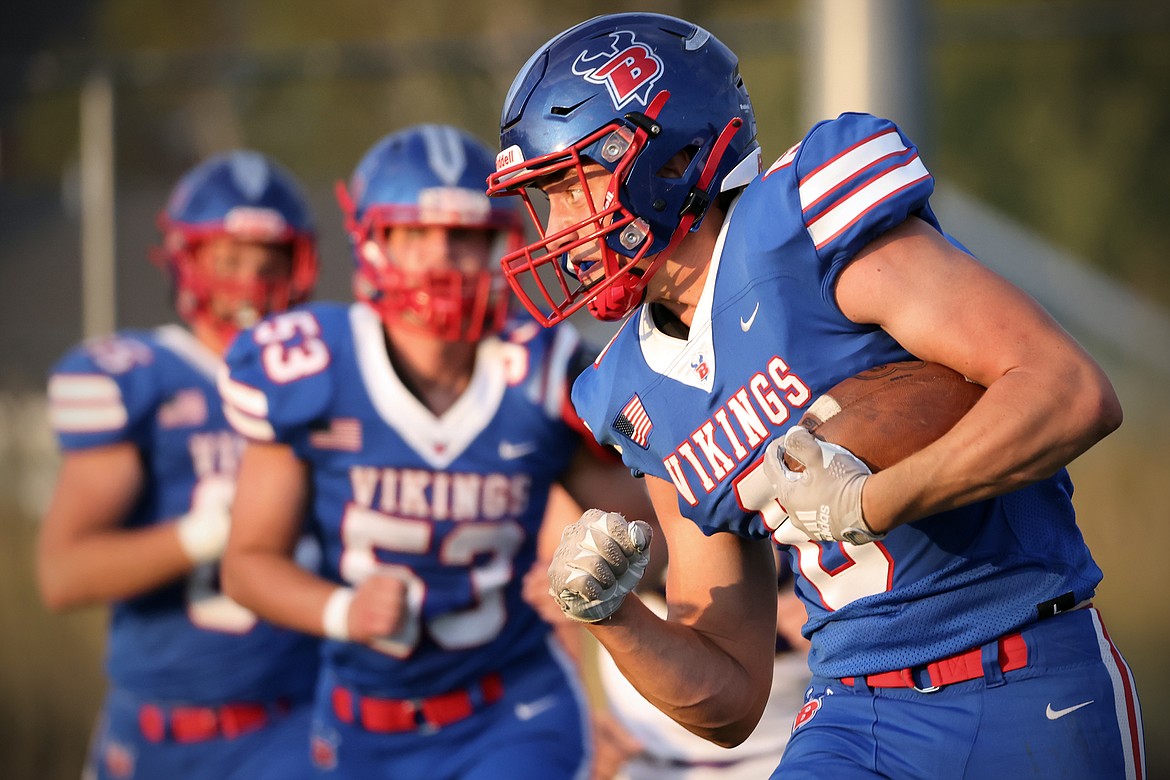 Bigfork's Nick Walker turns upfield for a big gain against the Wolves Friday. (Jeremy Weber/Bigfork Eagle)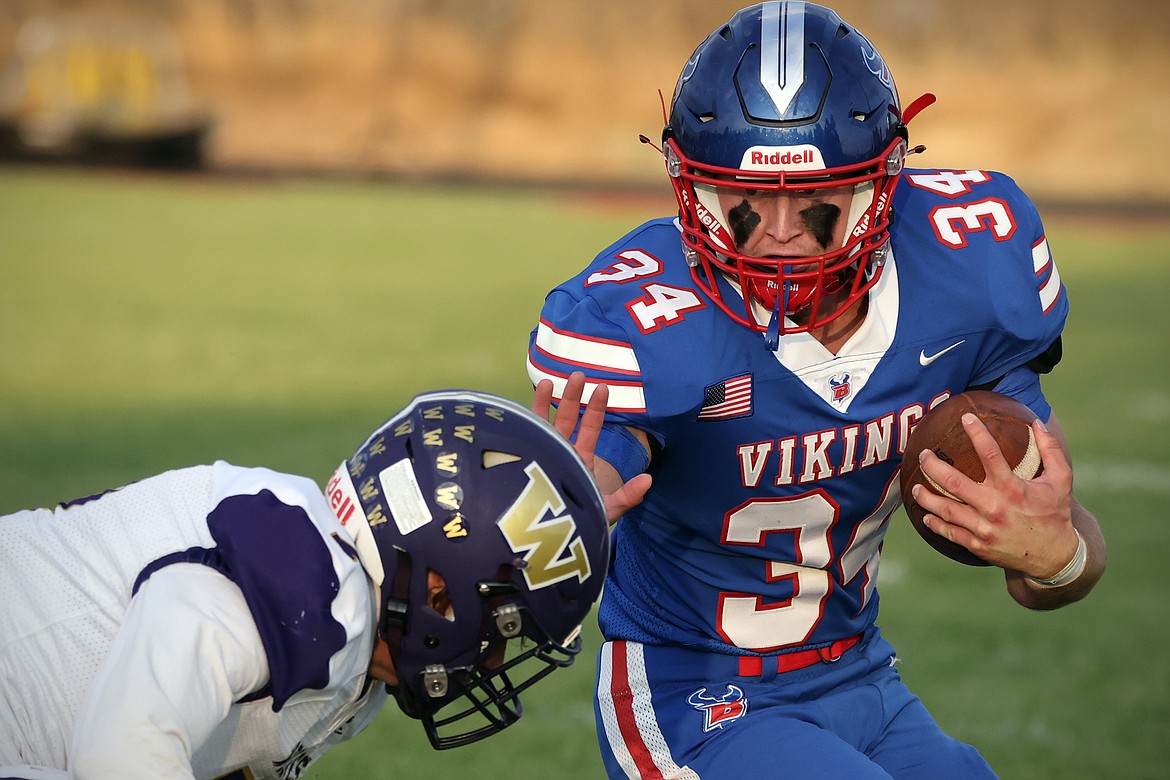 Bigfork runner Joseph Farrier uses a stiff arm to get past a Cut Bank defender in the Vikings 54-8 win Friday. (Jeremy Weber/Bigfork Eagle)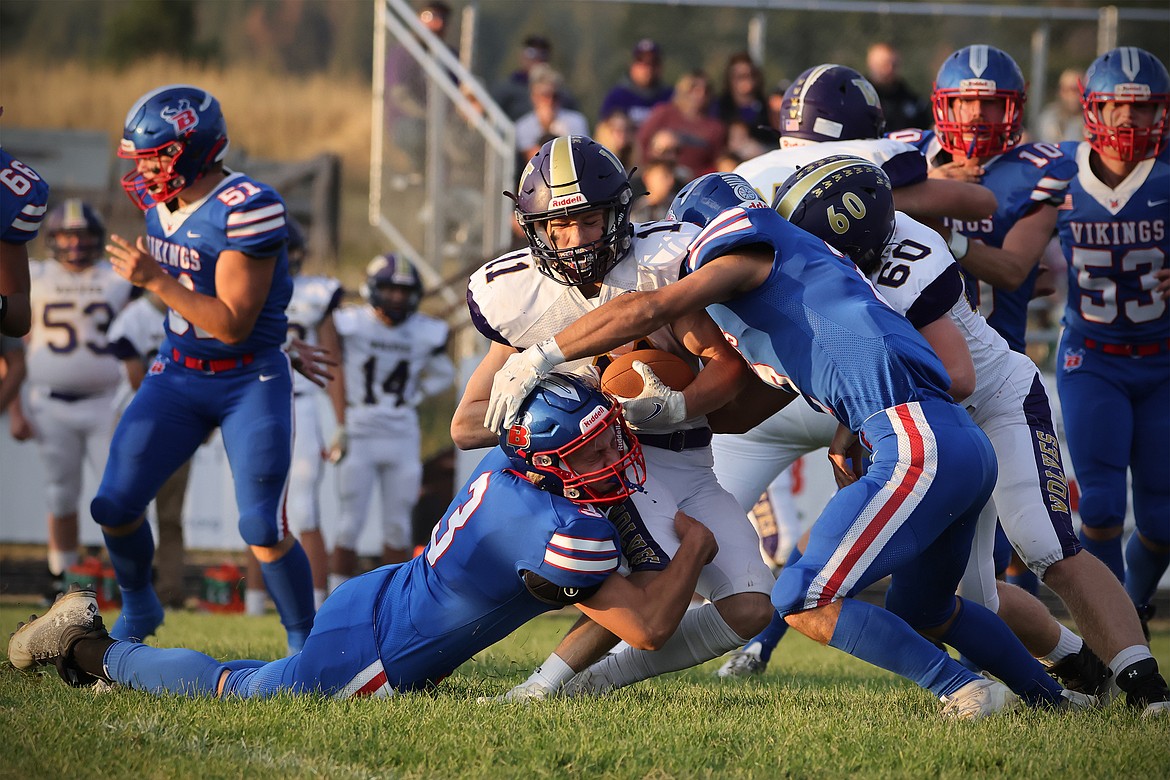 Wyatt Johnson and Jackson Nelson combine to take down Cut bank runner Alex Wahl Friday. (Jeremy Weber/Bigfork Eagle)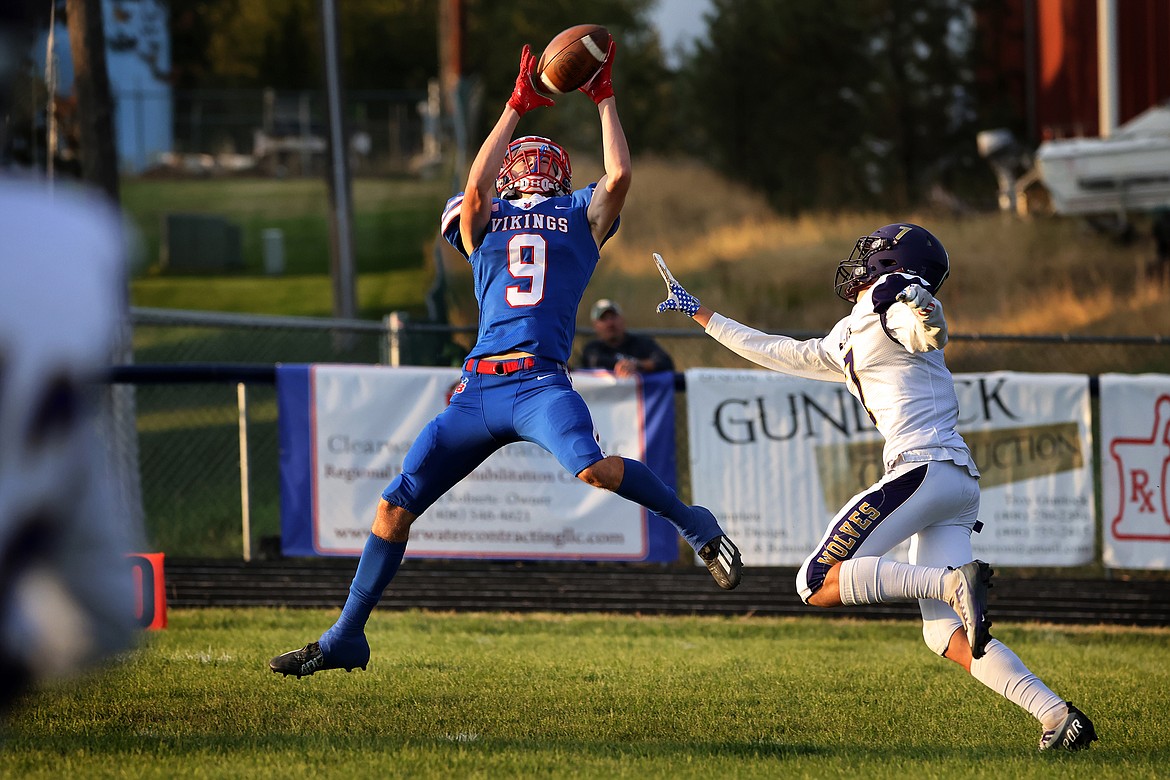 Bigfork's Isak Epperly rises above Cut Bank defender Tate Monroe to make a catch in the Vikings 54-8 win Friday. (Jeremy Weber/Bigfork Eagle)
Previous
Next
by
JEREMY WEBER
For the Eagle
|
September 21, 2022 12:00 AM
The Vikings used a 34-point first quarter to make short work of the visiting Wolves Friday, blowing past Cut Bank for a 54-8 victory.
Bigfork dominated from the opening kick, averaging nearly 10 yards per play in the contest and finishing with 325 yards of total offense while holding Cut Bank to just 190.
The bulk of the Vikings offense came on the ground, with 235 rushing yards, while the stingy Bigfork defense forced the Wolves into a loss of 20 yards on the ground for the evening.
Wyatt Johnson led the Vikings in rushing yards with 84 on just five carries while Joseph Farrier had two rushing touchdowns, Samuel Plummer had one and Jackson Nelson added another.
Vikings quarterback Tristen Herd connected on two of his three passing attempts for 90 yards, including a 38-yard touchdown pass to Cole Knopik and a 52-yard strike to Isak Epperly on Bigfork's first offense play of the evening.
Nelson added two punt returns for touchdowns, one of 65 yards and the other 55. Bryce Gilliard also had an interception return for a touchdown.
The Vikings got a pair of rushing touchdowns from Farrier to go up 13-0 halfway through the opening quarter before three times in the final 4:36 of the period.
Bigfork scored twice in just 14 seconds as Nelson returned a punt from 65 yards out for a touchdown before Gilliard intercepted a Wolves pass for another on Cut Bank's next offensive play.
Nelson added his second punt return for a touchdown with 1:37 to play in the opening quarter as Bigfork led 34-0 after 12 minutes of play.
Herd connected with Knopik for his touchdown with 2:41 to play in the second quarter as the Vikings led 40-0 at halftime.
Nelson and Plummer scored for Bigfork in the second half to push the Vikings lead to 54-0 before Cut Bank scored its only points of the night on the final play of the game.
With the win, the Vikings improve to 3-0 this season.
The team will travel to Thompson Falls this Friday to take on the 0-4 Blue Hawks.
CROSS COUNTRY
Bigfork's cross country runners were in action at the large Mountain West Classic at the University of Montana in Missoula over the weekend, taking 32nd place as a team.
Junior runner Jack Jensen had the best time for the Vikings, finishing 53rd with a time of 17:17.16 while Sean Cotman was 173rd at 18:35.97.
The rest of the Vikings runners had similar times as Bo Madderman was 233rd at 19:05.71, North Nollan was 236th at 19:07.7, Noah Hamilton-Dixon was 238th at 19:07.61, Colton Ballard was 254th at 19:21.27 and Ty Anderson was 266th with a time of 19:33.35.
For the Valkyries, Tabitha Raymon was 142nd with a time of 22:12.81 and Erika Downing was 221st at 23:58.01.
The teams were back in action at the Thompson Falls Invitational Tuesday. Results were not available before press time.
VOLLEYBALL
The Valkyries pushed their regular-season unbeaten streak to six matches this season and nine overall with wins over Mission and Plains last week.
Bigfork got nine kills each from Inga Turner and Zoey Albert as they swept the Mission Bulldogs in St. Ignatius Sept. 13. Ellie Jordt and Ava Davey each had six kills as the Valkyries picked up the win 25-15, 25-17 and 25-18.
Piper Linson had 20 assists to lead Bigfork in the victory and also added six digs, while Bella Ellison also had six digs and Davey added five.
The Valkyries had no trouble with Plains Thursday as the Valkyries blew past the Trotters in three sets, 25-8, 25-12 and 25-10.
Stats had not been made available at press time.
Bigfork was in action at home against Troy Tuesday. Results were not available before press time. The team will be at home Thursday as they host Eureka.
SOCCER
Soccer's matches at Polson were canceled due to poor air quality last week. The Vikes and Vals will play at Whitefish Thursday before hosting Libby Saturday.
---