Closing in on perfection: Valkyries 14-0 with four games remaining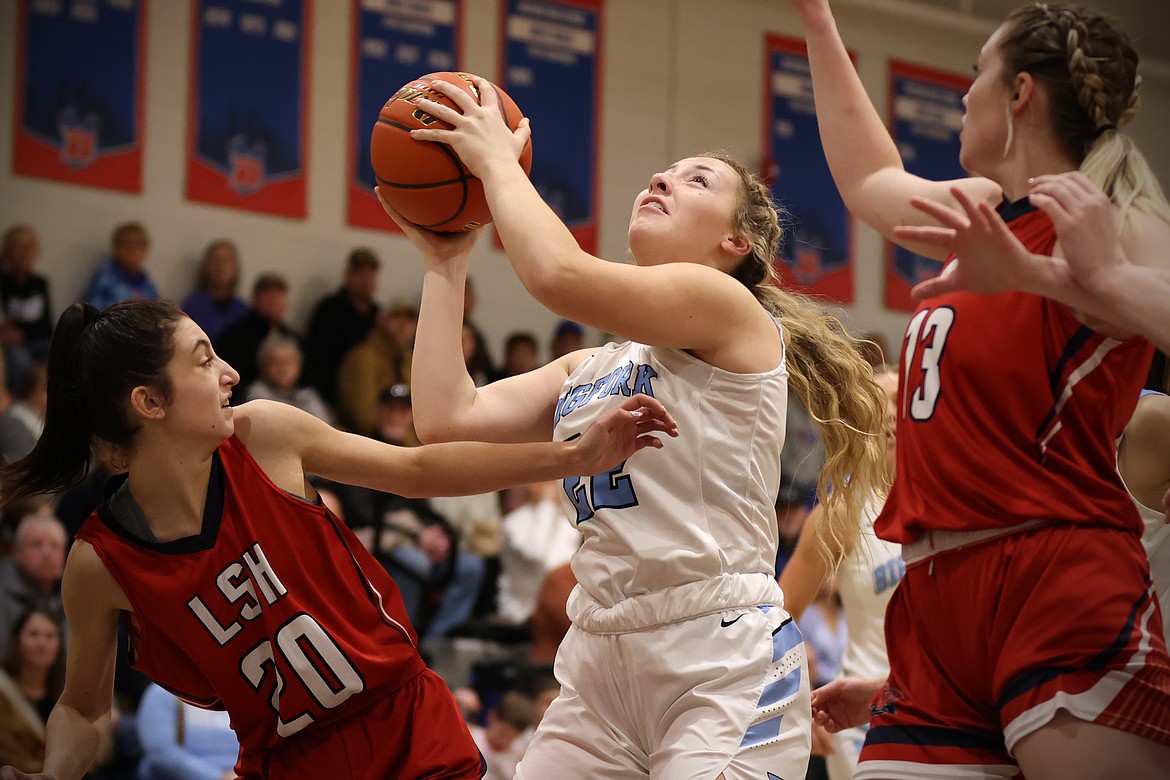 Scout Nadeau goes to the basket during the Valkyries' win over Loyola Jan. 28. (Jeremy Weber/Bigfork Eagle)
by
JEREMY WEBER
For the Eagle
|
February 6, 2023 11:15 AM
The Valkyries pushed their winning streak to 14 games to remain perfect on the season last week, picking up victories over Columbia Falls and Loyola.
Loyola kept pace with the Vals through the first 11 minutes in Bigfork Saturday before the Valkyries pulled away in the second half to down the Breakers 68-33.
Bigfork led 12-6 after one quarter of action, but a three from Loyola's Addie Nault tied the game at 17-all with 5:08 left to play in the first half.
The Valkyries responded with a 13-0 run to close out the second quarter and took a 30-17 lead into the break.
It was all Valkyries in the second half as Bigfork outscored Loyola 40-16 and led by as many as 40 before setting for a 35-point victory.
Paeten Gunlock put in four 3-pointers on her way to a game-high 18 points and added eight assists, six steals and four rebounds in the win while Braeden Gunlock scored 15 points, pulled down 12 boards and added five steals.
Scout Nadeau also scored 15 along with four rebounds and three steals.
Maddie Chappuis put in nine points for Bigfork and added five rebounds and five steals while Callie Gemabala had six points and four rebounds and Ava Davey had five points and five steals.
The Valkyries had little trouble with Class A Columbia Falls on the road Tuesday as Bigfork scored the game's first 19 points on the way to a 58-26 victory.
Bigfork led 19-3 after one quarter and 45-17 after three quarters.
Braeden Gunlock led a balanced scoring attack with 14 points and added 13 rebounds while Davey scored 11 along with four assists and Paeten Gunlock had 11 points, eight assists and five steals.
Nadeau finished with seven points and five rebounds, Gembala had five points and six boards, Chappuis had three points and seven rebounds, Afton Lambrecht added three points and Anika Ranson and Ellie Jordt each scored two.
Bigfork had 20 assists on 23 made field goals in the win and pulled down 39 rebounds.
The Valkyries were at Plains after press time Tuesday and will celebrate Senior Night at home against Troy Thursday before traveling to face Polson Feb. 7.
---