Unbeaten & Unstoppable: Valkyries closing in on perfect regular season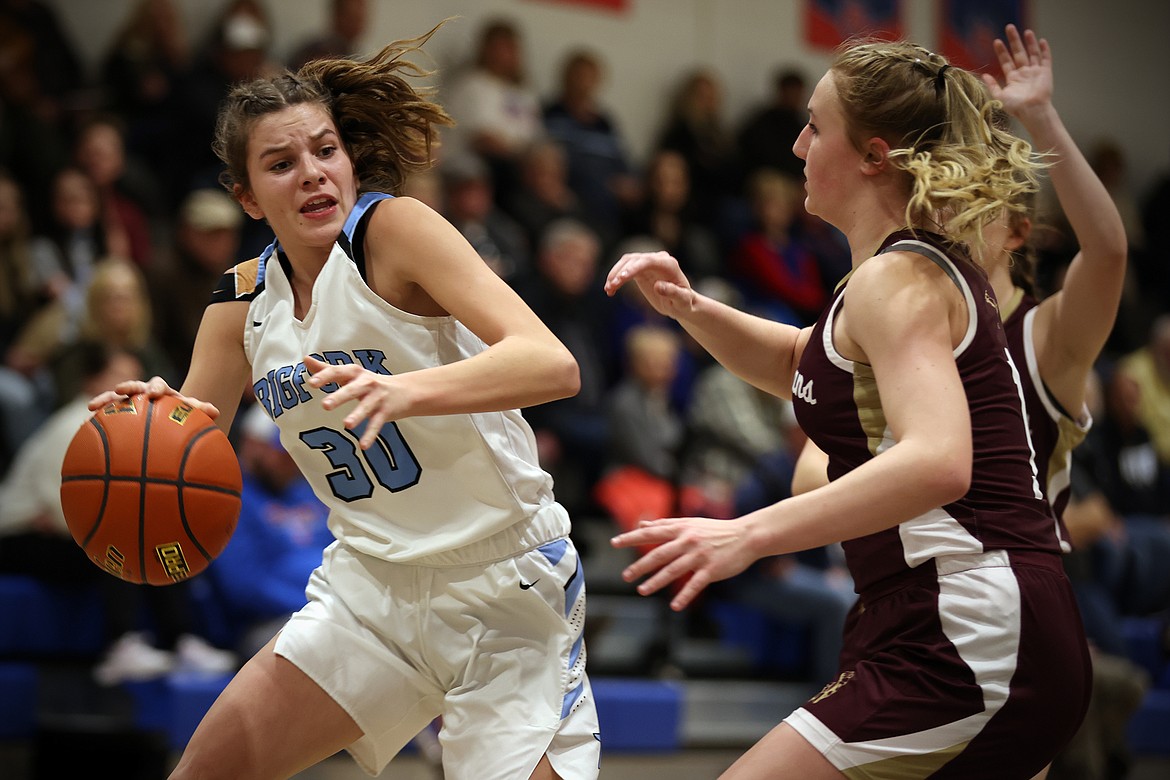 Ellie Jordt drives to the basket against Troy. (Jeremy Weber/Bigfork Eagle)
by
JEREMY WEBER
For the Eagle
|
February 14, 2023 2:55 PM
The Valkyries continued their regular-season dominance last week, improving to 16-0 with lopsided wins over Plains and Troy.
Keni Wade and Callie Gembala combined to score 22 of Bigfork's 24 bench points in Plains Jan. 31 as the Valkyries cruised past the Trotters, 69-8.
The Valkyries finished with four players scoring in double figures as Bigfork jumped out to a 20-0 lead after one quarter and never looked back on the way to beating Plains by 61 points for the second time this season.
Bigfork's half-court defense was stifling, as usual, as the Valkyries finished with 26 steals in the contest while the offense recorded 20 assists on 31 made baskets.
Scout Nadeau had 15 of Bigfork's 34 rebounds in the win with 13 coming on the offensive end while Maddi Chappuis added eight.
Braden Gunlock was the game's leading scorer with 18 points and added eight steals while Nadeau added 13 points and seven steals.
Chappuis finished with nine points, Paeten Gunlock scored five and Anika Ranson had two points for the Valkyries.
The Valkyries came close to surpassing the century mark at home Thursday as they dismantled Plains 98-18.
Chappuis and Braeden Gunlock each put in 17 points to lead six Bigfork scorers in double figures with Braeden adding nine assists, eight steals and six rebounds.
Paeten Gunlock knocked down a pair of threes and scored all 15 of her points in the first quarter as Bigfork built a 33-3 lead.
Gembala pulled down seven rebounds and also scored 15 for Bigfork while Ellie Jordt finished with 14 points and 10 assists.
Keni Wade put in a pair of threes and finished with 10 points, Nadeau scored seven and added eight steals and six rebounds and Afton Lambrecht had three points.
The Valkyries got a scare in the third quarter when Paeten Gunlock left the game after getting the wind knocked out of her while diving for a loose ball, but she was doing well after the game.
The Vals were on the road at Class A Polson after press time Tuesday and will close out the regular season at home against Thompson Falls Thursday at 7 p.m.
---