District domination: Unbeaten Valkyries cruise to 7B district title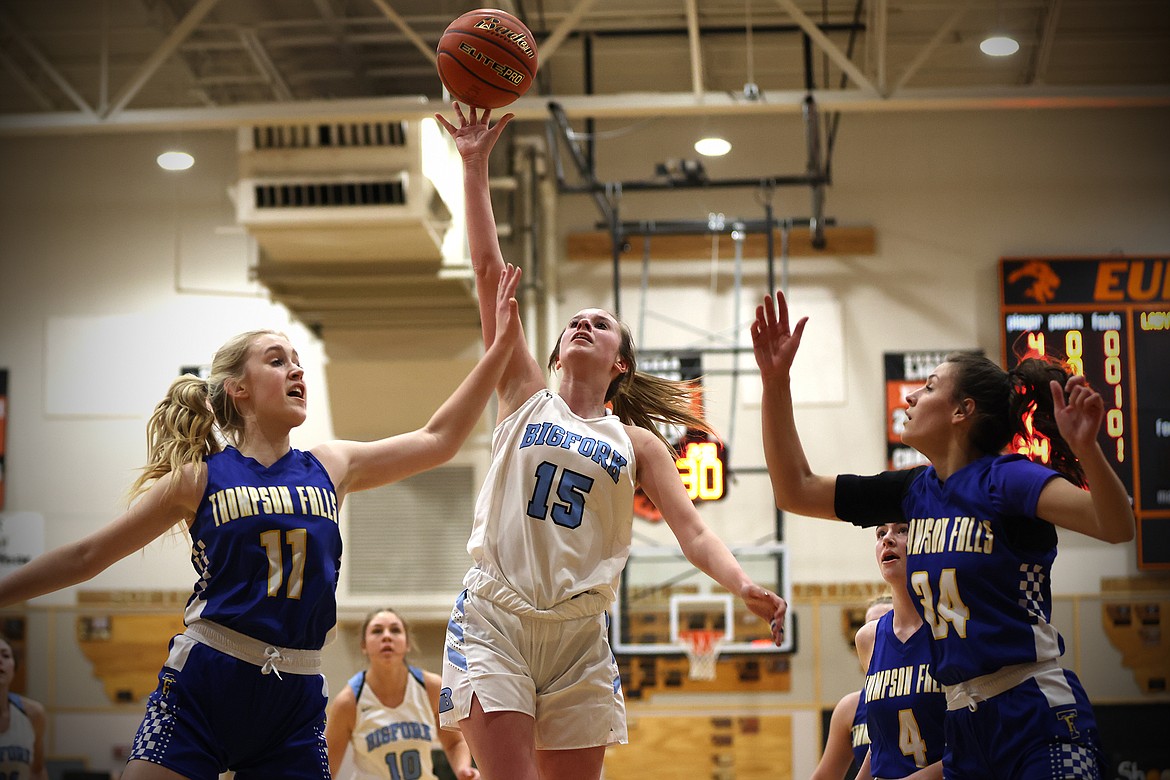 Ava Davey soars past the Thompson Falls defense for two points in the 7B District Title game in Eureka Saturday. (Jeremy Weber/Bigfork Eagle)
by
JEREMY WEBER
For the Eagle
|
February 22, 2023 10:10 AM
The Valkyries had no trouble remaining undefeated over the weekend as Bigfork cruised past Eureka and Thompson Falls to earn the 7B District Tournament Championship and a No.1 seed at this weekend's Western B Divisional Tournament in Anaconda.
It was business as usual for the Vals in the semifinal Friday as Bigfork used smothering defense to collect 25 steals from Eureka in a 68-8 victory.
The Valkyries put in layup after layup in the opening eight minutes to grab a 19-2 lead after one quarter and took a 41-8 lead into halftime.
It was literally all Bigfork in the second half as the Vals held the Lady Lions scoreless while putting in 27 more points to win by 60.
Braeden Gunlock finished 8-for-12 from the field and scored 15 of her game-high 19 points in the first half to lead the Valkyries while also adding five steals and four rebounds.
Scout Nadeau score nine for the Vals, Maddi Chappuis added seven points, Ellie Jordt and Keni Wade each had seven points, two assists and two steals, Ava Davey finished with six points and five steals, Patten Gunlock added six points on a pair of threes, Anika Ranson scored four, Afton Lambrecht had three points and Callie Gembala had five rebounds, three steals and two assists.
The Lady Hawks did not fare much better against the Valkyries in the championship game Saturday as Bigfork held Thompson Falls to just 12 points in a 51-12 victory to earn the district title.
Bigfork jumped out to a 16-5 lead after one quarter and led 30-7 at the half en route to the win.
Braeden Gunlock was again the leading scorer with 13 points and added seven rebounds and three assists while Nadeau finished with 11 points and four rebounds.
Davey finished with seven points, three assists and three steals, Chappuis had six points, eight rebounds and five steals, Patten Gunlock scored six, Wade had four points and Gemaba and Jordt each scored two.
The Vals will open the Western B Divisional Tournament in Anaconda at 3 p.m. Thursday as they take on Deer Lodge, a team the Valkyries defeated 72-12 Jan. 7.
The Wardens finished fourth in the 6B District Tournament by defeating Arlee before dropping lopsided contests against Anaconda and Florence-Carlton.
Other Friday matchups at the tournament include District 6B top seed Loyola against Eureka, Thompson Falls vs Florence Carlton and Mission taking on Anaconda.
---