Chimney fire near Bigfork torches part of house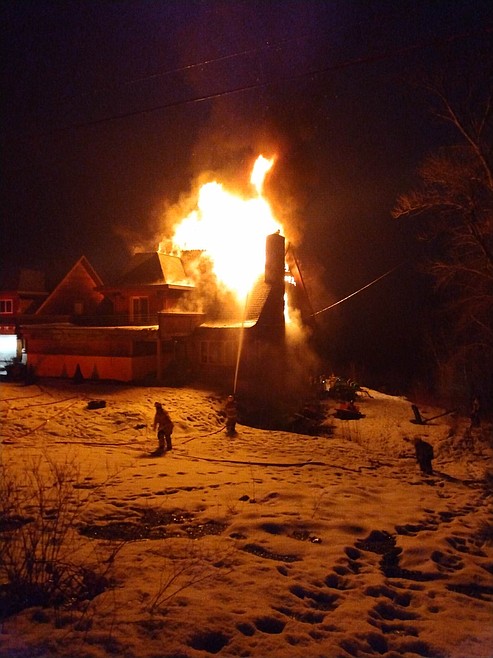 A home off of MT 35 burns after a chimney fire is discovered on Monday night. (photo courtesy of Bucky Steinke)
by
TAYLOR INMAN
Bigfork Eagle
|
January 17, 2023 1:00 PM
Residents of a home on Montana 35 are safe after a Monday night chimney fire left much of their house torched.
Bigfork Fire Chief Jeremy Patton said a Lake County Sheriff's Office deputy noticed flames originating in the home's chimney while driving by the house Jan. 16. Residents Sean and Cindy O'Dell were inside but unaware of the growing blaze.
The deputy assisted them and their pets out of the home with the exception of one cat. During fire suppression efforts, Lt. Sean Reffner helped find and rescue the missing feline, which was taken to the ambulance and given first aid by Ferndale and Bigfork emergency responders. On Tuesday, Patton said he received word the cat is expected to make a full recovery.
Flames were shooting through the roof when Bigfork Fire arrived about 5:30 p.m. Crews mounted interior offensive and exterior fire attacks.
Bigfork received mutual aid from the Ferndale and Finley Point fire departments.
Firefighters were on scene until 1:30 a.m. The cause of the fire remains under investigation.
Patton said the structure was not a total loss. Though there is extensive damage to parts of the home, some areas are relatively untouched.
A GoFundMe was set up for the O'Dells by neighbor Bucky Steinke. He said that Sean O'Dell is recovering from a recent hip surgery and that the couple has lived in the house for 35 years.
---