Bigfork School Board approves purchase of electric bus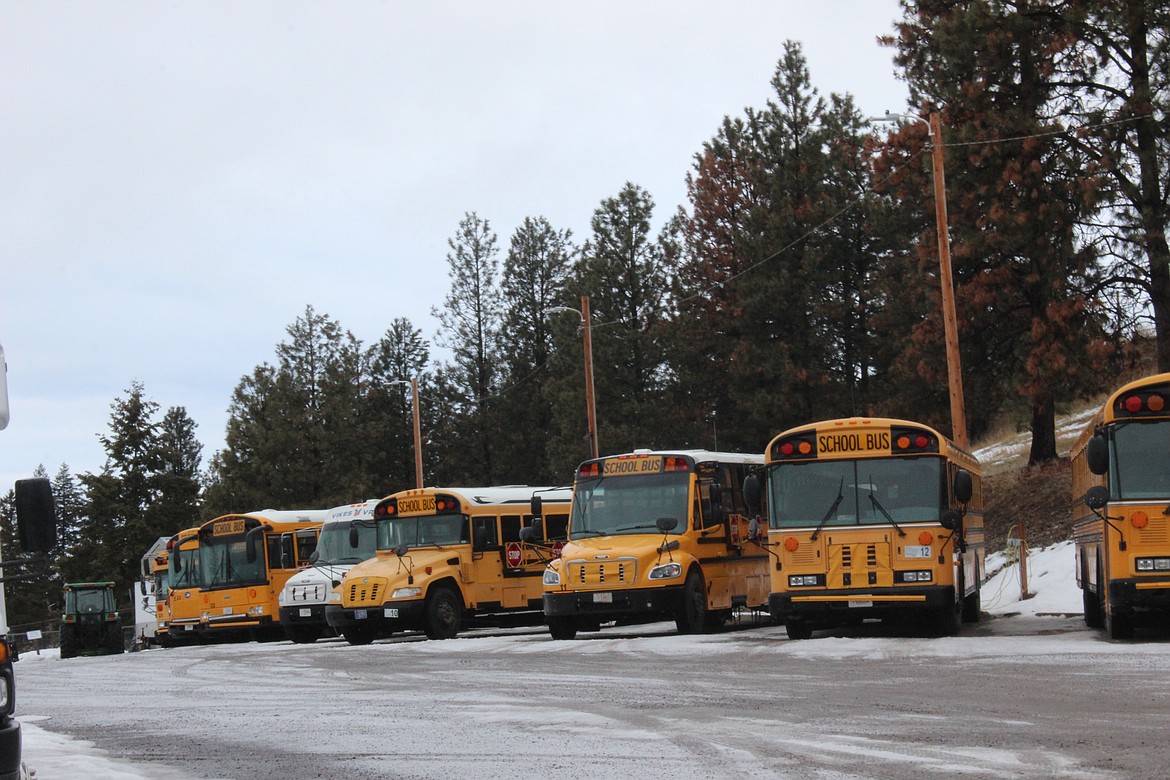 Bigfork Schools was awarded $375,000 for an electric bus in 2022 through the Environmental Protection Agency's Clean School Bus Program. (Taylor Inman/Bigfork Eagle)
by
TAYLOR INMAN
Bigfork Eagle
|
January 18, 2023 12:00 AM
Bigfork Schools are taking advantage of a grant which aims to help districts move towards clean energy buses.
The Bigfork School Board unanimously approved the purchase of an electric bus at their monthly meeting on Jan. 11. The district was awarded $375,000 for an electric bus in 2022 through the Environmental Protection Agency's Clean School Bus Program.

Transportation Director Danny Walker said after researching a few different electric bus companies, he recommended purchasing a 71 passenger bus from Lion Electric. The cost of the bus matches the grant they received and that the charging infrastructure would cost $20,370. Walker said the EPA program would cover $20,000 of the cost for the charging infrastructure, leaving the district with an out-of-pocket cost of $370.
Walker said a requirement to receive the grant is to take one of their diesel buses completely off the road. Bus 12, a 2010 Bluebird with 105,000 miles on it, will be headed towards the scrapyard.
"It goes to Treasure State (metal recycling) where they cut the frame in half, show documentation that is disabled and they punch a hole in the block … Then it will probably go into the junk yard across the street from them for parts," Walker said.
Walker estimates they should be receiving the bus around summer time. He said they are not getting a stock vehicle, so there will be a small delay. Some of these non-stock options they are receiving include an extended stop arm, cameras, seat belts and Onspot chains.
Superintendent Tom Stack said Walker visited Havre School District, which recently purchased two of the same buses. It took a while for the buses to hit the road, but they ran well during December's cold snap.
"They ran them when it was super cold for Christmas. It was -42 over there without a wind chill, they ran great— no issues," Walker said.
Stack made this comparison to their diesel buses, which can experience issues during frigid temperatures.
Board trustee Christina Relyea asked why he preferred Lion over International, another electric bus company with the same price point. He said it came down to the build and the batteries— Lion started out producing electric buses, while International built diesel buses and are now converting them into electric. For International, batteries are covered under an eight year warranty, but cost $100,000. Lion batteries cost $30,000.
Trustees unanimously voted in favor of purchasing the bus.
In other board news, trustees heard requests from Stack about various maintenance projects needed in the schools.
For sewer line repairs at the high school and elementary school, he asked the board for $30,000 and $13,000 respectively. Stack said they had a crack in the sewer line at the elementary school and the high school had three pipe breaks.
Relyea asked if this could be an insurance claim, to which Stack responded that there's potential to file a claim. He said one reason the repairs are pricey is because the schools do not have a crawl space, which would make it easier to access pipes.
Trustees voted unanimously to repair the sewer lines at the high school and elementary school.
Stack also asked for the board to allow them to start officially asking for bids regarding the replacement of an elevator in the elementary school and a boiler in the elementary school. He said it's recommended that boilers be replaced after 20 years and their current boiler is nearing that age. Preliminary bids he gathered totalled from $106,000 to $134,000 per boiler.
Stack said the elevator in the elementary school needs to be replaced because of changing regulations, making it noncompliant. The preliminary bid for the elevator was $127,000.
Trustees unanimously voted to allow Stack to start getting bids for the projects, which will be brought to the board at a future meeting.
The next Bigfork School Board meeting will be Feb. 8 at 5 p.m. in the high school library.
---