NEW BOUTIQUE BILLS ITSELF AS 'LIFESTYLE SHOP'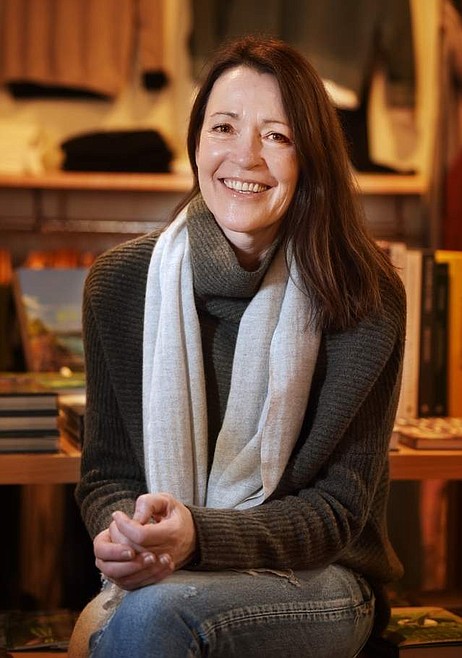 Kathleen Hennen, owner of Bigfork Design in her store on Electric Avenue on Tuesday, Oct. 22. Bigfork Design contains a varied collection of items from furniture and cutting boards, which Hennen makes herself, to clothing, books, vases and more.
by
BRET ANNE SERBIN
For the Eagle
|
November 3, 2019 12:00 AM
Everything is by design at a new boutique shop on Electric Avenue. Kathleen Hennen hand-picks or hand-makes all of the products she sells at Bigfork Design, with items ranging from tables to T-shirts. "I really want to believe in what I buy," she said. "I won't sell anything I wouldn't have in my own home."
With this mentality, Hennen has filled her store with a menagerie of home goods, apparel and accessories. She calls it a "lifestyle shop."
"I have a little of everything," Hennen said as she made her way through the assortment of cutting boards, crystal-ware and cardigans.
But she emphasized, "the main thing we do in here is wood furniture."
Hennen and Rob Taynton make all of their wood products by hand in their studio north of Bigfork. Even the checkout counter at Bigfork Design is one of their own creations. "When we put our heads together, we come up with really cool things," she said.
Taynton is generally the full-time woodworker of the pair, while Hennen splits her time between the store and the wood studio. She said she spends time in the wood shop on her days off and every other work day.
The self-proclaimed "Minnesota farm girl" got her woodworking start at a Scottsdale, Arizona, boutique hotel she and Taynton built "from the ground up." After more than a decade of building furniture, they insist they can bring to life almost any design using diverse woods, metals and their own creativity.
This resourcefulness is on display in products like their cutting boards, which are made out of wood scraps left over from their larger furniture pieces. "They're a big seller," Hennen reported.
Since the store debuted in June, the other top seller has been the clothing. Hennen estimated apparel makes up about a third of Bigfork Design's inventory. She picks their brands and styles at trade shows around the country, and the store currently carries high-end brands including Velvet, 360 Cashmere, Moussy and many others.
Her approach to clothing—like everything else in the store—is deliberate. "There are so many stores that cater to the visitor. I want to bring stuff to Bigfork that's not currently here," she explained.
The resulting style of her clothing lines is not particularly Montanan. Instead, she described the pieces she carries as "really classic," with mostly solid colors, comfortable fabrics and traditional styles.
"I want to appeal to a wide range" of customers, she explained. "I'm not really catering to a certain age group. You could see 16-year-olds and 75-year-olds wearing this stuff."
She added, "We really have all price points." The most important aspect for her is the feel of all of her items. When you walk into her store, "you want to touch things, from the wood to the clothing."
After the store's first few months, Hennen is impressed by the community support for local businesses and excited to introduce new products like Aloe yoga apparel in the coming months. "The more I'm in Bigfork, the happier I am that we ended up here," she said.
Bigfork Design is located at 565 Electric Avenue. The store is open 11 a.m. to 4 p.m., Tuesday through Saturday.
Reporter Bret Anne Serbin may be reached at bserbin@dailyinterlake.com or 758-4459.
---