Business
Looking for recent business news? Here you'll find all of the breaking and daily business news articles.
Updated 12 months ago
Everything is by design at a new boutique shop on Electric Avenue. Kathleen Hennen hand-picks or hand-makes all ...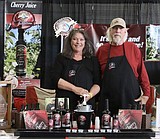 Updated 1 year ago
Susan and Gary Snow have poured just about everything into their cherry juice, and after more than a decade of operating Tabletree, they are finally seeing t...
---