Golden Triangle Brewing Co. ready to make new home in Bigfork
by
TAYLOR INMAN
Bigfork Eagle
|
February 15, 2023 12:00 AM
Golden Triangle Brewing Co. owners Brandon Roberts and Stacia Fuzesy say they are happy to be closer to family in the Flathead and are excited to work with local farmers to get the best quality ingredients for their craft beers.
A love of good beer led the couple to open up their brewery in 2017 after having a landscaping business in Bigfork. Landscaping paid the bills, but it wasn't really their passion. Fuzesy said one Father's Day she bought Roberts a home brewing kit on a whim and soon he developed a penchant for what he calls "culinary science." Melding different flavors together to create new and interesting beers became his favorite hobby and not long after, Golden Triangle Brewing Co. was born— but not in Bigfork.
They chose Fort Benton as a more affordable option to open their dream brewery. In a historic building right off of the Missouri River, it was here they developed their beers with the help of local farmers. Roberts began working very closely with them to source ingredients and get ideas for brews.
"I've sat in the combine and helped them with harvest wheat, which goes into a lot of our wheat beers. We take it over to Farm Power Malt over in Power, Montana … So besides the yeast coming from labs along the west coast, we are pretty much 100% Montana ingredients in all of our beers across the board," Roberts said.
He said they are able to do this because they are a smaller brewery. They have around four to six recipes for beer, including their most popular, the Jalapeno Honey Hefe (Heferwizen.) The jalapeno flavor sails through coupled with the sweetness of local honey. It's actually not spicy, says Roberts. But it was a beer he never expected to make, so he didn't put a lot of stock into it at first. It was a friend from one of their farming partnerships that convinced him.
"Farmer Dean Bomgardner tried the jalapeno beer and he just basically bugged me until I brewed a batch and it was a hit. The recipe and everything has never changed, so we got really lucky with that. It won 'Bell of the Ball' at the 2021 Bigfork Brewfest, I believe," Roberts said.
Fuzesy said Roberts is a perfectionist when it comes to beer and is always looking to improve on a product.
"He's a little scientist that gets to play and add these ingredients and see what comes out. He just really enjoys it, it's like a little kid in a science lab," Fuzesy said.
Last week, they got a delivery for two new tanks at their new home in the old Whistling Andy's building off of MT 35. Excited to get back to Bigfork, they are increasing their equipment to brew for a larger crowd of customers this summer.
Roberts said they are seeking an all beverage license to be able to serve all different types of alcohol in their new location. The front of the building will be a more traditional style pubhouse with the brewery in the back, where customers will also be able to sit and enjoy a beer.
Fuzesy said she's excited to work on showcasing different Montana breweries and distilleries in the pub up front, which will be called The Nimble Goat. She said along with a rotating tap, she would like to see representatives from other breweries stop by and give presentations on their processes.
"Because a lot of people enjoy the beverage that's in front of them, but don't know the process of 'what made you put this in here? What made you do this?' I think it's just a good opportunity for the public to get to reach out to these people that they don't normally talk to," Fuzesy said.
Fuzesy said she and Roberts are also interested in finding ways to give back to the community. At their Fort Benton location, they often worked to raise funds for their local animal shelter and plan to continue with shelters here in the valley. She said they'd also like to highlight other area nonprofits.
"Nonprofits trying to get awareness for anybody that needs assistance and helping them raise money in a fun way for them and trying to do something different, like game nights and events— especially in the wintertime for the community so they have stuff to look forward to," Fuzesy said.
Roberts is also fleshing out a mug club membership called "The Wayfarers," where participants can get $2 beer for an entire year. He said he would like the club to be more than just a way to get discounts and wants to incorporate community service too.
"If there's something the Wayfarers can help out with, you know, like just going down and doing beach cleanup … I'd like to see a membership that not only enjoys beer, but enjoys giving back as well," Roberts said.
Golden Triangle Brewing Co. has been a staple of Bigfork Brewfest for several years. Fuzesy said they are planning on volunteering this year since they are busy setting up and brewing for the summer season and cannot have a booth.
Along with setting up their new space, Roberts and Fuzesy will be focusing on doing their favorite thing— brewing beer.
"There's almost infinite variables within the brewing process to change things up. So I think just having some of that creativity for Stacia and I, it was definitely something that was important and meaningful that we wanted to pursue. So being able to have this brick and mortar space in Bigfork, it's just super cool," Roberts said.
He said they plan to have a soft opening in May and would like to have a grand opening event sometime in June. For more information about Golden Triangle Brewing Co., check out their website goldentrianglebrews.com.
Bigfork Eagle Editor Taylor Inman can be reached at 406-758-4433 or by emailing tinman@dailyinterlake.com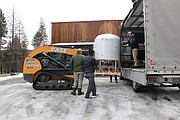 ---