New food truck brings Asian cuisines and fusion dishes to downtown Bigfork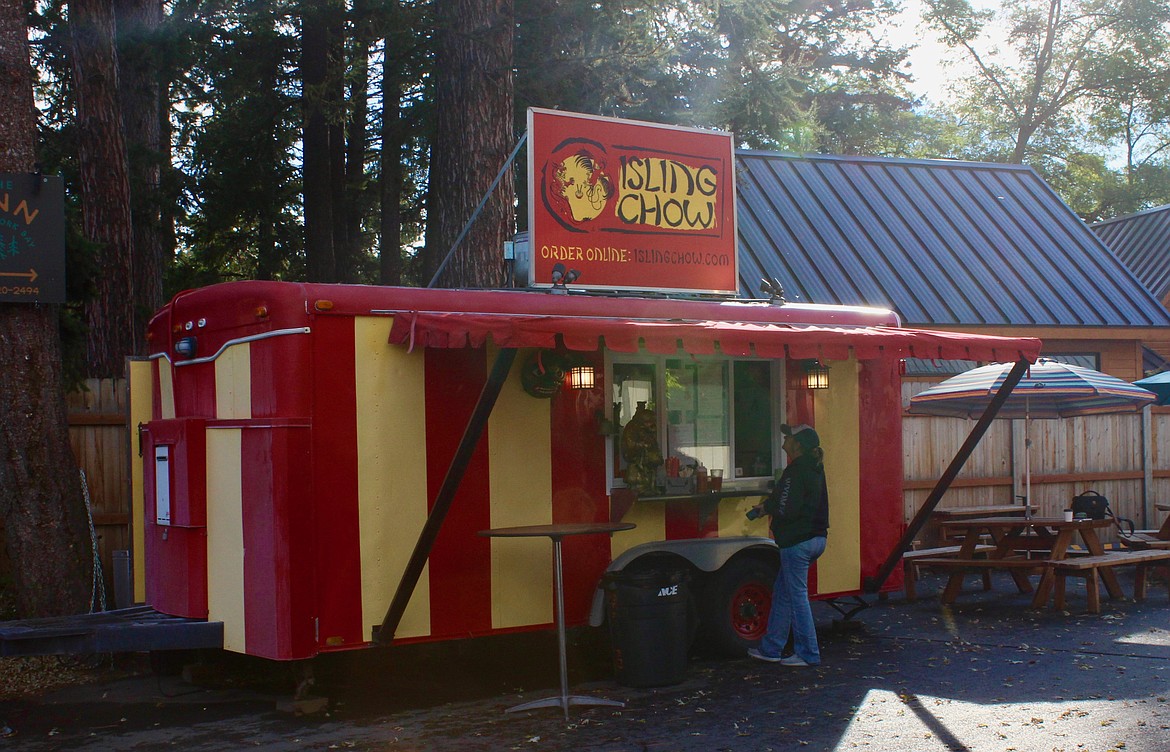 Isling Chow serves different kinds of Asian dishes and has been a popular destination since opening this past summer. (Taylor Inman/Bigfork Eagle)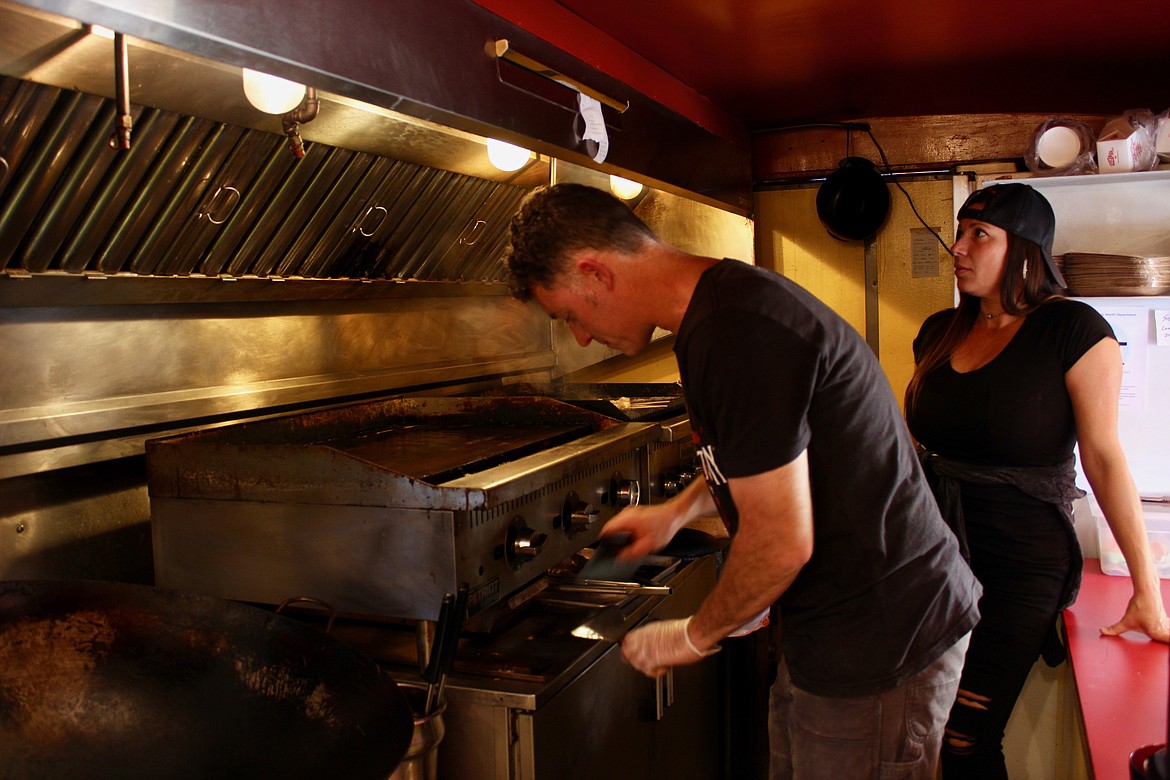 Isling Chow owners Issac Incoronato and Nora Batiz work in the food truck on September 29, 2022. (Taylor Inman/Bigfork Eagle)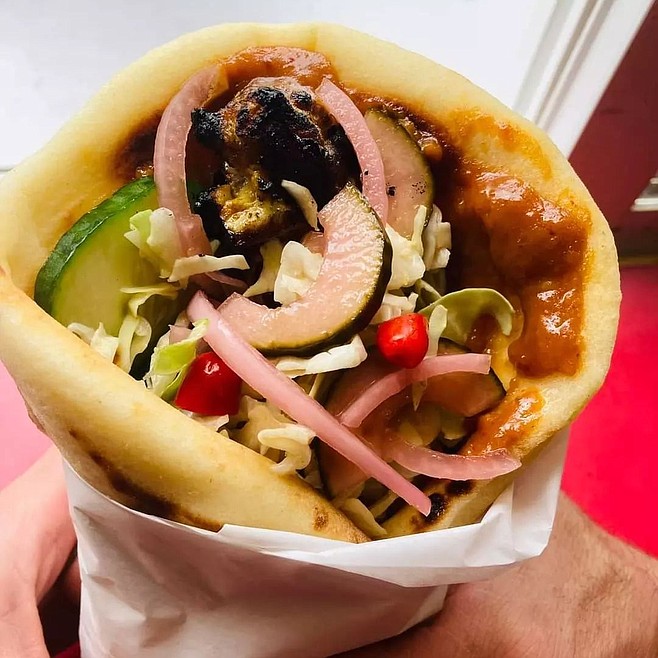 Isling Chow's Thai chicken wrap, which includes grilled marinated chicken satay, home made peanut sauce, sliced cucumber, nan pla prik, Japanese slaw all wrapped in grilled Indian naan. (photo provided)
Previous
Next
by
TAYLOR INMAN
Bigfork Eagle
|
October 5, 2022 12:00 AM
Isling Chow owners Issac Incoronato and Nora Batiz have a deep love for many different kinds of Asian cuisines. The couple is keeping customers coming back for their extensive menu and convenient location, but they have dreams to incorporate more foods from cultures all over the world in their restaurant on wheels.
Since running The Village Roost restaurant together in downtown Bigfork several years ago, Incoronato and Batiz have started a family. They now own The Roost Lodge in Somers and have been working on building out their commercial kitchen in order to facilitate this dream, which Incoronato said has been in the works before he and Batiz started dating. Tired of working in construction, he said he was ready to make a return to the restaurant scene. But, just because it's small in size doesn't mean running a food truck is any easier than his days at The Village Roost.

"Our food truck is no different than a full restaurant in the sense that we have the back kitchen, which is located at our lodge out here … It's everything that any of the big commercial kitchens in the valley have. We basically have to prep everything here and take it to the food trailer. So, that's one step that restaurants don't have— is the transportation of their product back and forth from one kitchen to another. We also have the seating like any other restaurant that has indoor and outdoor, plus alcoholic and non-alcoholic beverages. So, if you look at it, we are more of an Asian restaurant than just a food truck," Incoronato said.
Growing up in Japan and Taiwan, Incoronato said cooking those foods has always been one of his passions. When he met Batiz and introduced her to the dishes he loved, it was a natural fit, and in no time she was a great chef of Asian cuisine.
Batiz said she grew up impoverished and didn't always have access to the foods she wanted to eat. But, she has a lifelong love of cooking that developed in her early twenties after watching shows like "Bizarre Foods" with Andrew Zimmern and "Parts Unknown" with Anthony Bourdain.
"I was watching Andrew Zimmern and Anthony Bourdain … and I watched that religiously every day, probably for hours on end, and self taught myself how to feed the way I wanted to eat. So, it wasn't until I was in my early 20s, where I was driven to the food part of life, and it just continued and eventually grew into something bigger," Batiz said.
She said after visiting Thailand with Incoronato she was fully committed to learning how to cook their food. Growing up half Puerto Rican and half Italian Spainard, she felt like Asian food was "the missing piece."
"It was the different layers of flavors in aroma that you get from meals–- especially in Thailand in particular, where they have so many different layers, and you can taste them all, and they're just so well thought out and so well planned … I wanted to do the same, I wanted to gain that knowledge so that I could cook just like them. And granted, I still have so much to learn, but Asian food is definitely my top favorite," Batiz said.
Influences from Thailand as well as India can be seen on their menu. Incoronato said they enjoy bringing these foods to downtown Bigfork, but occasionally they run into someone who is a little hesitant to try a new dish.
"The word 'curry' scares seven out of 10 people, I would say. Just because there's been such a lack of curry around for so many years that they think curry is one dish and they think it's yellow. I want everyone to know that yellow curry is tumeric, and most people don't like tumeric, so once they realize it's not in our curry, and that 'curry' is just another word for sauce … They finally eat our green curry, which I've been making for almost 30 years now. They love it, and they're like, 'Wow, this is one of my favorite things in the world,'" Incoronato said.
Batiz said it is humbling to see people step out of their comfort zone and order something new. The couple said they have plans to incorporate Middle Eastern, Mediterranean and European foods into their truck. They both enjoy creating fusion dishes, which combine elements of two different cuisines.
"We did a Thai Greek Euro the other night. That was good, it was spicier, and we couldn't keep those in. We had people send me messages two days after asking when we were gonna do it again," Incoronato said.
The couple has dreams of sharing their love of the international community with their children one day. But for now, they are feeling out operations at Isling Chow. Incoronato said they didn't expect to be open until September this year, but the local support has superseded their expectations. They are planning on staying open in October and potentially November if business stays consistent.
Isling Chow is open Thursday through Monday at 4:30 p.m. and can be found parked beside Kelly's Casino off of Electric Ave. in downtown Bigfork. More information about Isling Chow, including a menu, can be found on their website www.islingchow.com.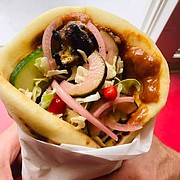 ---