New State Farm agent brings love of small towns to Bigfork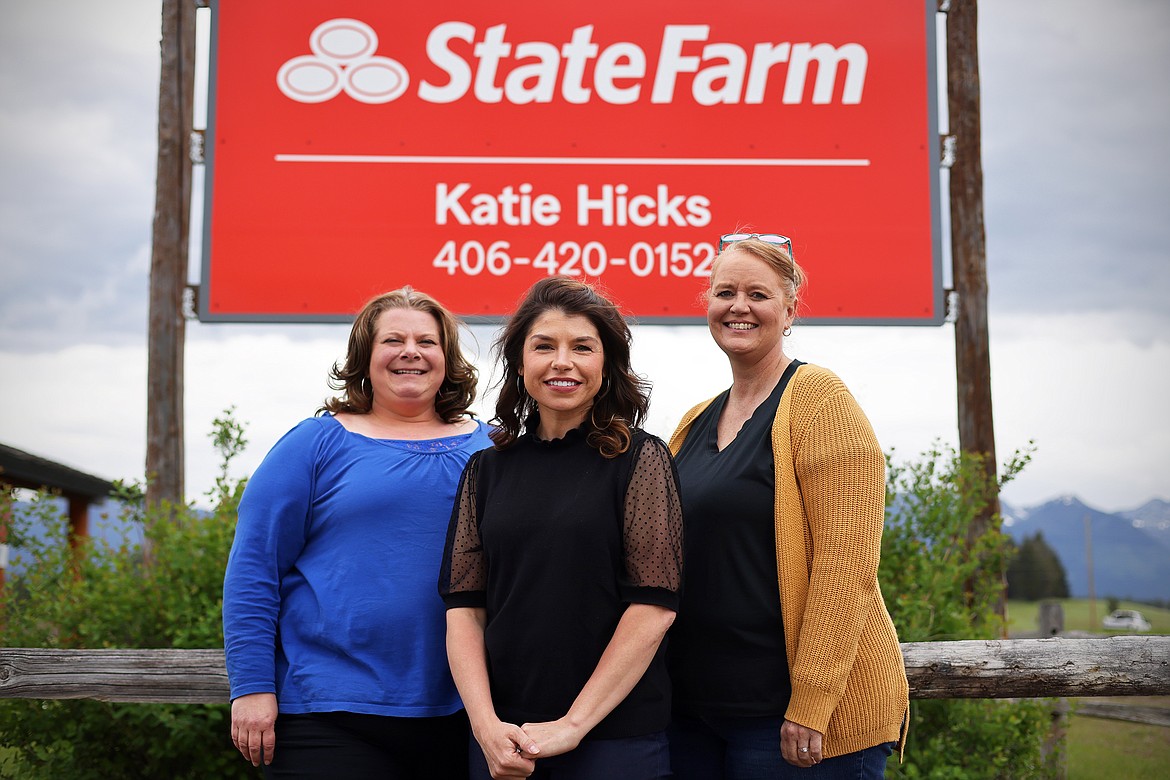 Katie Hicks (middle), Catherine Furr (left) and Kerri Stanfill are the team at the new State Farm Insurance branch in Bigfork. (Jeremy Weber/Bigfork Eagle)
by
JEREMY WEBER
For the Eagle
|
June 8, 2023 12:45 PM
Katie Hicks is bringing her love of small towns to her new State Farm Insurance agency.
Located along Montana 82 just north of Bigfork (right next to Grizzly Lanes bowling alley), the new agency opened May 1 and offers a variety of services for Bigfork and the surrounding communities
"We offer auto, home, life, renters, boat, motorcycle insurance and more. We have almost any kind of insurance you can think of. We also offer financial services, which is a bit different from most insurance offices. We offer more than 120 products and services. I am still learning them all," Hicks said.
"We have already had an amazing reception from the community and are already seeing a lot of walk-in business. We love being here. We love the location, being just north of Bigfork, so that we are easily accessible to the people in Creston, Somers, South Kalispell and Lakeside."
Born and raised in a small town in Tennessee, Hicks owned a vocal studio there for 10 years before pulling up stakes six years ago and moving 2,000 miles away from everything she had ever known
Her husband, Jeremy, operates a State Farm agency in the Hutton Ranch Plaza in Kalispell, making the duo the only husband and wife State Farm agents in Montana.
"I'm just a small-town girl. I grew up in a very small town and my first business was in a small town where everyone knew each other, went to church together and played sports together. That is the type of community I love and those are the same characteristics that drew me to Bigfork," Katie said. "I thrive in the type of place where you can walk in anywhere and people know you by name."
With the help of the agency's other two employees Catherine Furr and Kerri Stanfill, Katie is quickly learning the ropes of her new profession.
"Cat has 20 years of insurance experience and Kerri has 30, so between the two of them, they more than make up for any shortcomings I may have as a newcomer," she said.
With the doors open for business, Katie and her coworkers are looking forward to making a positive impact on Bigfork and the surrounding area.
"We really want to start sponsoring a Good Neighbor Student of the Month at our local schools. We will be looking for kids that are good to their fellow students and are helpful to their teachers. We want to give our local students something to strive for every month," Katie said. "I feel like God put me here and it is my mission to do good for as many people as possible. That is the mission of this agency, to be a force of good in this community."
For more information, visit www.bigforkmtinsuance.com or find Katie Hicks State Farm on Facebook.
---