Papa's Market, family-owned Woods Bay staple, is taken over by next generation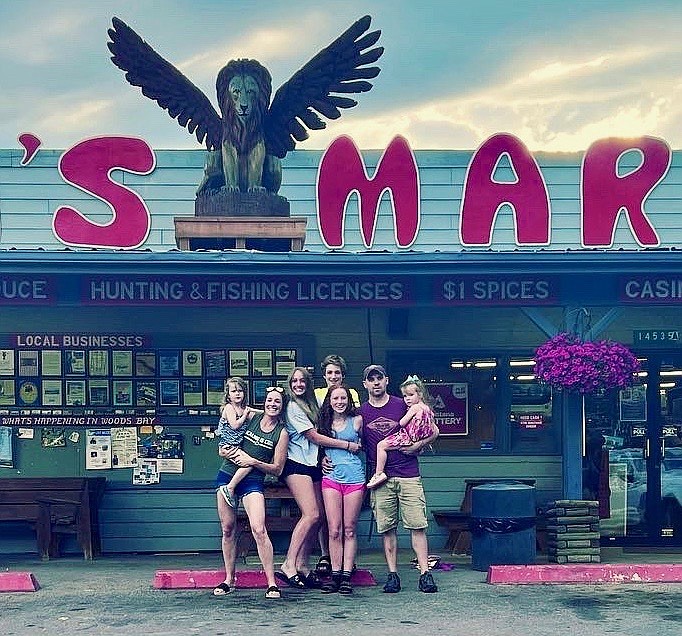 Papa's Market owners Shawn and Patrick Gembala pose with their five children in front of the store. (Photo provided)
by
TAYLOR INMAN
Bigfork Eagle
|
October 12, 2022 12:00 AM
Papa's Market in Woods Bay has been serving the east shore community for years. Owner Shawn Gembala said her father bought the business in 2009 and recently handed over the reins to her and her husband Patrick. Jumping in to take over the store this summer, the couple said they hit the ground running and haven't stopped since.
Papa's Market and Casino offers sports, gas, groceries and hot food and drinks. It's a one-stop-shop for many who live on the east shore, where amenities are scarce between Woods Bay and Polson. Gembala said they try to stock the shelves with what their customers ask for and need.
"We try to have everything, and the customers let me know when I don't— they're very good about that. But yeah, we have groceries and sports, gas and clothing. We try to have it all and if I find there's stuff that I don't have, I try to get it. So, just trying to make everybody happy," Gembala said.
The couple has five children, two of which are in daycare. Gembala said it was all hands on deck this summer as they asked their older kids to pitch in while they ran the store.
"There's other things they would like to be doing. You know, like my oldest, she's a teenager, she'd rather be downtown working with her friends … But instead she's here making sandwiches and cleaning toilets. But it's good for them, they handled it really, really well," Gembala said. "My boy, he comes up does the ice and cleans, and then Kaitlyn stays home and watches the two littles— so yeah, it literally takes everybody for sure,"
Like many other businesses this year, Gembala said they were short staffed through their busiest season. She said they do have many great employees who live in Woods Bay and are glad to make a short commute to work, as many in the community have to make a long drive into the valley.
"They all have their own personalities and are different in their own ways. But, they're good and everybody seems to respond really well to them— the community seems to like them, our customers like them … we've got a good group of people here," Gembala said.
Gembala said even though they've been working very hard, they enjoy the freedom of making their own schedule and being able to attend all of the kid's sports and after school events. They've also enjoyed ample support from the community, which Gembala said she believes is because the market is still family owned.
"We've gotten a lot of good feedback, like so much it's insane. I think they like that we're a family taking it, that we're not selling out … I guess you don't really realize that till it happens and people kind of speak up and are super thankful for that," Gembala said.
Papa's Market is open 6 a.m.- 10 p.m. seven days a week. They are expected to move into their winter hours next month.
---