Glacier Nurse Direct wants healthcare to feel personal again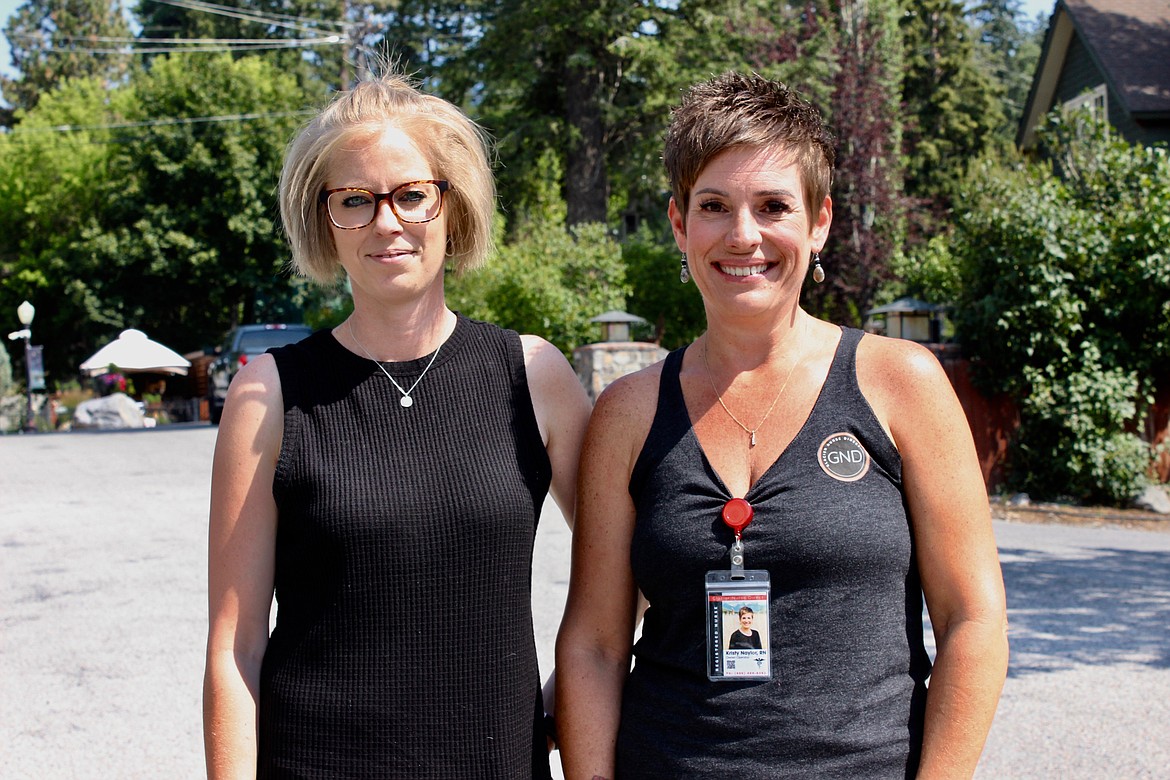 Marcy Kleinjan RN and Kristy Naylor RN stand in downtown Bigfork in late July. (Taylor Inman/Bigfork Eagle)
by
TAYLOR INMAN
Bigfork Eagle
|
August 31, 2022 12:00 AM
Long gone are the days when doctors would make house calls, or are they? Glacier Nurse Direct owners Kristy Naylor RN and Marcy Kleinjan RN said they want their new concierge nursing service to help close the gaps in rural healthcare coverage.
Naylor and Kleinjan have been nurses for 38 years combined. After working through the beginning of the pandemic in 2020, they both had significant burnout and had frustrations with the healthcare system. They had a desire to start something of their own, to be their own bosses and give their patients the care they deserve.
"We're just trying to make the care better in the community, because there's such a lack of it, and that's coming from two home health hospice nurses, because we've seen it and it's sad," Kleinjan said. "I think a lot of it is because nurses are burned after COVID. Nobody wants to get paid what they're getting paid in hospitals and facilities anywhere, because we know it's not worth it,"
Naylor said between the two of them, there's not much they can't do. They have a Medical Director at Logan Health, who signs off on certain standing orders and protocols so they aren't practicing outside of their scope. They can refer to her if needed, but Naylor and Kleinjan have experience in many areas of the medical field.
"We have both done acute care and long term care. We have both done home health and hospice. I have experience in subjects gynecology, labor and delivery as well as chemo, critical care, Kristy has done a lot with oncology … So, combining that and you put our two heads together, there's a lot of things problem-wise that we can't solve, and if it's something that we think we can't solve, we know who to call to find the answer," Naylor said.
Both women have been nurses in the Flathead Valley for many years, most recently working in hospice. They said throughout their years of nursing, they saw patients who would fall through the cracks of healthcare coverage. Kleinjan said as an example, she's seen several elderly people be hospitalized after a fall. After their hospital stay, which rarely fully heals them, they are sent home and given 72 hours of home health before they are told to seek a private service in order to continue receiving care.
"Those are the people we have seen primarily, I think it's kind of helped me get the idea of doing the whole concierge service. Because you see, people get kicked off a service all the time and then they're literally left hanging, saying, 'what am I supposed to do?'" Kleinjan said.
They decided to add on their Mobile IV Hydration services in hopes of it helping to get their name out there. Kleinjan said the hydration services benefit people with chronic conditions and illnesses, giving them vitamin infusions in their homes. Others might seek it out for a pick-me-up, to recover from an illness or a hangover. Kleinjan said bringing this service to patients could save them a costly trip to the hospital, if they require it often for a chronic condition.
"I mean, this last weekend, we were down in Polson and ran into a guy who's a diabetic. He was like, 'oh my god, you guys exist. Would you come down here? Because now my doctor is telling me I have to go to the ER to get infusions because I'm diabetic and I'm dehydrated all the time," Kleinjan said.
Glacier Nurse Direct is an out of pocket cost, choosing not to bill insurance. Naylor and Kleinjan said billing insurance can be very time consuming and when it is cut out of the equation, they have more time to spend with patients.
"I don't have to spend my entire visit charting on a computer. Because that's what's required by the insurance companies. We can spend our time doing what we need to do, and we can spend more time with clients," Kleinjan said.
"If we're with a patient, and they need the trash taken out, or they need the shower cleaned out— those are things that we can do, where in other types of settings you don't have time," Naylor said.
Naylor said that as they grow as a company, they might look into billing insurance companies. But decided to stick with this for their two person operation for the time being. Another hurdle they often see for other home health nurses is distance. In Montana, it's very difficult for rural communities to receive hospice care because they live out of a service area. Currently, Glacier Nurse Direct has a 70 mile service radius.
"We are keeping a 70 mile radius, yet we're willing to go as far as you need us to, you know, if it takes a little further to get there. But I think a lot of the other private companies, they overcharge that with the travel pay and all that kind of stuff. So it makes it hard for this in a rural place as big as the space being in the Flathead Valley, you have a lot of miles to cover," Kleinjan said.
Both nurses are excited to start working to make the lives of their patients better.
"That's the reason that we're doing what we're doing. I mean, we want to make a difference, I think that that's the genuine piece here is that we want to improve outcomes for patients," Naylor said.
To find out more information about Glacier Nurse Direct, visit their website at glaciernursedirect.org.
---