Bigfork author releases 'The Lookout Woman'
Bigfork author releases 'The Lookout Woman'
Bigfork author Mae Schick has released her newest book, "The Lookout Woman," a novel set on a mountain lookout near Glacier National Park.
Lookout towers were the ultimate in social distancing. Now the structures are a nostalgic part of our history. Although most of these iconic 20th century buildings are obsolete, they were once maintained by individuals who accepted isolation, erratic weather patterns, boredom, tedious work, and the unexpected visitor, animal or human. Or, if it became intolerable, they gave up and abandoned their posts.
The U.S. Forest Service manual stated only two acceptable reasons to leave the mountain — a death or the need to see a dentist.
"The Lookout Woman" is a novel of dark suspense and an affair of the heart. The setting is a fictional peak overlooking Glacier National Park. The period is World War II. Florence has fled a stalled marriage in Missoula to become a fire spotter. Martin is a Nazi saboteur assigned to blow up a Canadian Nickel operation.
The story pairs an exhilarating backwoods adventure with a fight for survival against the raw violence of a hunted man amid the powerful forces of nature.
Schick, a Montana native, has a master's degree in Linguistics and for several years owned and managed a foreign language company in Arizona that provided training to executives from Motorola, Honeywell, American Express, and many other businesses. She is a past president of Tempe South Rotary, Tempe, Arizona.
For more information about Schick and how to order 'The Lookout Woman," go to maeschick.com.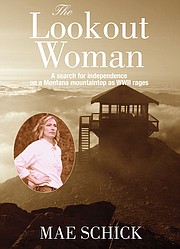 ---