Arnold R. Aklestad, 90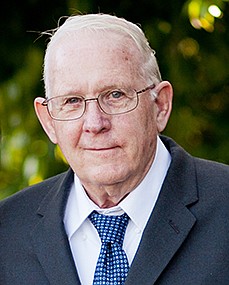 Arnold R. Aklestad, 90, died Sunday, April 12, 2020, at his home in Bigfork.
Arnold was born Jan. 1, 1930, in Plentywood, Montana, to Carl and Milia Anderson. His mother had tuberculosis when he was born, and she was bedridden for six years. Arnold went to live with Peder and Borghild Aklestad as their son his entire life.
In March of 1948, Arnold met his wife-to-be, Yasuko, and together they had a lifelong passion for sports and the outdoors. They raised three children who also developed a strong love for sports and fishing, and continue to pursue those interests today.
Arnold was honorably discharged as a Corporal Regular Army on Jan. 8, 1950, and received an Army of Occupation Medal. On his second tour of duty, he achieved the rank of Sergeant Regular Army and received an Army of Occupation Medal (Japan), a Korean Service Medal and a United Nations Service Medal. He was honorably discharged on Feb. 25, 1953, and returned to Bigfork with his wife, Yasuko and son, Jim, where he resided ever since.
Arnold, who was lovingly known throughout Bigfork as "Ak" or "Arnie," was a mainstay at the Bigfork Vikings basketball games since he moved to town his sophomore year of high school in 1944. Arnold played for the team for two years and later was the timekeeper for the boys' and girls' games for 34 years. In the 1950s, he helped start the Downtown Coaches Club which is now the present Bigfork Boosters Club. He attended home games, always sitting in the same spot to root for his favorite squad. Many of the Bigfork Vikings athletes ate dinner at the family home prior to games. Arnold and Yasuko attended basketball games at the district, divisional and state games all over Montana. A basketball highlight that he was proud to witness in his lifetime was the Bigfork Vikings State Championship game in 2014.
From 1953 to 1967, Arnold and Yasuko owned and operated Ak's Sport Shop in Bigfork, specializing in fishing tackle. The shop became a second home to many of the Bigfork youngsters who liked to hang out there when they weren't fishing on the Swan River.
Arnold was a Scoutmaster for Troop 13, and the younger boys came to the house to pass scouting requirements, especially in the Tenderfoot and Second-Class stages. Arnold received the Silver Beaver Award in 1964 which is the highest honor that any Boy Scout Council can bestow on an adult volunteer.
In 1965, Arnold (called "Smokey" by some) was assigned to the fire prevention job as a fire dispatcher with the Flathead National Forest. He contributed to the development of the fire management program, administered air contracts and coordinated with the State Division until he retired on Dec. 23, 1983. It was said that he possessed a "thoroughly professional approach to fire dispatching and coordination, exceptional common sense, cool head, and just the right touch of stubbornness." During his young career, Arnold also served as the Assistant Chief for the Bigfork Volunteer Fire Department.
Arnold could often be found working hard in his garden, golfing and fishing with his own lures and plugs on Flathead Lake for bull trout, whitefish, and perch. Arnold also went ice fishing for salmon on Bitterroot Lake as well as fishing throughout the state. Arnold was known for smoking fish. In the summer months, he worked at Eagle Bend as a golf marshal and later in the season, he tended carts.
When the Montana Athletic Club opened in 1991, Arnold and Yasuko would spend every morning going to the club to workout. In the past eight years, his spinal stenosis caused too much pain, but he would visit the club to read the paper and visit with the members. Following his workout, he would stop at Bigfork Harvest Foods for morning cards and coffee before going to the post office for his mail. In 2014, when the Flathead Lake Brewery Co. opened their doors, Arnold was there at open every day to enjoy a beer and conversation with the brewery crew and good friends. In honor of Arnold's 90th birthday, a special friend made an engraved bookmark, "It's not the years in your life, but the life in your years!" Arnold's piece of advice: "Once you get over the fear of dying, you can start to live."
Arnold is survived by his sons, Jim Aklestad of Great Falls and Pete Aklestad of Missoula; daughter, Linda (Larry) Lockrem of Kennewick, Washington; daughter-in-law, Lori Aklestad of Great Falls; and his sister Hildreth Johnson VanBergh (100 years old) of Post Falls, Idaho. Arnold is also survived by granddaughters Dannelle (Kevin) Dyke of Great Falls, Jill (Jesse) Waldenberg of Great Falls, Lisa (John) Platt of Pittsburgh, Pennsylvania; Lindsey (Kurt) Stone of Kennewick, Washington and nine great-grandchildren.
He was preceded in death by his loving wife, Yasuko Aklestad, his brothers Kenneth, Wilford and Marland, and his sisters Delora, Alvina and Lucille.
"We have had a good life and thanks to all who have made it possible." — Arnie
At Arnold's request, a private family interment with military funeral honors will be held at Bethany Lutheran Cemetery. A celebration of life will be announced later.
Johnson-Gloschat Funeral Home and Crematory is caring for the family. An online guest book is available at www.johnsonmortuary.com. Memorial contributions may be made in Arnie's memory to the Bigfork Quick Response Unit, 810 Grand Dr., Bigfork, MT 59911 or the Bigfork Booster Club, P.O. Box 204, Bigfork, MT 59911.
---