Jessop faces her fears on and off the XC course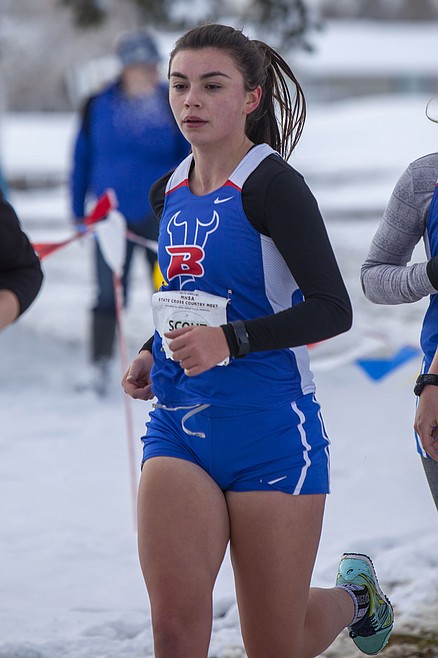 by
Jeremy Weber
|
April 22, 2020 1:00 AM
Roree Jessop is learning to face her fears head on.
The 17-year-old Bigfork High School senior says she struggled with anxiety during sporting events until she realized that she is not the only one fighting that battle.
"Sports have taught me that no matter how tough someone can look, and no matter the medals they have received, everyone running or performing has the same worries in their head and are likely feeling equally as intimidated," Jessop said. "I don't know everyone's situation but I do know that everyone is human and a lot more similar than we may think."
Once she realized she was not alone in her anxiety, Jessop developed a strategy to lighten the mood and try to make her fellow competitors laugh whenever she could. She says the technique has served her well and she will continue to use it in other aspects of her life outside of sports.
Transplanted from Utah to Bigfork in the fifth grade when her father became the freshman English teacher, Jessop has run cross country, participated in track and was also a member of the speech and debate team — overcoming personal obstacles in each one.
Jessop said she loved running since she was in junior high and was excited to be on the track team, but her anxiety left her dreading meets. That all changed during her sophomore season when assistant coach Beau Wielkoszewski helped her to a high finish in the 800-meter run.
"After that I didn't dread meets nearly as much and I started to love pushing my mental blocks," Jessop said.
She earned fourth in the 800 at divisionals as a sophomore and fifth as a junior last season.
It was much the same in cross country, where Jessop overcame her dislike of distance running to spend four years running for the Valkyries, earning eighth in the district as a junior and ninth as a senior.
Jessop faced a completely different set of challenges while competing with the speech and debate team as a sophomore and junior.
"I joined so I could overcome my troubles with public speaking," she said. "I'm not sure if I did entirely, but I placed at state and made some really great memories, so I have no regrets."
In speech and debate, Jessop earned third at divisionals and sixth at state as a sophomore.
Jessop said she is disappointed with the stay-at-home order taking its toll on the end of her senior year, but she is grateful to still be able to get outside.
"I am pretty bummed about not being able to finish my senior year. Much like everyone else I was excited about having my last prom and a senior party ... it's really weird that we are going to miss out on all those sentimental moments that most everyone else has from their high school career," she said. "I try not to think about it too hard and get sad about it though. I am just happy that my family and friends are safe, and I live in a place where I can still go out on a run."
Jessop said that after high school she plans to take a short break from school while she earns some money and travels before picking a college.
"As for a career, I am interested in a lot of different things that could all lead to a pretty satisfying career, but before I make any commitments I want to take time and really figure out what I'd like to do," she said. ■
Reporter Jeremy Weber can be reached at jweber@dailyinterlake.com.
---