Football team manager, golfer keeps lost season in perspective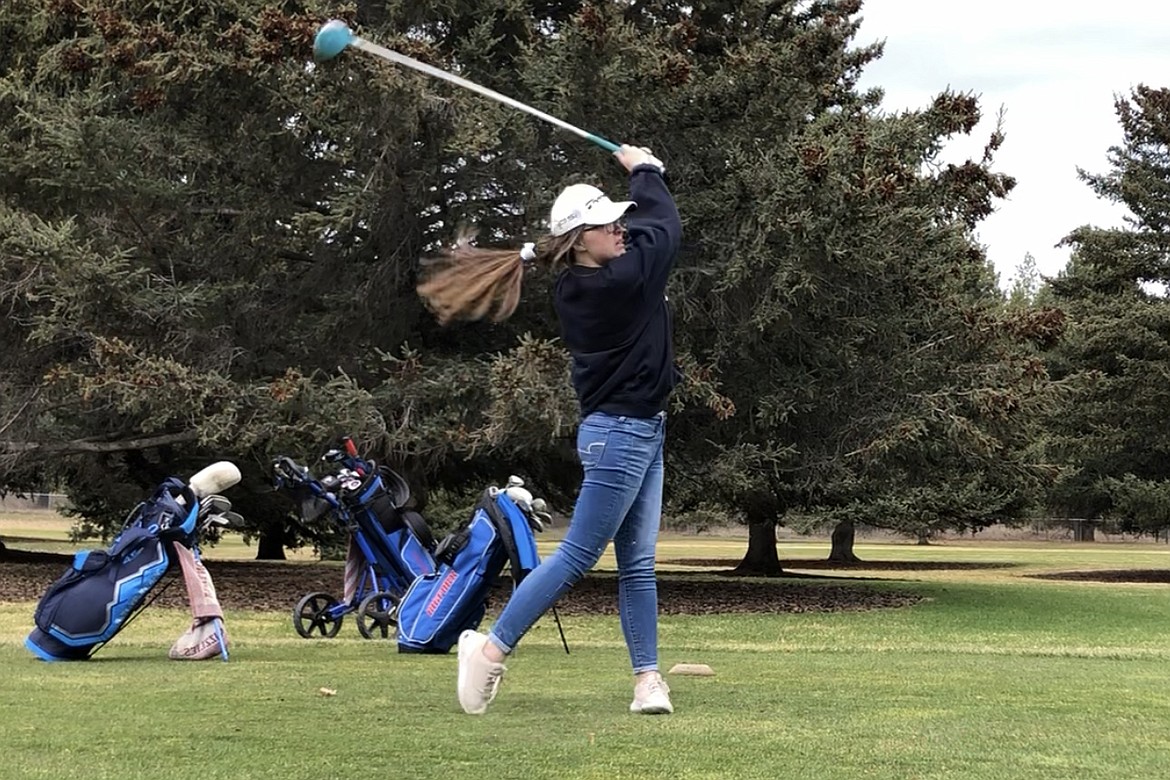 by
Jeremy Weber
|
April 29, 2020 1:00 AM
Bigfork High School senior Hattie Emslie has learned a lot from participating in sports over the past four years.
A member of the Valkyries golf team and four-year manager of the Vikings football team, Emslie said there are a lot of good lessons to be learned from high school sports.
"Working together as a team is ultimately what it comes down to at the end of the day. Our own actions affect others in ways we may or may not know," Emslie said. "I learned patience on the golf course and having a positive outlook. My coaches Brett and Kyle always reminded us golf is a game like life. You may have a bad hole or two but you can always stay positive and redirect your game much like you can change your life."
She added that managing the football team taught her organizational skills, the epitome of teamwork, and that it is "possible to have 50 'big brothers.'"
The 18-year-old Emslie spent all four years of high school in Bigfork after coming over from Swan River.
Football was a family tradition with the Emslie family, with her father serving as the Vikings head coach for her first three years in high school and her brother as the quarterback.
She gained her love of golf from her grandfather (Poppy), who taught her the sport at an early age.
After lettering all four years in high school with the football team and her first three with golf, Emslie says she would be very disappointed to miss out on her senior golf season if it is canceled.
"I am incredibly devastated with the loss of my last golf season; however when put into perspective on what the entire world is going through, I think I will be okay," she said. "Yes I am sad, but the memories I have from the last three years are a gift and privilege to have. Last year my father had a heart attack, my mother was diagnosed with breast cancer, my Poppy had quadruple bypass surgery, and I lost my Grammy to lung cancer. All these life changing events have taught me perseverance. In the grand scheme of things not having my last golf season is difficult, but I have learned there is no obstacle you cannot overcome. I am grateful for my coaches, family, and friends and I look forward to the next chapter in my life."
Outside of sports, Emslie says she has enjoyed working with teacher Beau Wielkoszewski to further her graphic design skills and has also spent time volunteering in her mother's fifth-grade classroom as well as with the Special Olympics program.
Her favorite high school sports memory is when the Valkyries golf team earned third at state last year but she says she also has enjoyed spending time with her teammates during countless practices and going to the beach afterwards.
After high school, Emslie plans to attend Flathead Valley Community College in the pre-nursing program. After college, she hopes to become a pediatric nurse. ■
---