COVID-19 shutters small businesses in Bigfork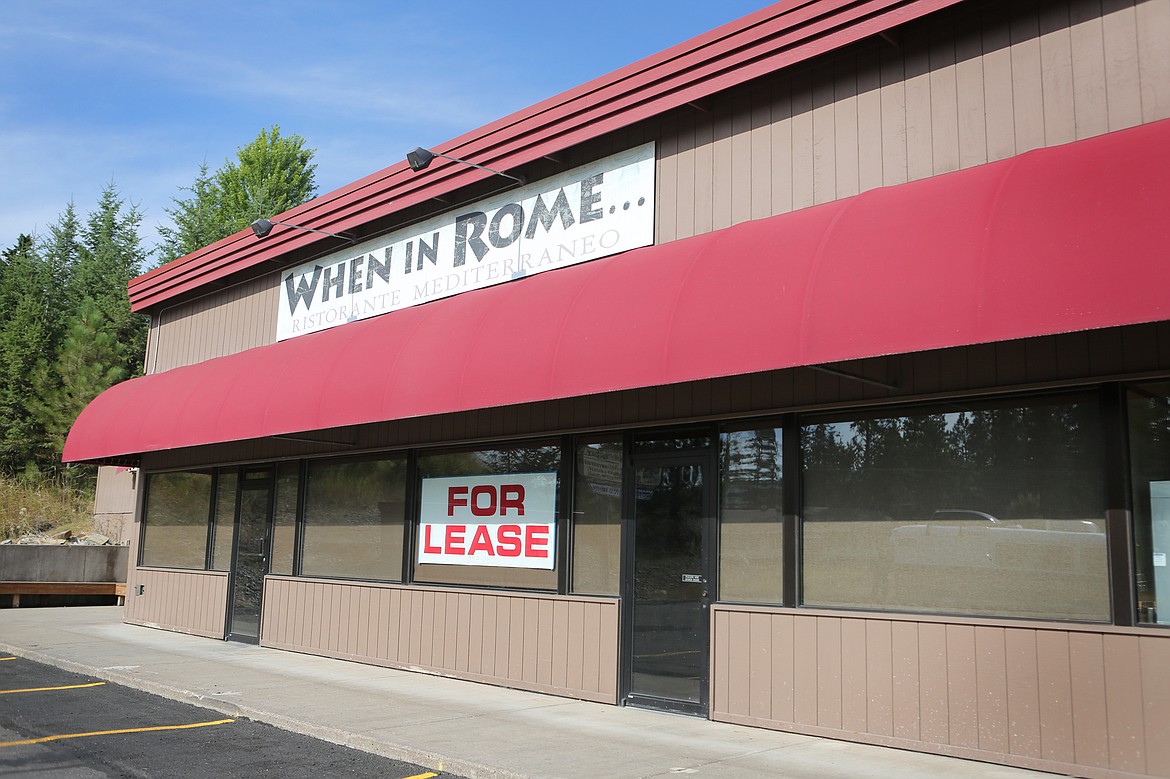 The former storefront of When in Rome Pizza is pictured on Monday morning in Bigfork. Mackenzie Reiss Bigfork Eagle
by
BRET ANNE SERBIN
For the Eagle
|
August 5, 2020 1:00 AM
The majority of Montana businesses closed in mid-March due to a directive from Gov. Steve Bullock to slow the spread of the COVID-19 virus. While most are back up and running now, a few Bigfork businesses have had to close their doors for good.
The fallout from the pandemic, along with the everyday rigmarole of running a small business, has contributed to the closure of various Bigfork businesses, including a restaurant, a jewelry store and a clothing store.
Handle It! Boutique, which opened last year, closed its accessory shop on Montana 35 and transitioned all of its business online.
Garnet Peak jewelry store closed its Electric Avenue shop after briefly reopening following the statewide mandate.
And When in Rome Restaurant permanently closed its Bigfork sit-down establishment after three years in business. Owner Connie Larkey is turning her attention to revamping the associated Kalispell pizzeria.
"We are definitely permanently closed, and it has to do a lot with the COVID crap," Larkey said candidly.
"I wish we could have kept it open," she added.
Larkey said When in Rome had been besieged by one problem after another, starting with the mandatory closure in the spring. She and her small team eventually realized the sit-down restaurant model simply couldn't hold out amid the challenging circumstances.
"We closed just because of COVID at first," Larkey recalled. But as the shutdown dragged on, she started to worry about keeping up with overhead costs like paying her landlord, getting supplies and paying her staff.
"We're a sit-down restaurant. We can't afford to be closed forever," she insisted.
In April, When in Rome eagerly reopened its doors when Gov. Bullock gave the green light to get back to business. But ongoing restrictions meant the restaurant couldn't hope to recover from the earlier losses.
"When we operate at 50%, we can't make enough to even pay our payroll," Larkey explained. She pointed out the restaurant has a turnover time of about two hours, so the costs of staying open would be insurmountable with the trickle of customers at the eatery.
Staffing has presented yet another challenge. Many would-be workers seem to be opting to stay at home and collect unemployment benefits — including a $600 per week payout — instead of working at a restaurant.
"I can't even find people to work," Larkey lamented as she listed off the barrage of difficulties the restaurant had encountered in the past few months.
At this point, Larkey said the business is so overwhelmed she can't even change their outdated answering machine message, which anachronistically tells callers the restaurant will reopen during Phase 3 of the statewide reopening plan.
Larkey said they've received about three calls a day from hopeful diners who don't realize the restaurant has permanently closed, even though they officially stopped serving more than six weeks ago.
"They're disappointed down there," Larkey said while working at When in Rome's Kalispell location.
Despite all the issues, Larkey is trying to stay optimistic, and she hopes her Bigfork customers will make the drive up to Kalispell to eat at the remaining When in Rome location.
"They hope we get this one going," Larkey said of the disappointed callers who have been gradually learning about the Bigfork closure.
"Kalispell will stay open," she promised, and she is looking forward to incorporating some of the elements of the Bigfork restaurant into the Kalispell spot.
The Kalispell When in Rome Pizzeria doubles as a video store, but Larkey said that side of the business has been declining for about a year now. Given that trend, she plans on downsizing the video store by about half its current capacity and filling that space up with a sit-down restaurant. She wants to expand the pizzeria's menu with items that were popular in Bigfork, like pasta dishes.
"We have some irons in the fire," Larkey reported. She said she hopes to make these changes "as soon as we can," but she wasn't sure exactly when these updates will come to fruition.
As disappointed as she was with the turn of events in Bigfork, she said she's tried to look at the changes as "opportunity knocking" for the revitalization of the Kalispell location.
"That's the way the sausage crumbles," said the long-time restaurateur. ■
Reporter Bret Anne Serbin may be reached at (406) 758-4459 or bserbin@dailyinterlake.com.
---