Fundraiser reaches goal to install well in African village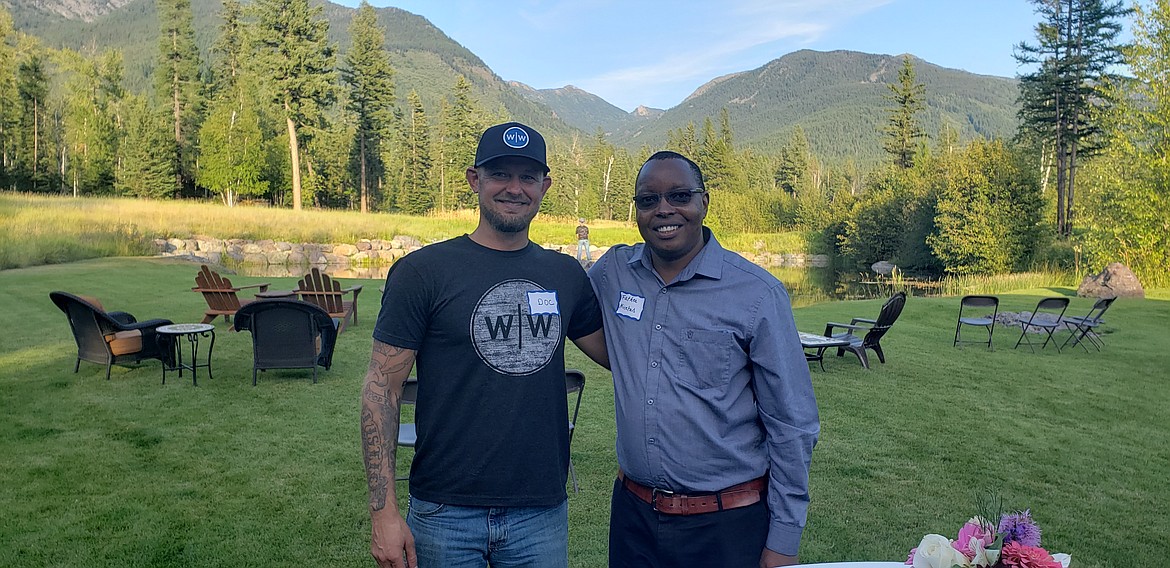 Doc Hendley (left) and Father Nicetas Msinge (right) in Bigfork on Friday, Aug. 14 (Courtesy photo)
by
BRET ANNE SERBIN
For the Eagle
|
August 26, 2020 7:00 AM
With the COVID-19 pandemic halting most international travel, it might be a little while before many Bigfork residents get the chance to visit Kipalapala Village in Tanzania. But a lot of Bigfork locals already feel closer to the small East African village, because a community-led effort recently reached its goal of raising enough money to build a well for the few thousand people who live there.
"People's reaction to this project was absolutely blowing us away," said Caroline Solomon, one of the local organizers of the fundraiser.
Solomon teamed up with Vicky Creamer to launch the initiative this summer, and by mid-August they had reached their goal of raising $30,000.
The effort started when Solomon, Creamer, and other members of their parish learned about the lack of clean water in Kipalapala, Tanzania, hometown of pastor Father Nicetas Msinge at St. John Paul II Church.
Msinge came to Bigfork in November to start a three-year stint at St. John Paul II Church. With him, Msinge brought stories of his friends and family members walking two to three miles every day to the only water source in his impoverished village.
About 1,500 people live in Kipalapala, found in the Tabora region of Tanzania. Most of them have a meager education and work as subsistence farmers, which makes for a scant living in the drought-ravaged savannah region.
Women like Msinge's aging mother, who still lives in the village, spend hours every day commuting to and from the only natural pooling place in the area, where the little water available is not safe for human consumption.
As Msinge shared his experience growing up under these dire conditions, his new Montana neighbors were struck with an urge to help alleviate the difficult circumstances for his fellow villagers.
Vicky Creamer called upon her nephew, Doc Hendley, in North Carolina—the founder of a nonprofit that specializes in drilling wells in third world countries where clean water is hard to come by.
Hendley started the nonprofit Wine to Water after living with the Creamers in Bigfork and participating in a service trip to Sudan. Over the years, his organization has installed wells throughout East Africa, Asia and Latin America. Their East African headquarters are conveniently located in Tanzania, giving Wine to Water relatively easy access to Msinge's remote hometown.
The Bigfork-funded Kipalapala project will essentially bring Hendley's nonprofit career full-circle.
On Aug. 14, Hendley returned to Bigfork to visit the Creamers. Hendley and a few of the key players in the fundraiser held a small event to celebrate reaching their financial goal—but there's plenty of work still left to do.
In mid-July, the Wine to Water team conducted a preliminary site visit in Kipalapala, met with local leaders and surveyed households about their needs. Next, they'll need to perform hydrological surveys and continue talks with community leaders about locating and installing the well. The entire process could take 12 to 18 months—and the work won't end there.
"This will be an ongoing project. We do not want to drill a well and then leave," Solomon explained.
Wine to Water's programs include education about sanitation and increased measures to improve the health of the villagers—like providing filters to use in homes and hand washing stations throughout the community. They're also committed to the upkeep of the well, as long as donations continue to come in to support those efforts.
Based on the way things are going so far, Solomon doesn't seem too worried about making that happen.
"We reached our goal thanks to so many people who donated what they could - they could not wait to help us," she related. "This project has been a blessing every step of the way."
Reporter Bret Anne Serbin may be reached at (406)-758-4459 or bserbin@dailyinterlake.com.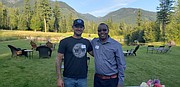 ---