Vikings ready for fast-paced play this season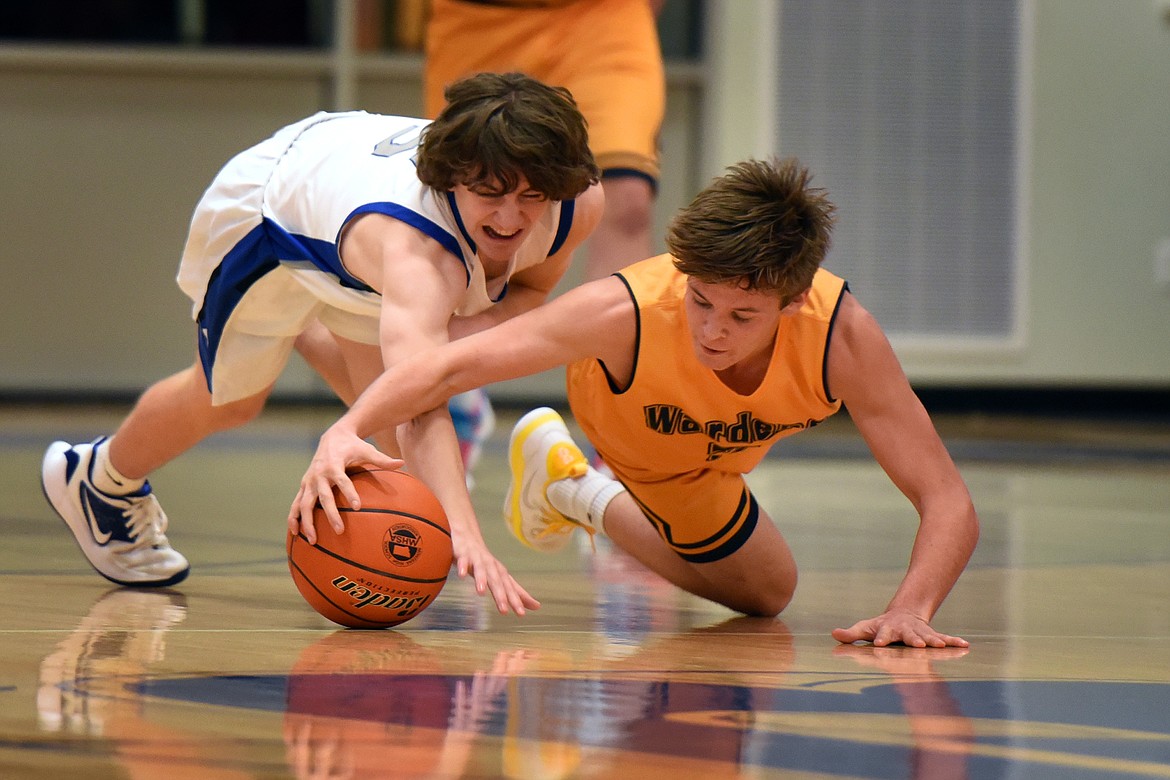 Bigfork's Walker Fisher and Deer Lodge's Ethan Bossert battle for a loose ball. (JEREMY WEBER/Bigfork Eagle)
by
JEREMY WEBER
For the Eagle
|
December 23, 2020 2:30 AM
Vikings basketball fans will get to see a different style of play than they are used to when the 2021 season gets underway in January. According to head coach John Hollow, fans can look forward to a fast-paced offense and plenty of full-court pressure this season.
"We have a lot of really good athletes and we will probably play a completely different style of basketball from what we did last season," Hollow said. "Last year we had size and we tried to slow the game down when we could. We will probably do just the opposite this year, which is a style I haven't coached in a while. We are going to press and stress getting the ball up and down the floor, so it should be an exciting brand of basketball to watch."
The Vikings finished the 2019-20 season with a third-place finish at the District Tournament before going 1-2 at the Divisionals to the end the season.
Hollow's squad returns three starters from last season, including Walker Fisher, Levi Taylor and Isak Epperly, but lost a lot of height with the graduation of seniors Colt Thorness, Wyatt Reichenbach, Asher VanCampen and Eli Hines.
"We are going to be a very young team without a lot of size, but I like the team we have this season," Hollow said.
With the start of the season pushed back until after the new year due to COVID-19 concerns, Hollow says the virus has already had an impact on practice with several players missing time due to quarantining. Despite the setback, Hollow says he is determined to get in as many games as possible.
'We've been practicing like it's a normal season, we just never know who is going to be able to practice and who is not," he said. "We'll just plug away and keep going until we can't anymore. It would not surprise me if we end up having to play some freshmen at the varsity level this season because of COVID. My goal is to do my best to keep the season moving along. If we have younger players that can fill holes in the roster, that's what we will do.""
The Vikings are scheduled to open the season at Stillwater Christian Jan. 2 before hosting Troy for their first home game Jan. 7. The team will get an early season test a few days later as the Vikings travel to face Deer Lodge.
"Deer Lodge will be a tough team this year, so it will be good to get a test early in the season to judge where we are at."
Hollow stressed that, much as it has been with other sports this school year, game times and locations are subject to change on short notice. Despite the challenges, Hollow says he is glad his team will get to take the court this season.
"I'm not sure how states are getting to play basketball right now, so we are very excited about getting the opportunity to play," he said. "We are going to make the best of a unique and weird situation."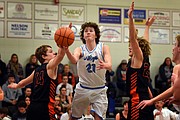 ---