Shop of wonders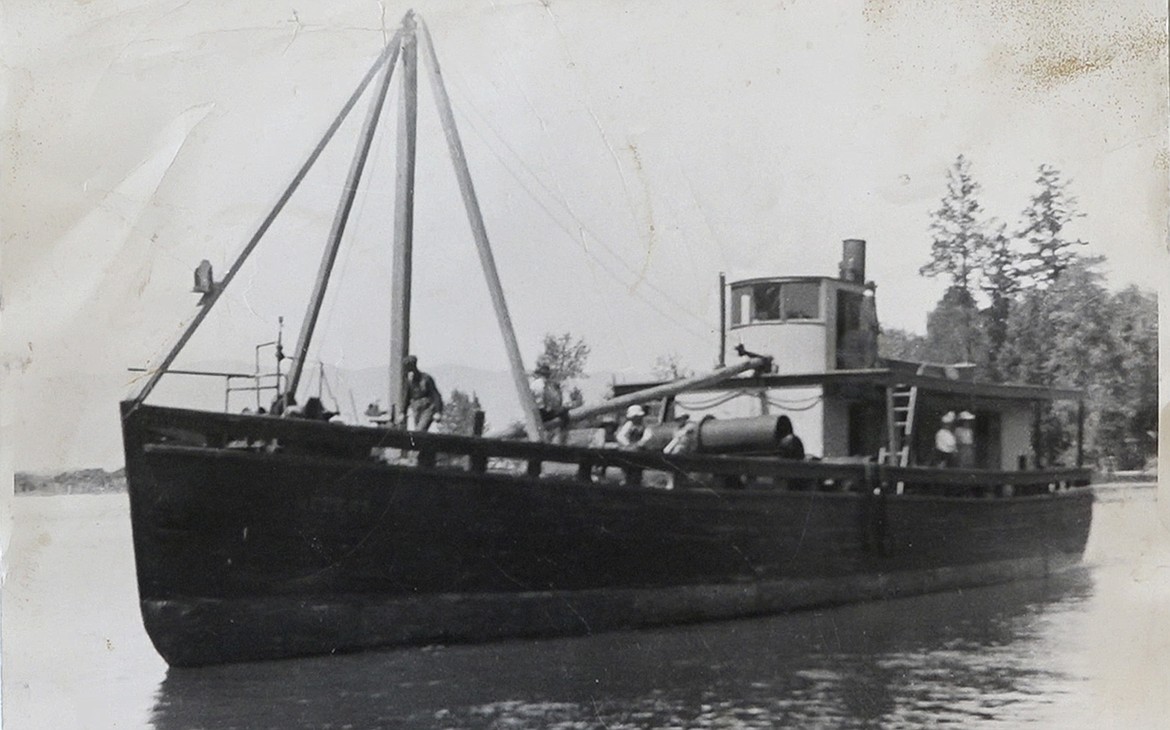 COURTESY Leslie Kehoe and the Bigfork History Project Photo of freight steamboat SS Helena, built by James Kehoe Sr. in 1915. Note steel cladding on bottom for ice breaking.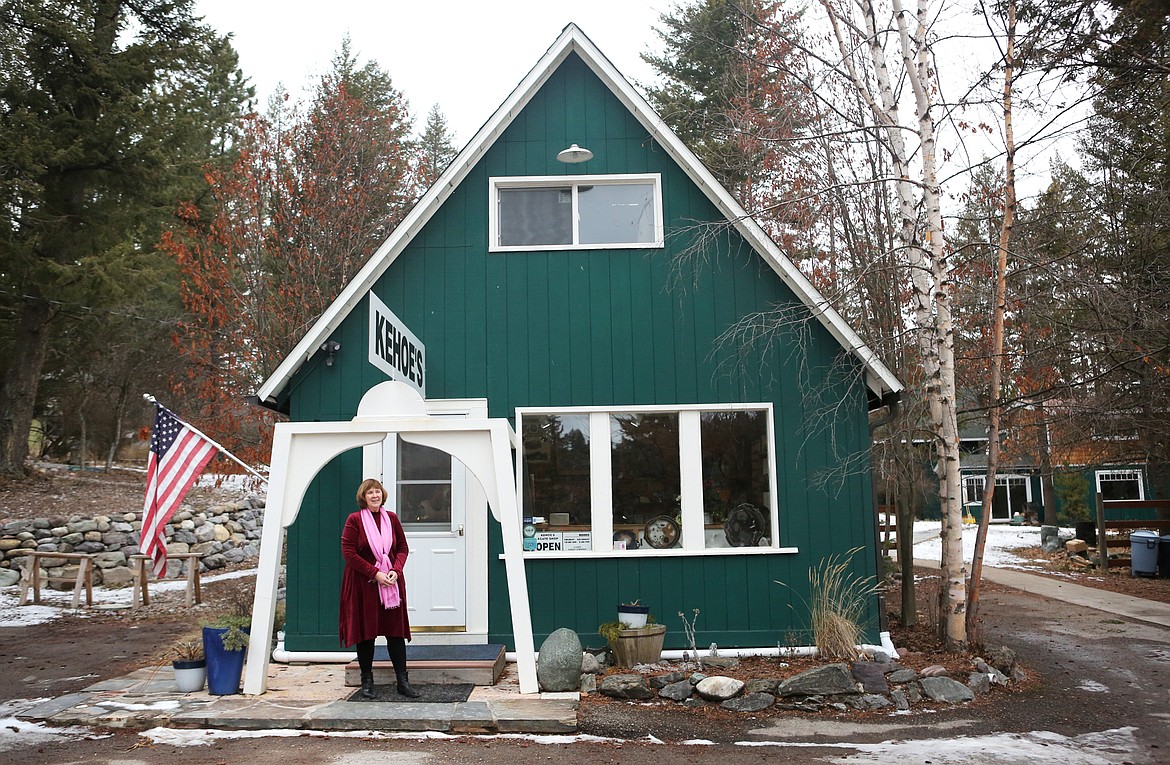 Leslie Kehoe, owner of Kehoe's Agate Shop, is pictured in front of her store on Holt Drive in Bigfork. (Mackenzie Reiss/Daily Inter Lake)
Agates, fossils, crystals and more fill the third room of Kehoe's Agate Shop on Feb. 14. (Mackenzie Reiss/Daily Inter Lake)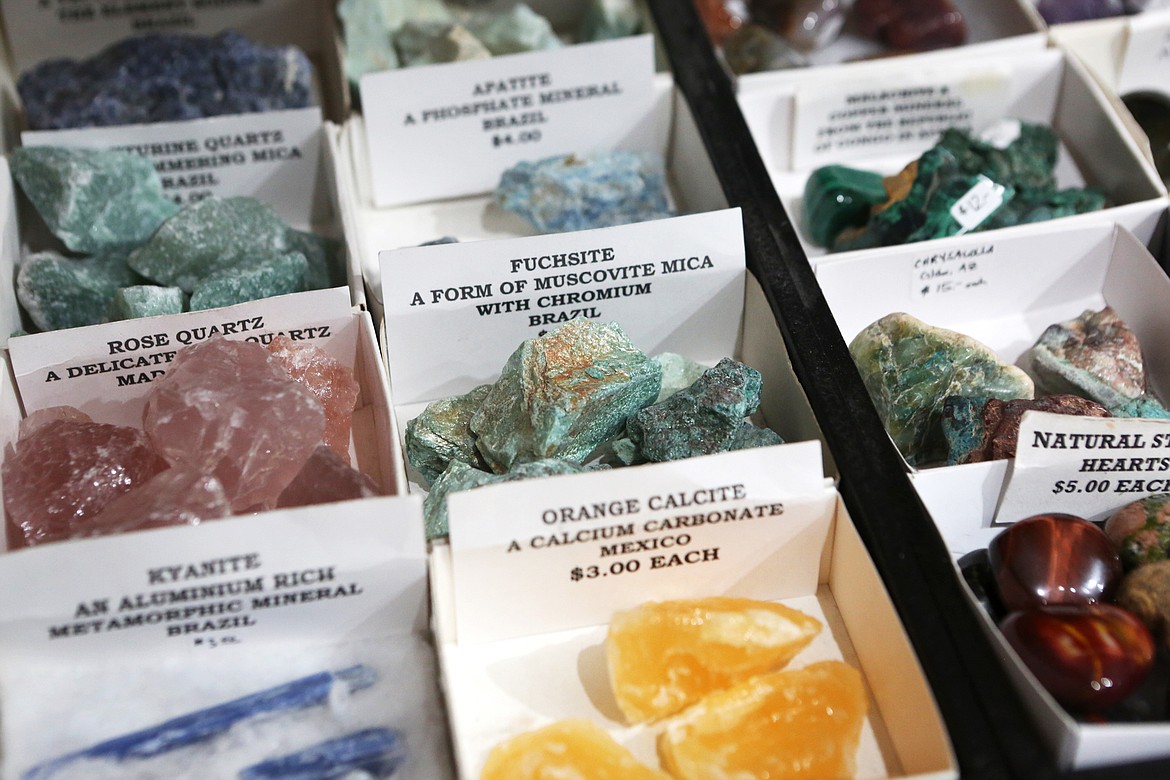 Crystals, rocks and minerals are on display at Kehoe's Agate Shop in Bigfork. (Mackenzie Reiss/Daily Inter Lake)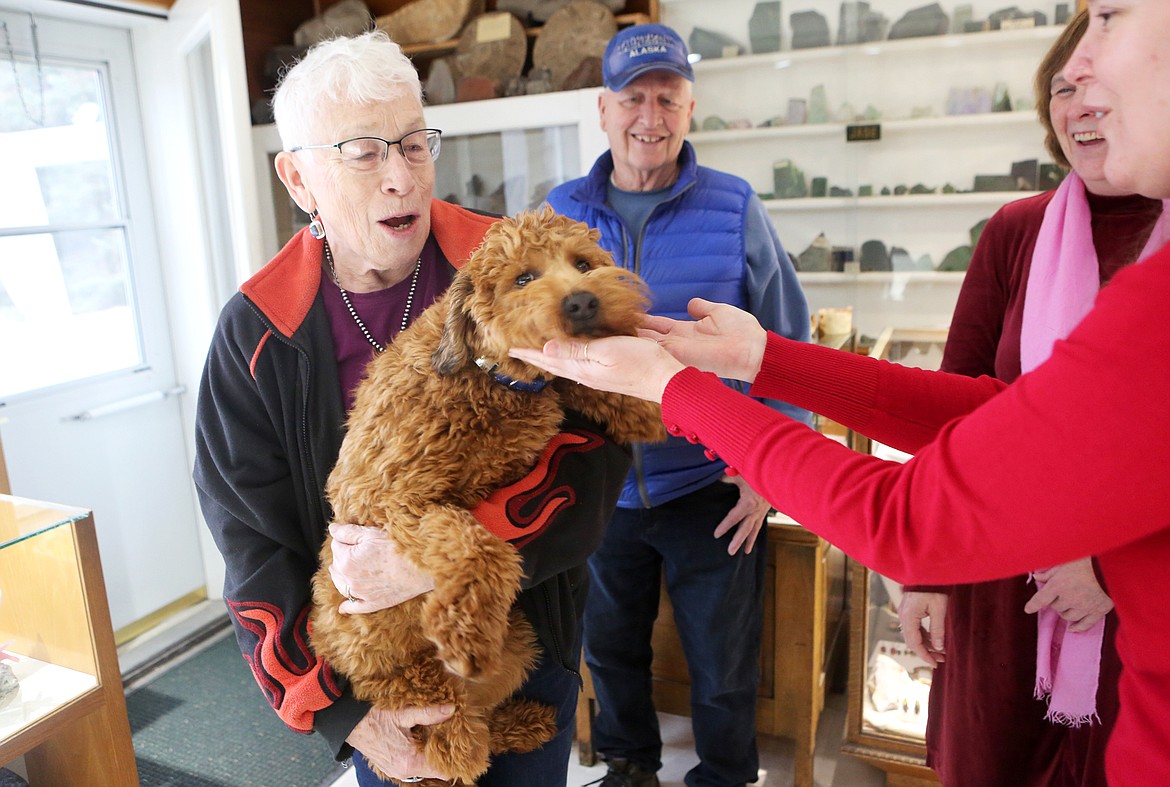 Longtime customer Joan Hodgeboom, of Bigfork, brings her pup in to visit with Kehoe's Agate Shop staff on Valentine's Day. Hodgeboom keeps coming back to Kehoe's because "everybody is knowledgeable — you can ask them any questions you want," she said. (Mackenzie Reiss/Daily Inter Lake)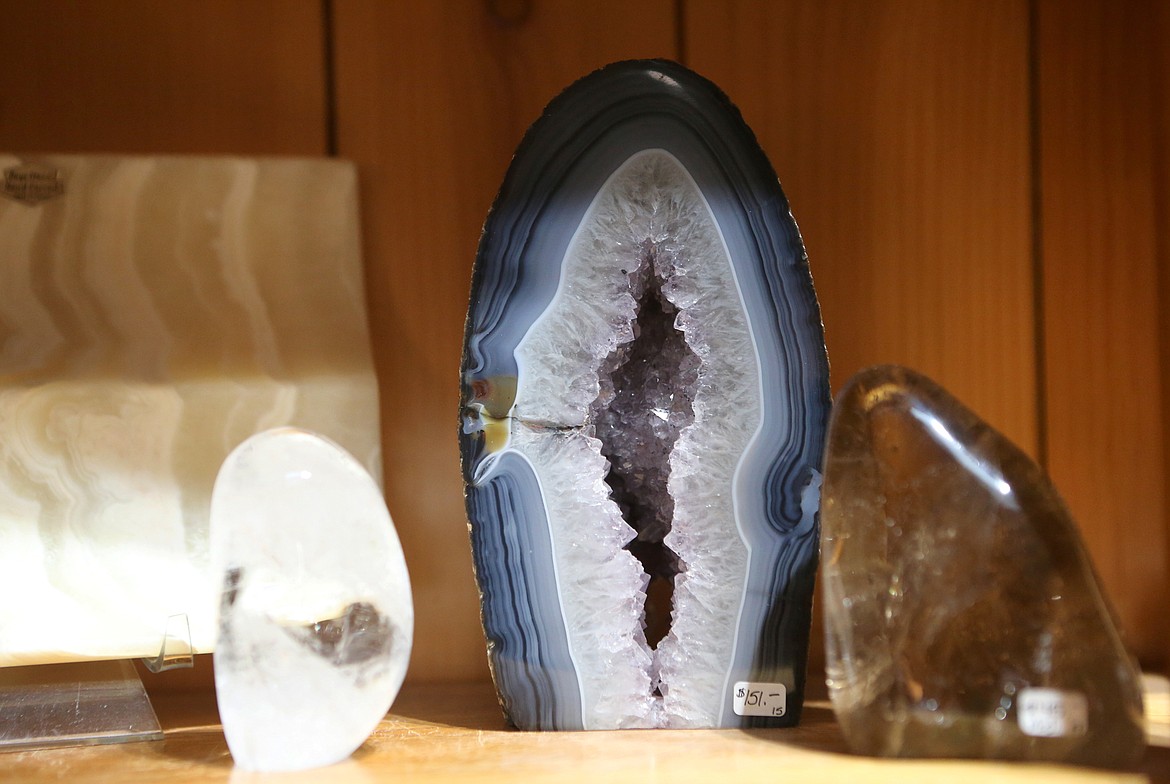 Kehoe's Agate Shop offers a variety of agates, crystals, fossils and jewelry.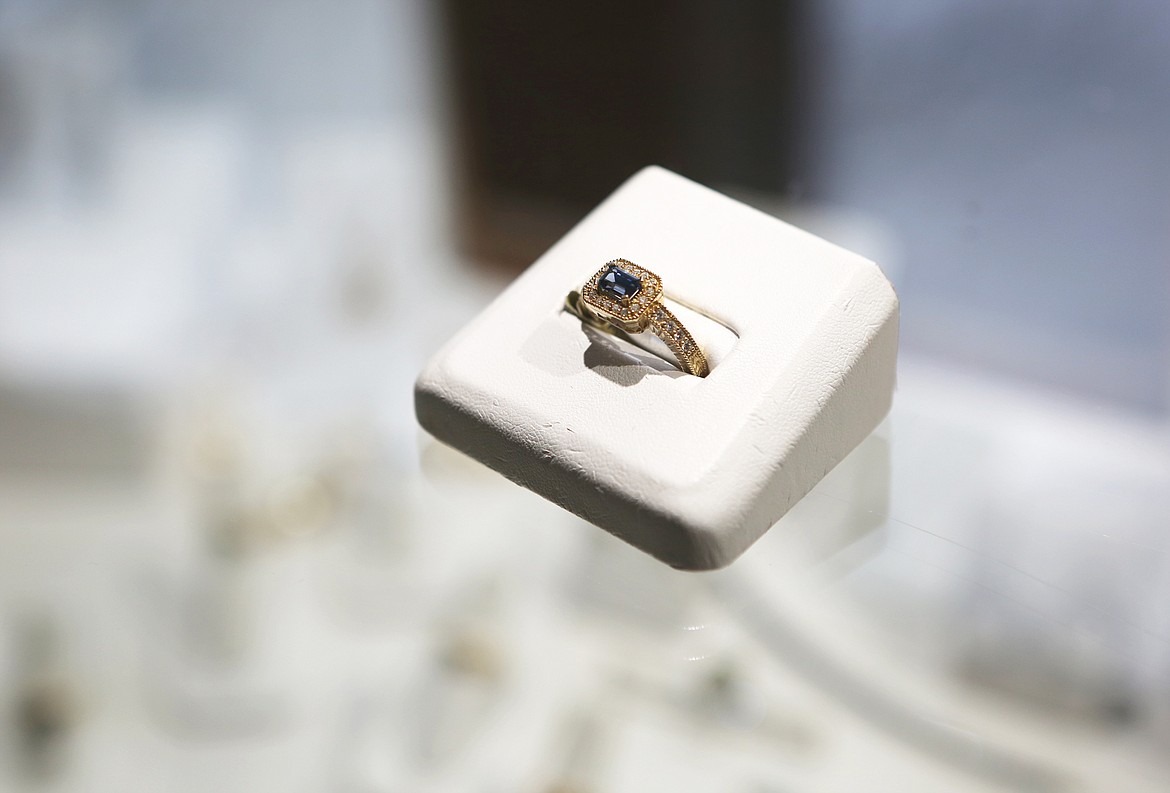 Montana sapphire jewelry is one area of specialty at Kehoe's Agate Shop. Founder Jack Kehoe. "My dad started buying it 50, 60 years ago," said his daughter and current owner, Leslie Kehoe. "It's something that's been continuously in the business all these years." (Mackenzie Reiss/Daily Inter Lake)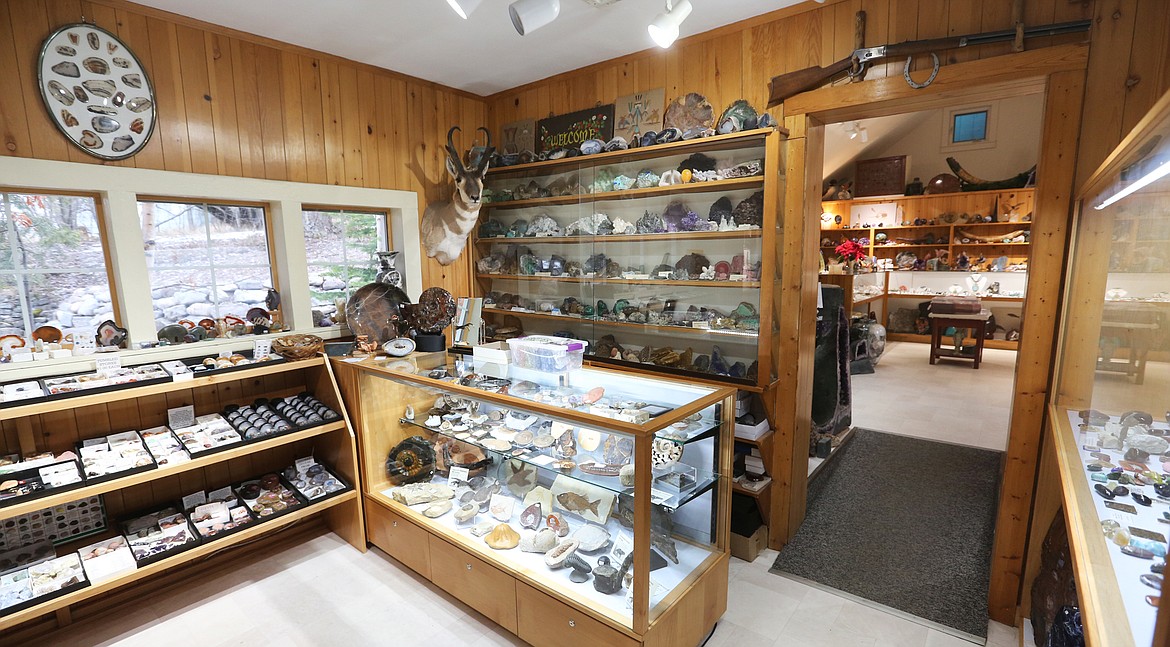 Kehoe's Agate Shop has been in business since 1932 and is known for offering quality stones and classic jewelry.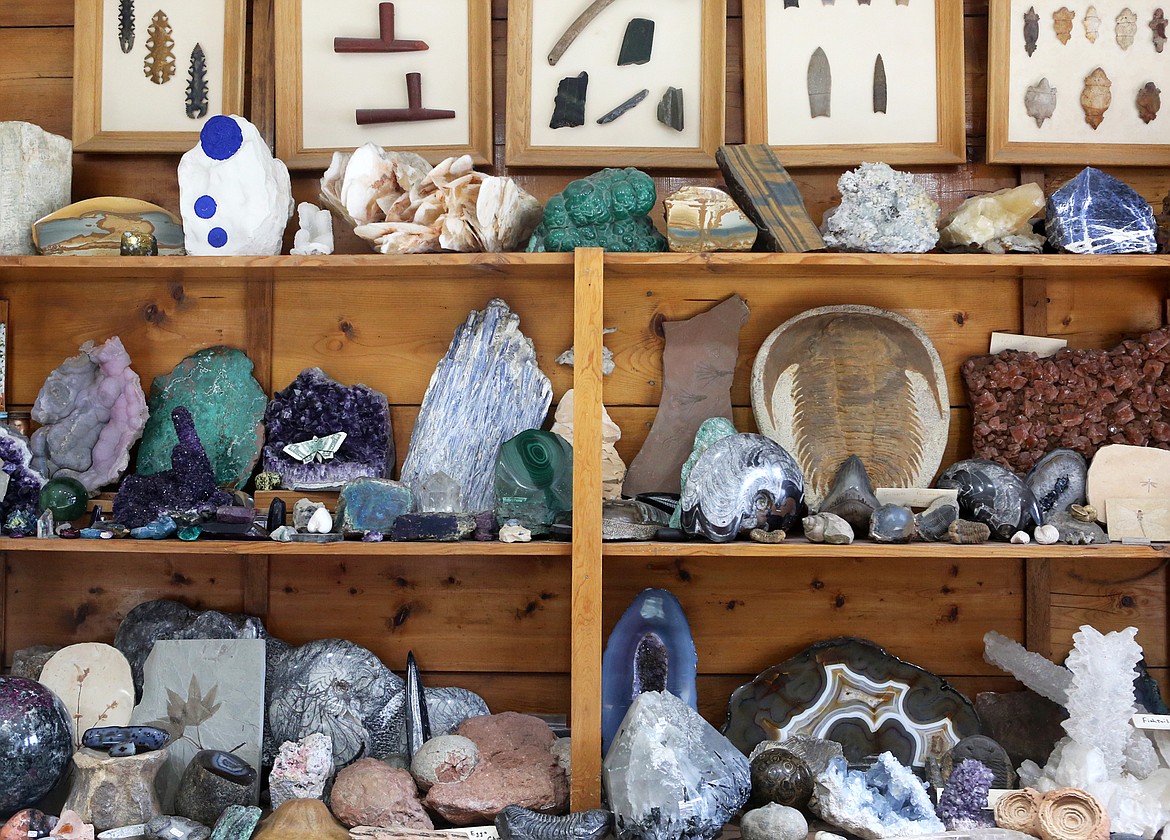 An expansive mineral collection decorates the walls of the first room at Kehoe's Agate Shop. The collection was started by founder, Jack Kehoe. His daughter Leslie Kehoe continues adding "one nice mineral every year," she said. (Mackenzie Reiss/Daily Inter Lake)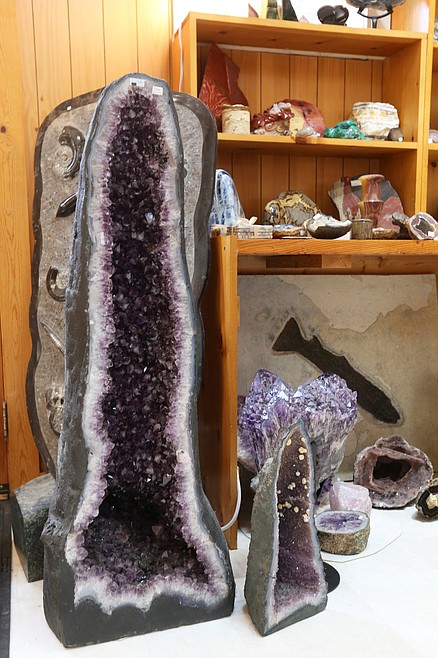 Kehoe's Agate Shop carries rocks and gems of all sizes, some as large as this Amethyst geode. (Mackenzie Reiss/Daily Inter Lake)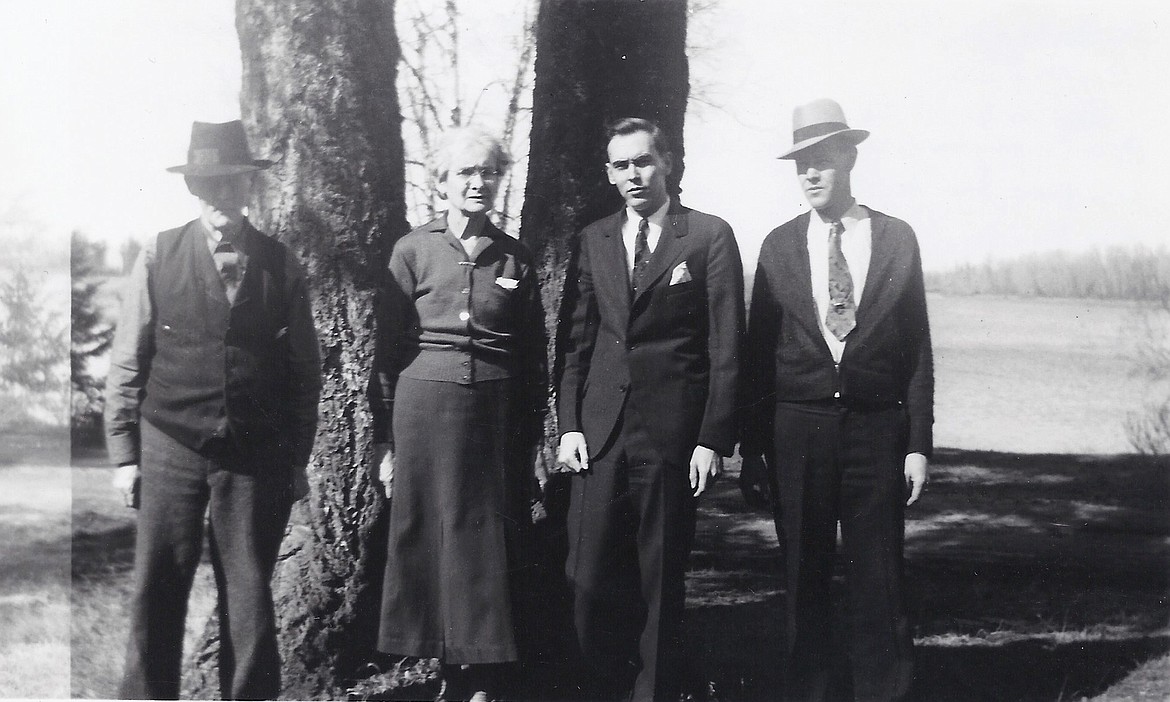 This photo of Kehoe family includes James Kehoe Sr. and James "Jack" Kehoe Jr. (Courtesy of Leslie Kehoe and the Bigfork History Project)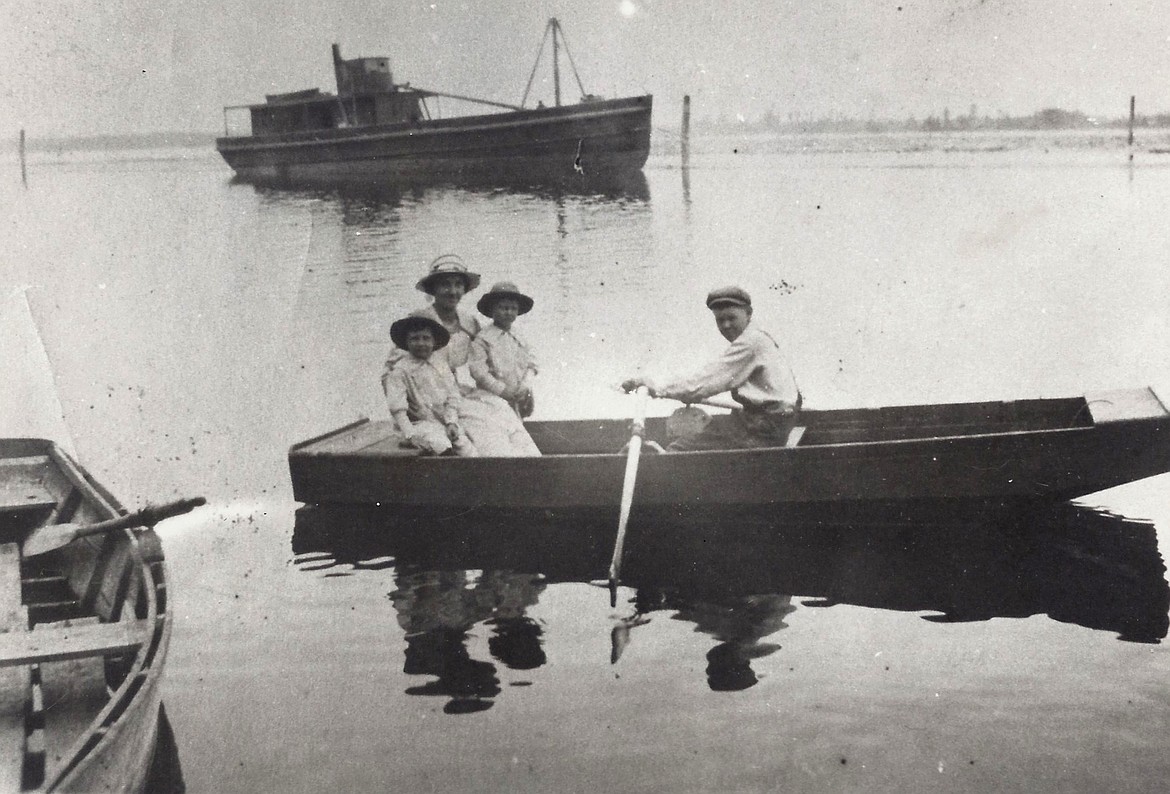 Jack Kehoe and family in fishing boat on Bigfork Bay with the SS-Helena in the background circa the early 1920s.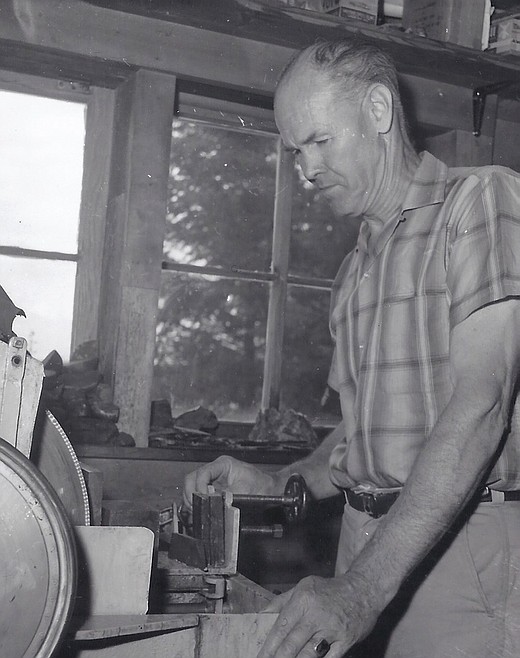 James "Jack" Kehoe working at the diamond blade "jade" saw he designed and built. Kehoe was one of the first people in the U.S. to cut and work with the jade from Canada.
Previous
Next
|
February 26, 2020 2:00 AM
Two-and-a-half miles from downtown Bigfork, well off the beaten path, a bright pop of teal stands out starkly from the drab, winter foliage. The azure structure is home to Kehoe's Agate Shop, first established by former steamboat operator, Jack Kehoe in 1932. Customers say the remote location is part of the allure — visitors have to do a little treasure hunting of their own in order to find this literal gem of a place. But the journey is only the beginning. Inside the gabled entry is a rockhound's paradise — part jewelry store, mineral exhibit and most prominently: a showcase of fossils, crystals and of course, their namesake stone, the agate.
The mineral matriarch is none other than Jack Kehoe's daughter, Leslie, who assumed ownership of the shop in 2008 following the death of her brother James Kehoe, who ran the store after their father passed in 1992.
In a red velvet dress seated in the shop's back storage room, Leslie recalls the history of Kehoe's with the nuance and perspective of a true historian.
In 1915, the Kehoe's first arrived in the Flathead Valley with the intention of operating a steamboat on Flathead Lake. Back then, the roads around the lake were nearly impassable much of the year — a drive from Polson to Somers could take up to a week — so residents relied on boat travel for transport of both people and supplies.
Jack Kehoe and his father lived in "desperate times," Leslie said. "Life was pretty tough here in the valley — anybody will tell you that."
They rented a house that had no insulation — just board walls and a wood stove to keep them warm through the unrelenting winters. Many of Jack's writings reflecting on that period told of how cold he was or how he had to hunt for wild game in order to put meat on the table.
In the early 1930s, improvements to the roads around the lake and an increase of car and truck traffic made boat travel obsolete. The Kehoe's retired their steamship, the Helena, gutted it and built the first two rooms of the agate shop.
Parts of the old vessel remained on the property for years — for a while the bow was visible from the residence adjacent to the shop, but now just the keel remains, along with the pilot house salvaged from the boat containing the wheel, engine, propeller and anchor.
Back when they built the agate shop in the now defunct town of Holt, the location had big potential.
"Most people thought that this was going to be the big town in the Valley — not Kalispell," Leslie said. In the 1930s, Holt Drive was a primary thoroughfare that connected the valley to the southernmost part of the Flathead River, where travelers could pick up a ferry to get across.
But development had other plans, and as the central parts of the county grew, Jack had to find creative ways to keep the business afloat.
"He apprenticed with a man in Columbia Falls to learn the trade after the steamboat was decommissioned — he had to do something," Leslie said. "[Henry Briggs] taught my dad not only the love for jewelry, but of the natural world, and they went into business together."
Jack learned how to cut rock and harvest agate, and kept the shop going during the Depression by buying and selling gold. When the economy rebounded and tourism in the valley took off, so did Kehoe's as Jack expanded into wholesaling, in addition to the retail storefront.
As time went on, Jack's life and the shop became completely intertwined. It was there in 1957 that he met his future wife, Louise, who was visiting the shop with her father. The pair developed a friendship and wrote to each other over the next two years. They married in 1959 and had three children: Leslie, James and Lynn.
While James had an early interest in gemology, Leslie never intended to follow her father's footsteps, and instead pursued a degree in international management. But when his health began to fail in the early '90s, she returned home.
"He ran it until he was in his 80s," Leslie recalled. "We were a part of it, but it was his business until he passed in 1992."
In Jack's stead, James and Leslie took the helm. James studied the family trade at the Gemological Institute of America and also learned the art of goldsmithing. It was under his tenure that Kehoe's small jewelry case saw a significant expansion.
"Every year we just grew it a bit more and added more things," she said.
Throughout the store's evolution, their focus on quality stones and agates never wavered.
"We've never looked at synthetic things … we don't really do dyed agate geodes and things like that," Leslie said. "Every single thing in the store, and this has been true since James and I started running the business, is something we picked out personally."
While they weren't out harvesting rock themselves, Leslie said she's worked with some of her dealers for as long as 35 years.
"We know exactly what we're buying, we know the quality," she added.
But in 2008 that "we" became "I."
James, a severe diabetic, died in May 2008, placing the torch in Leslie's hands.
"Staying home to take care of my family was really important to me," she said. "The shop is a wonderful legacy."
And it's one she's done her best to steward for more than a decade.
Kehoe's has continued to stay true to the shop's original focus: choosing quality always, and favoring classic styles over trendy pieces.
"Trendy lasts maybe three or five years," she explained. "A three-stone ring is always classic and it will be classic 100 years from now."
Looking to the future, Leslie said she hopes to keep Kehoe's in the family as long as possible.
"I couldn't see at this point selling the business," she said. "I'm in my late 50s. I'm thinking I'll work really hard for another eight or 10 years and then try to slow down a little bit."
What will happen once she's ready to to hang up her hat? Leslie isn't quite certain. For now, she'll continue sharing her knowledge and helping all who walk through the shop doors find their next natural treasure. ■
Editor Mackenzie Reiss can be reached at (406) 758-4433 or editor@bigforkeagle.com.
---