State directive mandates face coverings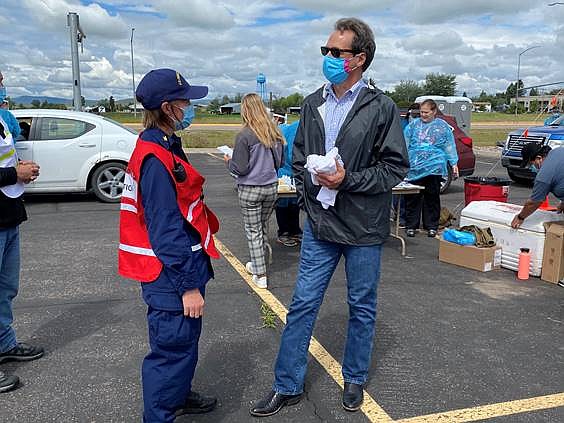 by
Amy Beth Hanson
|
July 17, 2020 9:20 AM
HELENA — Montana Gov. Steve Bullock issued a directive Wednesday requiring face coverings at indoor public spaces and at larger outdoor gatherings in counties where four or more people are known to be infected with COVID-19.
In the past month, the number of residents known to be actively infected with the respiratory virus has risen from 55 to more than 1,000, the governor's office said.
Too many people continue to meet in large gatherings and too few are wearing masks, Bullock said in announcing the directive, which took effect immediately.
"We've been working over the last few weeks to get community acceptance of masks," Bullock said, pointing to collaborations with football coaches and business associations to increase acceptance of masks. "But it isn't enough."
The directive currently applies in about two dozen of Montana's 56 counties, but it can change on a daily basis. There are 12 Montana counties where no cases of COVID-19 have been diagnosed and 19 more with three or fewer known active cases.
Masks will be required at public gatherings of over 50 people if social distancing isn't possible. Businesses and operators of other public indoor spaces will be able to prevent people from entering without a mask.
"No shirt. No shoes. No mask. No service," Bullock said. "It's that simple."
Exceptions include while eating or drinking at businesses that sell food or drinks, during activities such as exercise that make face coverings unsafe, or while giving speeches or other performances in front of a socially distanced audience. The directive does not apply to children under age 5.
In response to a question about those who may oppose the mask directive on a personal liberty basis, Bullock said: "An individual may think they have a constitutional right to get sick, but they don't have a constitutional right to get other people sick."
The statewide directive came a day after the health board of Gallatin County, which includes the city of Bozeman, attempted to hold a public hearing as it considered a local mandate to require masks in public spaces. The meeting was postponed to Friday after dozens of attendees opposing the mandate began chanting "my body, my choice," the Bozeman Daily Chronicle reported.
The chanting began after Gallatin County Sheriff Brian Gootkin requested some people leave the room because the crowd exceeded the size permitted by a statewide rule that limits gathering to 50 people if they are unable to socially distance.
Missoula County and Whitefish have enacted mask rules, and Butte-Silver Bow County was considering one.
Montana reported a record 145 additional coronavirus cases on Wednesday. Yellowstone County has nearly 400 people known to be infected, according to state data. Gallatin County has 144 active cases. Nine counties are seeing community spread, Bullock said.
Thirty-seven people are hospitalized in Montana, up from 29 known hospitalizations on Tuesday. Thirty-four people have died, including 15 who had been residents of long-term care or assisted living facilities.
---