National Forest staff blaze a trail for Bigfork schoolchildren
by
Bret Anne Serbin
|
July 22, 2020 1:00 AM
Bigfork school students will be following a new path when classes start up again this fall. Last week, Flathead National Forest staff from the Swan Lake Ranger District Office completed a loop trail leading from the Crestview Subdivision north of town to the intersection of Montana 35 and Holt Drive.
"It seemed like a win-win to have a foot trail for our Bigfork neighbors," said Beth Gardner at the Flathead National Forest district office in a press release. "We now have a small loop trail and safe access between Crestview Subdivision to the Highway 35 and Holt Drive intersection."
Staff at the Swan Lake Ranger District Office, which employs about 30 year-round forest workers, came up with the idea for the path last fall when they noticed numerous children from nearby neighborhoods trying to walk along the side of the road on their way to school. They also noted dog walking is a popular pastime along the narrow road.
"The long drive that leads to the ranger district office is narrow in places and does not lend itself to high-use pedestrian traffic," the release stated.
The trail is approximately a half-mile long, according to estimates from National Forest staff. Employees added approximately 500 additional feet of trail to connect the loop, which goes east along Holt Drive to Montana 35, north up to the Crestview subdivision, and then back around to the west to complete the loop near the district office.
Most of the path is on administrative use land managed by the Forest Service, but the forest also worked with the Montana Department of Transportation to secure an easement for a small portion along the highway.
The Forest Service crew made quick work of the loop trail during an afternoon workday on July 15. It took a crew of six employees about three hours to complete the loop trail with Pulaskis axes, shovels, rakes and other "standard trail building tools," according to Forest Service Public Affairs Officer Lauren Alley.
Alley explained the idea had developed since staff first noticed the pedestrian traffic in the fall. "Summer is an ideal time for trail building, so staff had identified it as a warm season project," Alley wrote in an email. "Schoolchildren can take advantage of it again in the fall."
"Bigfork is a friendly community, and just like everyone else, employees wanted to give something back to their neighbors," Alley added. "This is a great example of how a relatively small project can be a big value add for people going about their everyday lives." ■
Reporter Bret Anne Serbin may be reached at (406) 758-4459 or bserbin@dailyinterlake.com.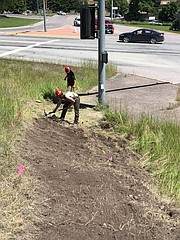 ---