Wakeboard Academy teaches people how to shred on water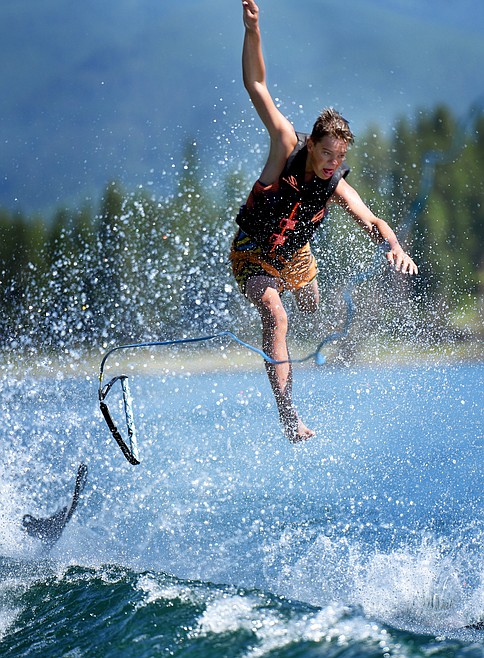 First time water skier Ashten Nelson attempts a jump during his recent lesson with Flathead Wakeboard Academy. (Jeremy Weber/Bigfork Eagle)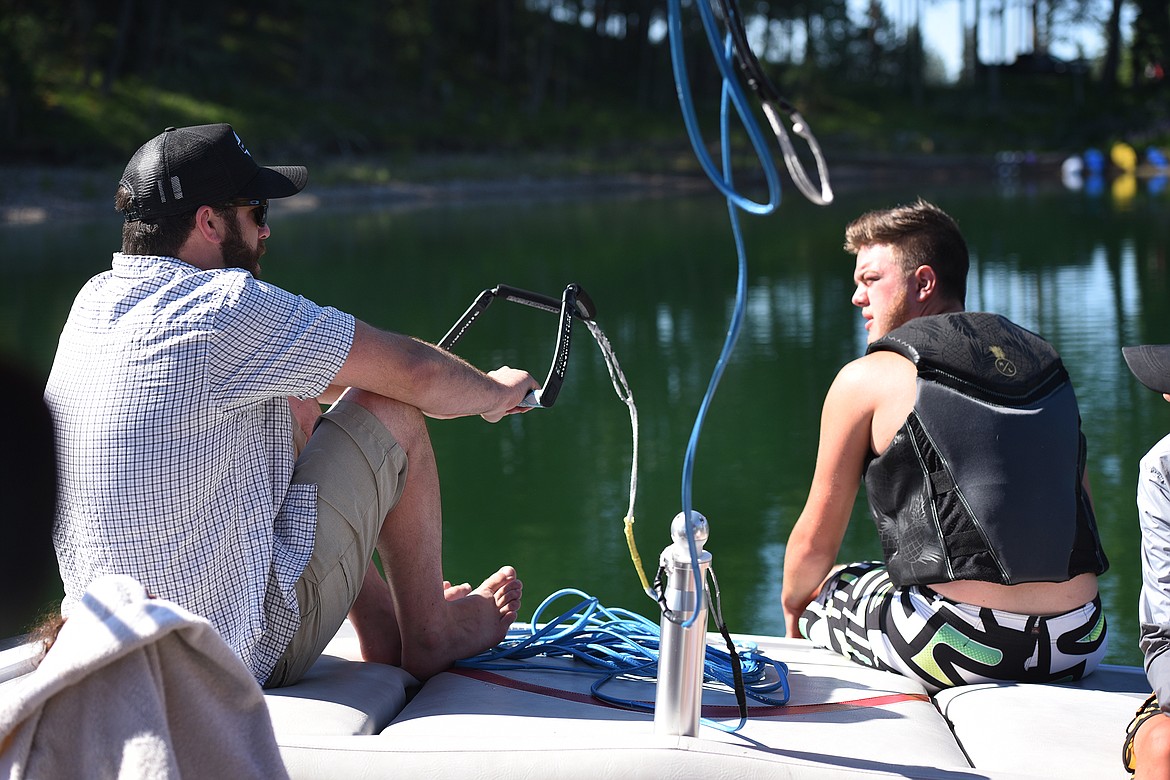 Flathead Wakeboard Academy owner Drew Hollinger goes over techniques with Kalispell's Kaden Nelson before hitting the lake. (Jeremy Weber/Bigfork Eagle)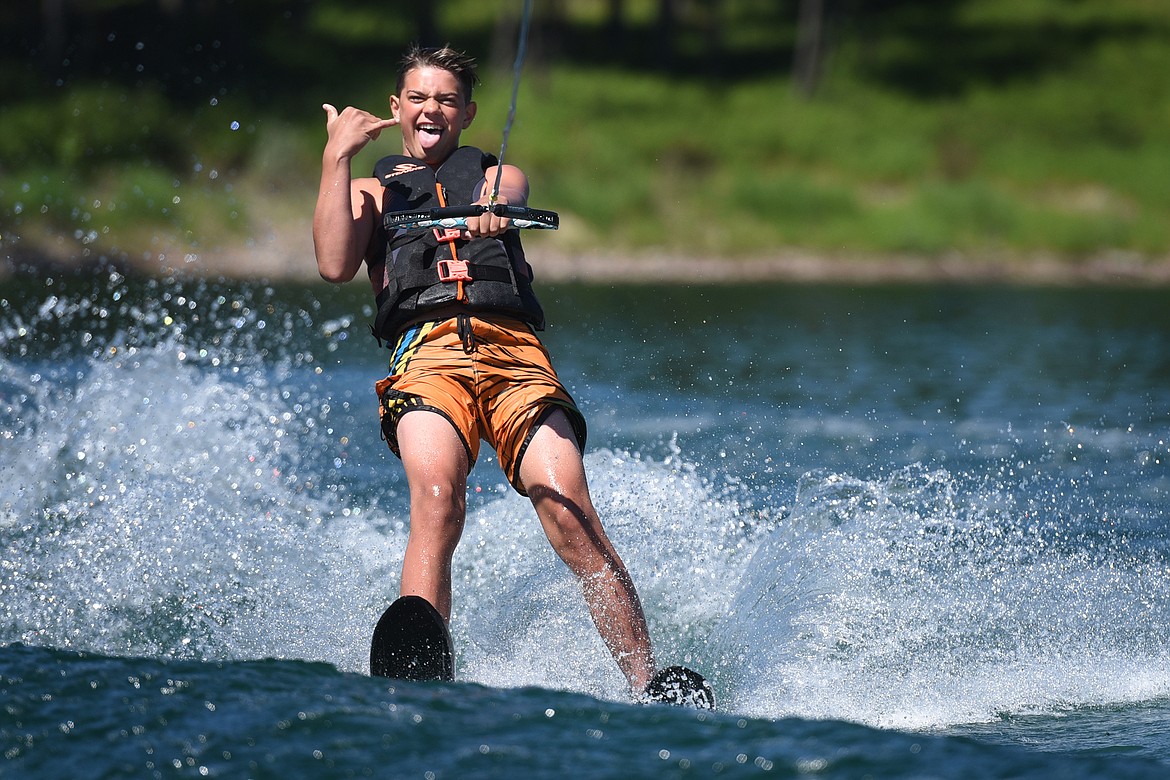 Kalispell's Ashten Nelson shows his enthusiasm during his first time waterskiing with Flathead Wakeboard Academy. (Jeremy Weber/Bigfork Eagle)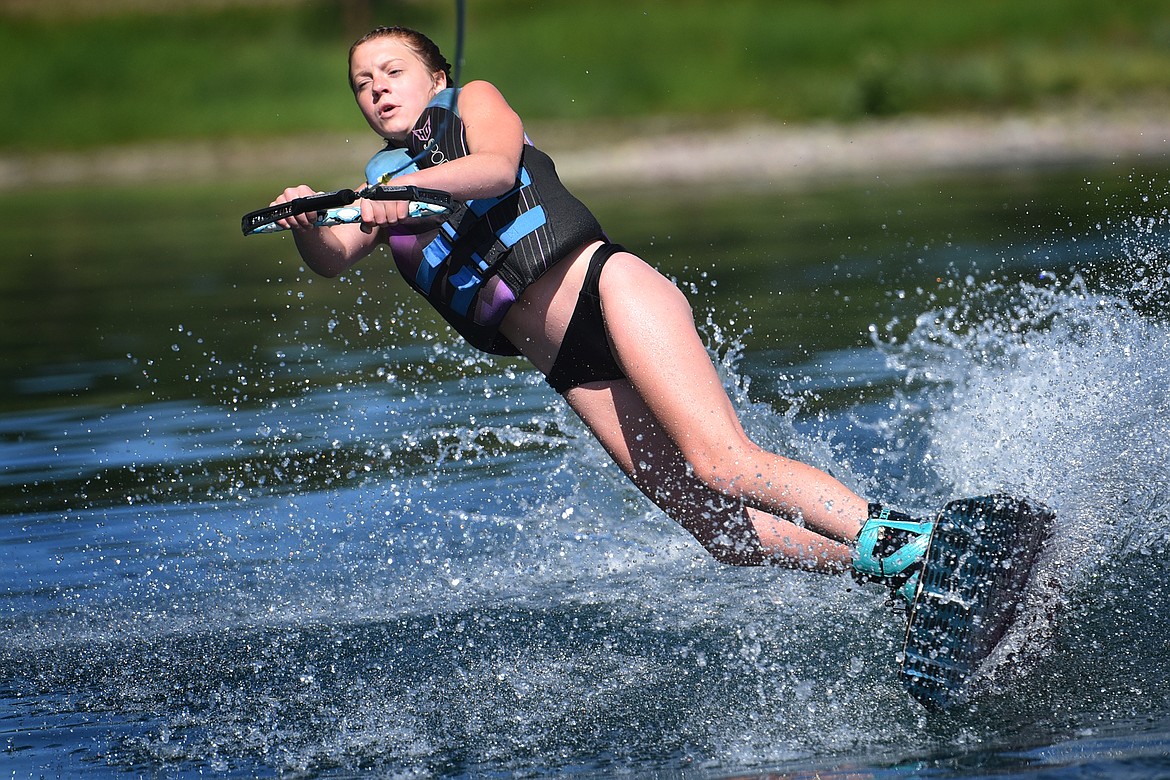 Kalispell's Kellyn Nelson enjoys her first time wakboarding this season with Flathead Wakeboard Academy on Echo Lake. (Jeremy Weber/Bigfork Eagle)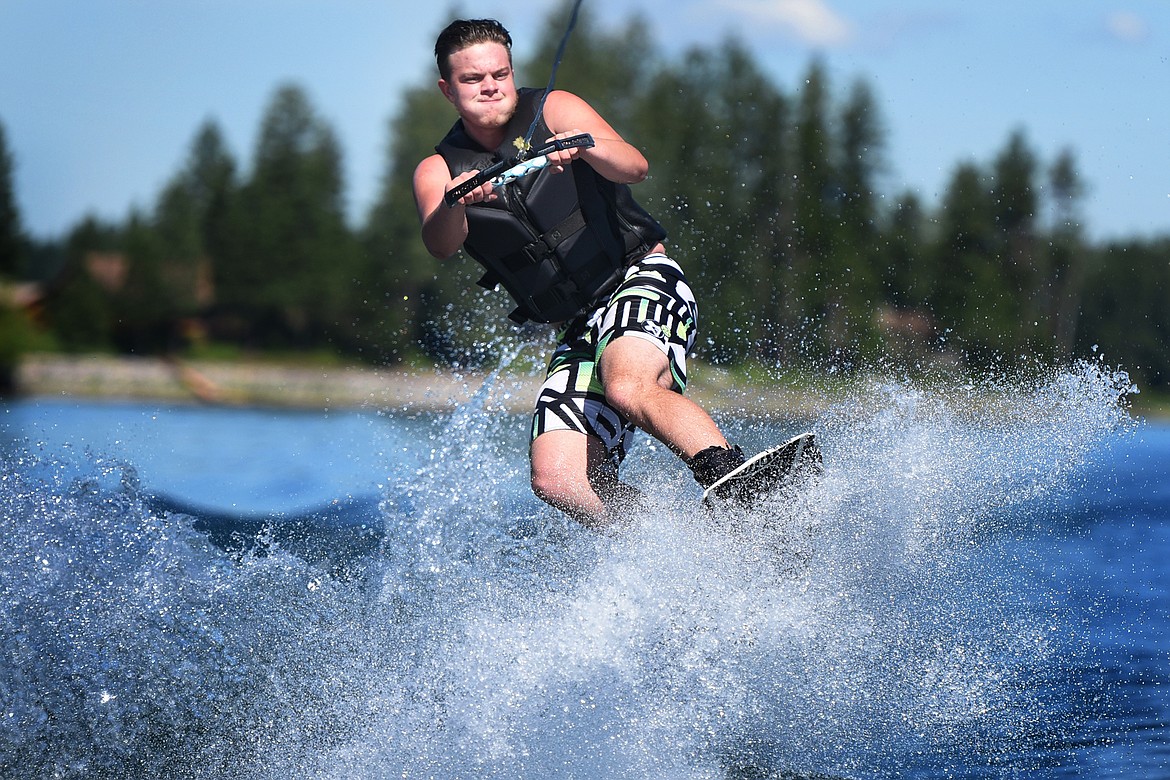 Kalispell's Kaden Nelson grabs some air while out with Flathead Wakeboard Academy. (Jeremy Weber/Bigfork Eagle)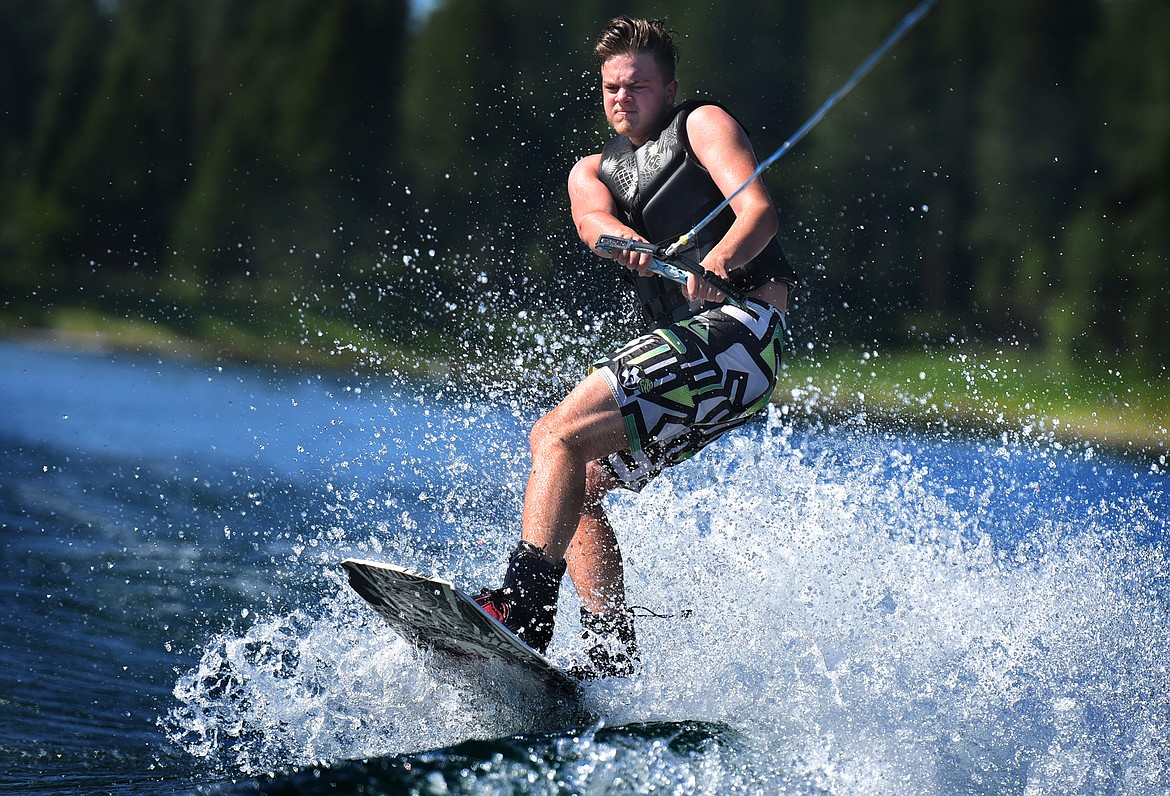 Kalispell's Kaden Nelson enjoys his time on Echo Lake with the Flathead Wakeboard Academy. (Jeremy Weber/Bigfork Eagle)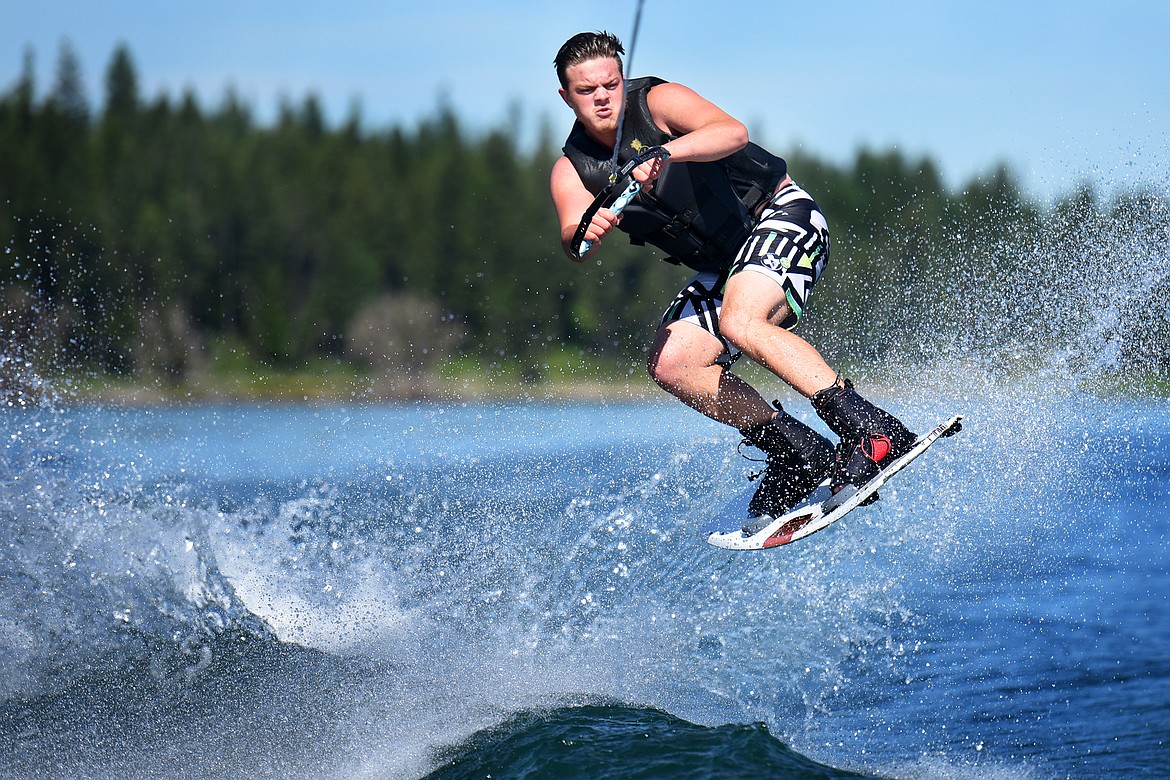 Kalispell's Kaden Nelson grabs some air while out with Flathead Wakeboard Academy.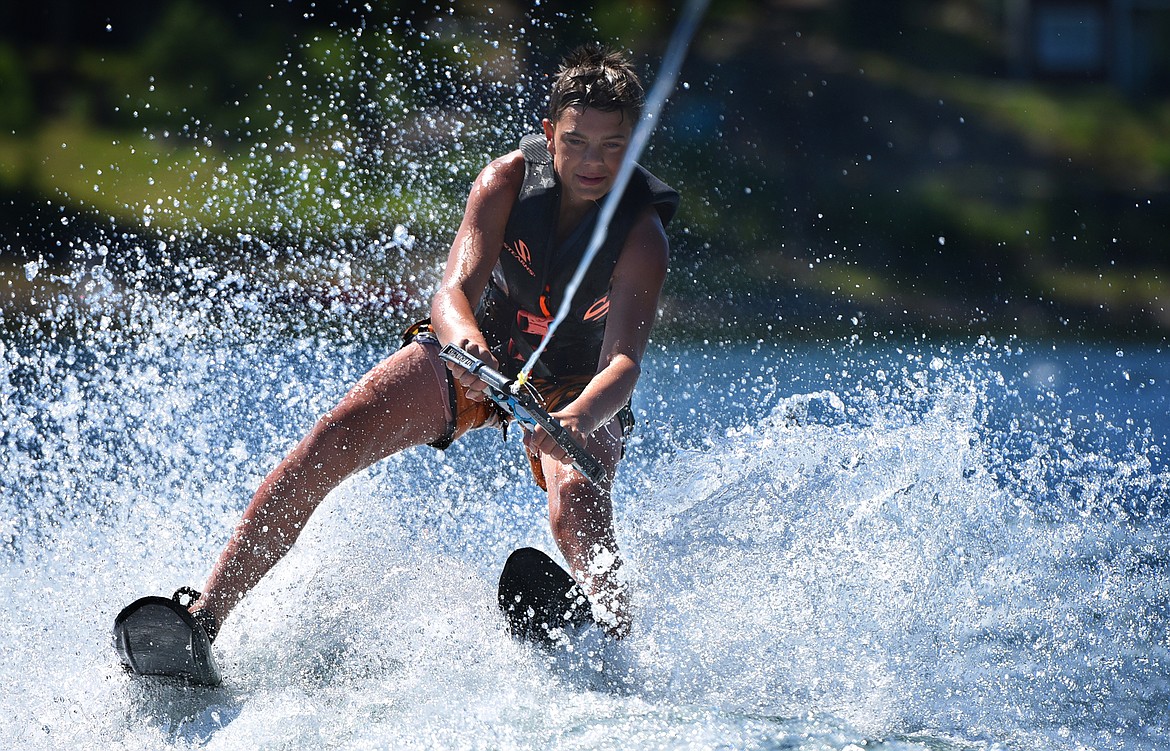 First time water skier Ashten Nelson of Kalispell get his legs underneath him during his recent lesson with Flathead Wakeboard Academy. (Jeremy Weber/Bigfork Eagle)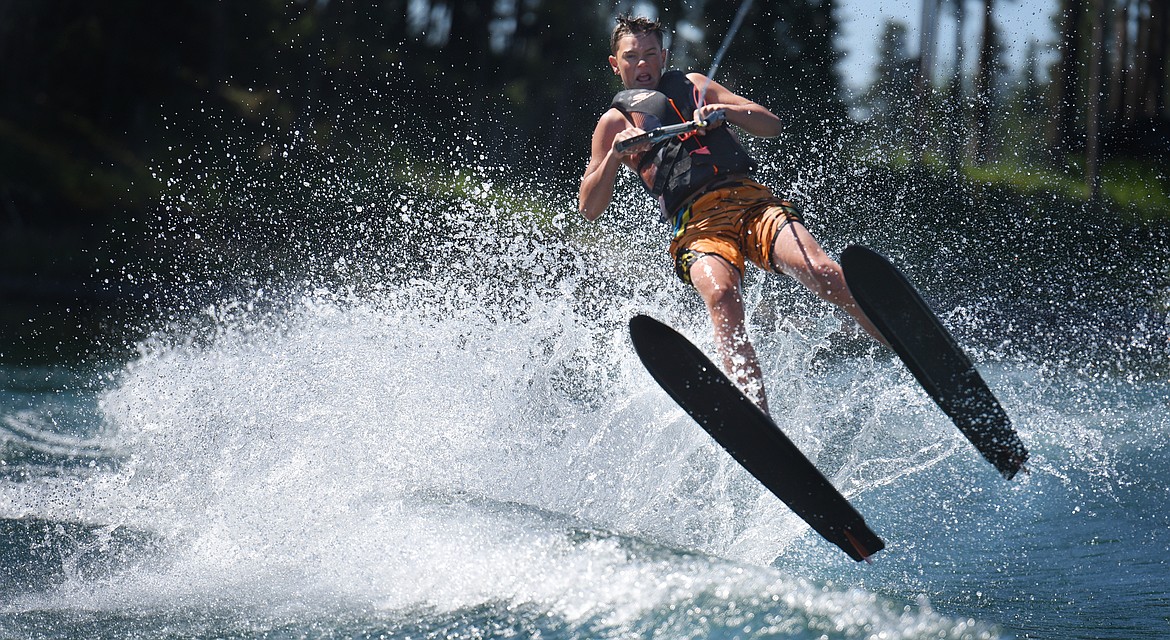 First time water skier Ashten Nelson takes to the air during his recent lesson.
Previous
Next
by
Jeremy Weber
|
July 22, 2020 1:00 AM
What started in high school as a way to earn some summer cash on the lake continues to be a thriving business for Bigfork's Drew Hollinger and his Flathead Wakeboard Academy.
Based on Echo Lake, Flathead Wakeboard Academy was started by friends of Hollinger in 2000 before he and his brother started working with them in 2005. With a background in downhill ski racing, Hollinger quickly took to the water and has enjoyed it ever since. These days he teaches wakeboarding, kneeboarding, waterskiing and wake surfing.
Over the years, everyone else involved slowly moved away from the Bigfork area, but Hollinger continues to give lessons and says business has been as strong as ever over the past few summers.
"It's gone from a summer job to something to do to make extra college money and beyond," he said. It's just too fun to stop doing it and people still call wanting lessons."
Over the years, Hollinger logged countless miles driving around the Flathead posting flyers and leaving informational brochures to drum up business. When he took a job in real estate two years ago and stopped advertising the academy, Hollinger was sure business would begin to taper off. He was in for a surprise.
"I'm not sure exactly what it was that summer, if it was word of mouth or what, but it was crazy. I was super busy," he said. "I was still posting photos on Facebook and online, but I wasn't expecting that much business. It made for a fun couple of months."
Hollinger uses social media for all of his advertising these days and says his summers are as busy as ever with 80-100 families booking lessons and even a few 12-hour days on the lake with clients.
With warm water this summer and fewer people on the lake as the border shutdown continues to keep Canadian homeowners away, Hollinger says now is a perfect time for newcomers to learn the sports in a calmer-than-usual environment.
"It's all about overcoming that intimidation of being alone behind the boat by yourself and this is the perfect time to do that," he said. "Once you get over that fear, it's all fun after that. Building up confidence is key." ■
---