Fourth of July parade called off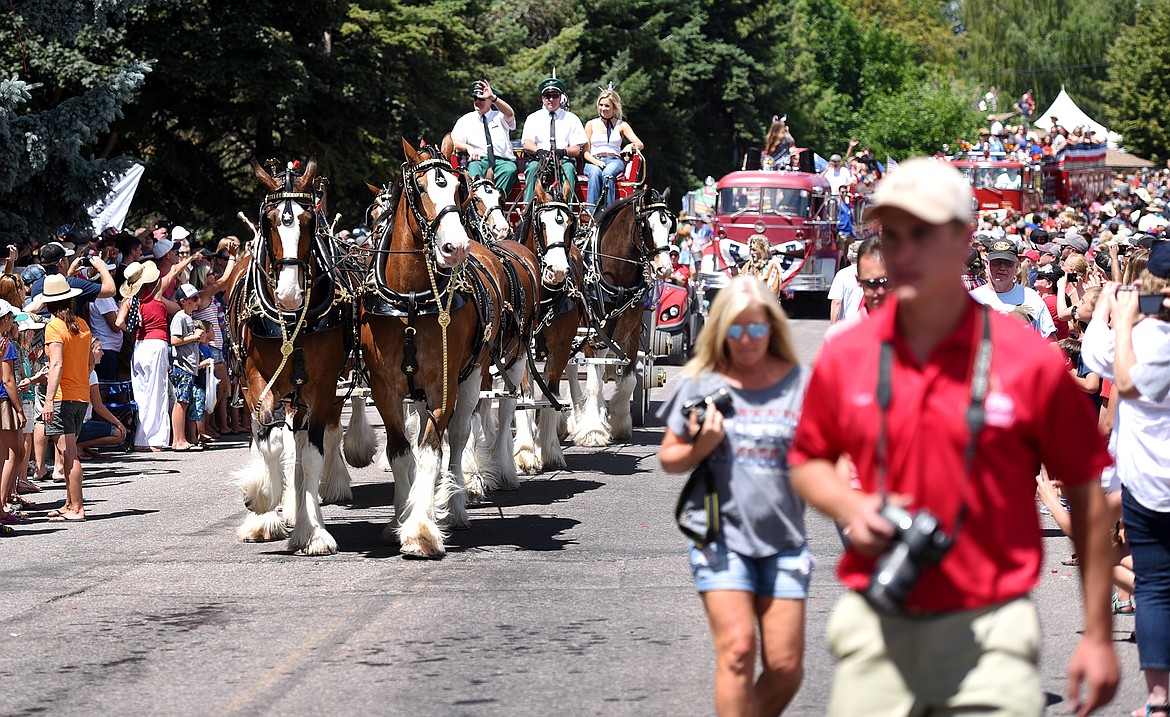 BRENDA AHEARN | Daily Inter Lake file photo The Budweiser Clydesdales make their way down Grand Avenue during the Bigfork Fourth of July Parade on Tuesday afternoon, July 4, 2017.
Sally Finneran | Bigfork Eagle file photo The Bigfork Independence Day Parade comes down Grand Avenue in 2015.
Previous
Next
by
Mackenzie Reiss
|
June 3, 2020 5:34 AM
Bigfork's annual Fourth of July Parade, which has repeatedly been voted the best parade in the Flathead Valley and draws thousands of spectators each year, will be missing from this year's summer events lineup. The Bigfork Area Chamber of Commerce, which organizes the event, made the difficult decision to cancel the parade based on current recommendations from the State of Montana and Flathead County, executive director Rebekah King told the Eagle. The official announcement was released Tuesday.
The parade routinely brings in anywhere from 3,000-5,000 people to Bigfork, and while the state's current phase 2 reopening guidelines lift the 14-day quarantine for out-of-state travelers, they only permit gatherings of up to 50 people. Phase 2 started June 1, but it is unclear whether Phase 3, which has no limit on gathering sizes, would kick off in time for the parade.
"There is no way that we can control people in and out of town and adhere to social distancing guidelines," King explained. "We recognize the impact on the community that this is going to have but we really had no other choice."
She emphasized that the decision to call off the parade was born out of concern for the community's safety and wellbeing of the town as a whole. The six-person committee tasked with planning the parade came to the conclusion unanimously with the full support of the Chamber Board of Directors, King said.
"This is not a decision we wanted to make," she noted. "We are really asking our community, while they may not agree with our decision, to be supportive of it."
The chamber parade committee members considered a few alternatives including hosting a small parade on private property with a livestream, but didn't feel there would be enough interest for that format. King also said they talked about running a small parade through local neighborhoods to discourage downtown congregating, but ultimately felt the best alternative was to cancel the event altogether.
While the parade is a no-go, the Bigfork Summer Rodeo, held over the Fourth of July weekend will take place. King said she's received numerous calls from locals comparing the parade to the rodeo. But King explained there were significant differences between the two, namely that the rodeo was a ticketed event with seating, so it would be easier to limit crowds and adhere to social distancing measures. "They can control numbers, they can control seating ... These are all the barriers that we cannot [control]," King said.
The Kalispell Chamber of Commerce has also opted to cancel their 4th of July parade.
"With the current phased reopening parameters, the annual Kalispell Fourth of July Parade unfortunately won't be possible this year, taking into consideration social distancing requirements for the number of spectators, entries, and volunteers," said Joe Unterreiner, President/CEO of the Kalispell Chamber.
King hopes that the 4th of July spirit will still be evident in Bigfork's downtown corridor and is encouraging businesses to decorate their storefronts to "paint Bigfork red, white and blue."
A number of other summer events are currently slated to go on as planned, albeit with a few adjustments in accordance with Phase 2 reopening guidelines.
The chamber is planning to host the Festival of the Arts, a two-day outdoor arts market scheduled to run the first weekend in August.
"It'll probably be a little bit smaller, fewer vendors. It may be gated so we can control the number of people in and out at one time," King said.
The Riverbend Concert series is also kicking off at the end of this month, beginning their 10-concert series at Everit L. Sliter Memorial Park with a performance by local legend John Dunnigan at 7 p.m. on Sunday, June 28. ■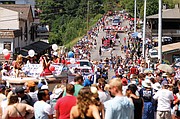 ---