Wind storm pummels Ferndale region
A strong thunderstorm with damaging winds gusting up to 69 mph swept through the Flathead Valley Sunday morning, causing widespread power outages to more than half of Flathead Electric Cooperative customers at one point.
In the Bigfork area, Ferndale sustained the most damage with more than 50 trees reported down in a two-mile stretch of Montana 83, according to an online update from Flathead Electric.
"We have six crews currently working from Ferndale and down Highway 83 to put as much primary line as possible," the June 1 message read. "Depending on the progress we are able to make in this area, we may be able to send a crew to Echo Lake, but unfortunately, we just aren't sure at this point if that will be possible today."
Bigfork Fire Department Chief Mark Thiry said his department only received a handful of calls.
"I think we had a half a dozen trees in Lake County and I think we had one or two by Echo Lake," Thiry said. "Ferndale got pounded really hard. They had Highway 83 closed for like four hours."
Ferndale Volunteer Fire Department Chief Ken Sharr said Montana 83 was closed from Ferndale to Swan Lake and Montana 209 was closed from Ferndale Market to the fire hall due to downed power lines. Both roads were reopened around 12:30 p.m. Sunday.
"I couldn't even begin to give you a guess of how many lines were down. It was a lot," Sharr said.
Many of his fellow responders had to cut down trees to get to the fire station, and while they received 12 official calls on Sunday, Ferndale Fire responded to a far greater number of people as folks approached their trucks by vehicle or on foot to ask for help. Sharr received one report of a tree fallen on a house and said he observed a great number of trees down throughout the area.
He also advised that people keep their distance from downed lines in the future.
"When you see downed lines, you never know if they are energized or not," Sharr explained. "Don't move them don't, drive over them, don't walk on them."
Brian Truckey, owner and general manager of the Ferndale Market, said he'd never experienced such a high volume of rain and didn't notice the wind until he made his way to work and observed multiple trees and power lines down.
"I think the biggest, encouraging thing to report on is everybody in the neighborhood was out helping one another, clearing debris off the road," Truckey said. "Storms like that bring the community together even more … Our snowplow guy, Bob, has a Case tractor and he was out there pushing trees off the road for people, cleaning the highway."
Truckey said the storm was the shortest one to hit the Bigfork area in the past year, but also the most intense.
A low pressure center and a cold front rapidly lifted a "really warm and wet air mass" that the area has been in, which set the stage for the thunderstorm, according to National Weather Service Meteorologist Jeff Kitsmiller. Strong winds began at 8:20 a.m. Sunday morning, and were already slowing down by 8:30 a.m. he said.
But as of midday Monday, Truckey reported that most of the roads had been cleaned in a little over 24 hours after the storm. Crews from Missoula and Helena responded to the area and worked around the clock to repair the damage, he said.
"They said they went until 2 or 3 a.m. in the morning and were back at it at six," Truckey added.
At the peak of the power outages, roughly 37,000 — more than half of the cooperative's customers — were without power according to Flathead Electric Cooperative Public Relations Officer Wendy Ostrom-Price. The thunderstorm impacted all 5,000 miles of line on the system according to Ostrom-Price.
"At one point, the Flathead substation was down and all of Kalispell was out," she said. "There are trees down all over on power lines, on houses and on cars. This is one of the worst storms our area has seen in years."
Electric crews were dispatched around 9 a.m. The challenge with this storm in regard to power outages was the breadth of the area the storm covered, traveling "as far as Libby to the west of our territory, and to Big Mountain to the north, east to Essex and south to Swan Lake," Ostrom-Price said. Five crews from other parts of the state have been called in to assist Flathead Electric. Power may take days to restore in certain areas.
"All crews are responding, but that's a lot of ground to cover," she noted.
The latest outage information will be posted on Flathead Electric's website, flatheadelectric.com/may-31-outage-updates. ■
Editor Mackenzie Reiss can be reached at editor@bigforkeagle.com or (406) 758-4433.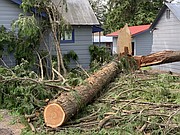 ---