Down to business
by
Rebekah King
|
March 25, 2020 1:00 AM
I have been feeling a bit apprehensive.
I am nervous for our chamber members who own bars and restaurants and my friends who work in them.
I am worried for the shops in Bigfork, who already struggle through the winter months.
I am anxious for the upcoming tourist season and the renewed vitality it traditionally brings.
And I concerned about the health and wellbeing of our community
Last week brought more challenges than I believe our community has ever seen. There were daily changes, in rapid-fire succession that resulted in a complete upheaval of business, and life, in Bigfork. I will be the first to admit I was not prepared, personally or at the chamber office, for the harsh change of daily life we are all experiencing.
Many businesses have temporarily closed to protect themselves and customers from the spread of the coronavirus. Some are operating minimally. They have recreated their daily operations and are taking steps to promote social distancing. They are striving to keep staff employed and customers served. Those who have remained open are not doing so out of greed or arrogance. They have taxes, rent, loans and insurance; costs that exist — open or not.
Bigfork businesses are the backbone of our community. They have invested in our town, our schools and our residents. There is not a single business I can think of that has not donated to a fundraiser or a cause over the last year.
Now is the time to invest in them!
You are probably wondering how you can support them given current recommendations. I am glad you asked — it is so easy.
• Start by sharing their posts on social media, making comments and tagging friends — go beyond more than the typical "like."
• If you do go out or order in, take a photo and tag the business — and tag the chamber as well so we can share it.

• Write positive Google reviews for your favorite shops and restaurants. This helps keep them relevant in search results.

• Make purchases in whatever way you feel comfortable doing so. This may be in-person, curbside or delivery. Many businesses have on-line stores.
• Purchase gift cards! I cannot emphasize this enough. Gift cards never expire. Doing this will help their bottom line now and can be used when life settles down again.

• Finally, ask the business how you can help. Ask the owner how they are doing. The people who own and work in these establishments are our friends and neighbors. A caring conversation might be just what they need.
Our board is working hard to follow the advice above, even while working through impacts on their businesses and places of employment. The web page, www.bigfork.org/news is being updated frequently to keep you current on our members' business operations and relevant information. And we are constantly looking for new ways to assist our members.
None of us are sure what is going to happen next, if or when more closings or restrictions are coming. What I do know, without a doubt, is that Bigfork is strong. We come together to support each other. We solve problems, fix what is broken and pick each other up when we are down. We will get through this. I hope you will join the Bigfork Area Chamber of Commerce in pledging to support our businesses — they need you now more than ever.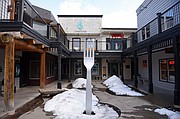 ---