Maxine Love Gates Robinson, 97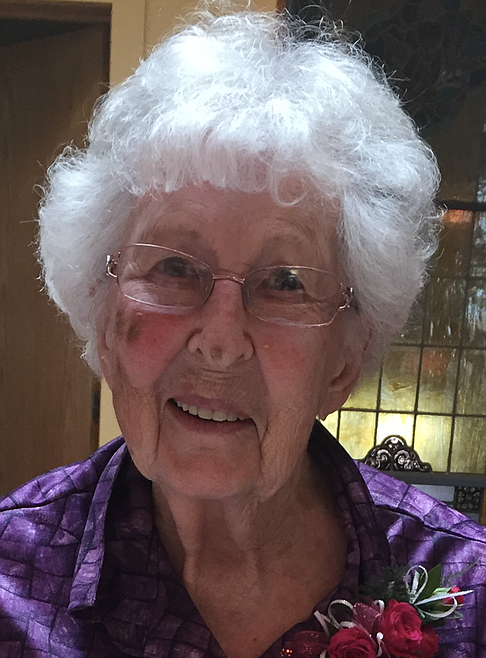 Maxine Love Gates Robinson passed away the evening of March 16, 2020 at the Lake View Care Center, where she had resided for almost two years.
She was born to Hilda and James Love on July 14, 1922 in Snohomish, Washington. She was raised there and went to school in Marysville, Washington. After her schooling, she was proud to be one of the first groups of women hired by Boeing Aircraft at the start of World War II. Maxine was proud of her "Rosie the Riveter" title.
In 1945, she married Lou Gates and they had two children, Pamela Gates Siess, now deceased and Gretchen Gates. They were divorced in 1979.
She took over the running of Eva Gates Homemade Preserves in 1975 and moved the business (which she always referred to it as the "cookhouse") from its original location on the old dump road in 1979 to downtown Bigfork. She retired in 1986 and spent eight winters in Mesa, Arizona, then returned to Bigfork in 1992.
In 2004, her life took a wonderful change when she met and then married Don "Bud" Robinson. They had 15 years together, traveling the U.S. and Canada and cruising and making lasting memories together,
She is survived by her husband Don "Bud" at their Ferndale home, daughter Gretchen Gates of Bigfork, along with her son, Job Sun and Pamela's three children, Kristen Siess, Curtis (Sandi) Siess and Cary Siess, along with three great grandchildren. She is also survived by her special niece, Donna Lawson.
No services are planned at this time. Memorials may be made to the Bigfork QRU, 810 Grand Drive, Bigfork, MT 59911.
In her own words, "Death is nothing but the slipping off of the old, tired, diseased body as the soul/mind soars on to contemplate the life just passed and eventually realize what is to be done next."
We'll miss you, Mom and Gramma!
---