Bigfork family honored with Medal of Merit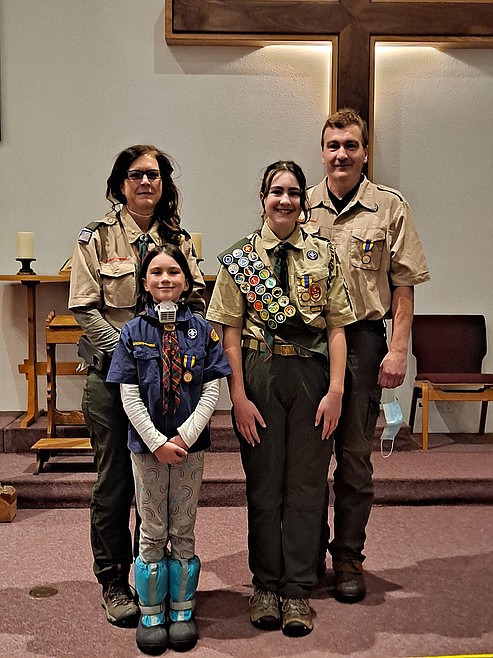 Eric, Cyndy, Gabrielle and Madelaine Thorsen, of Bigfork, received the Medal of Merit Oct. 24. Courtesy photo
by
MACKENZIE REISS
Bigfork Eagle
|
November 4, 2020 2:20 AM
Fewer than a tenth of one percent of Scouts or adult leaders in Scouts BSA receive the Meritorious Action Award, a prestigious honor given to those who have gone above and beyond the call of duty. The Thorsen family, of Bigfork, was recently bestowed the honor for their work in providing personal protective equipment to first responders and frontline workers across the country and beyond.
As part of her Eagle Scout service project, 13-year-old Gabrielle Thorsen began producing masks to meet the needs of hospitals locally and around the country. Her parents, Eric and Cyndy, turned their art gallery into a production center for 3-D printed masks and face shields, while the Thorsens also solicited donations of cloth masks. Not to be left out, Gabrielle's younger sister, Madelaine Thorsen, 9, a member of Bigfork Pack 4923, was tasked with keeping the 3-D printers running around the clock. Together the family made hundreds of plastic masks, each equipped with filter holders for N95 material, and distributed those along with the masks they collected from the community to retirement homes, hospitals, grocery stores and more. Gabrielle's initial goal was to donate 300 masks, and to date, she's distributed more than 2,000.
"We all had our roles to play," Eric Thorsen said. Madelaine cleaned the printers and monitored them to make sure they were working properly. Gabrielle was the primary organizer and liaison between the family production line and the community at-large.
"It was pretty amazing for a 13-year-old to be on the phone with [hospital] administrators," Cyndy Thorsen said.

The Thorsens also received a lot of help from the community to make their project a go. People dropped off boxes of filament needed to run the 3D printers and Garbielle is still working with a local sewer to make cloth masks. At this point in time, Eric Thorsen said the hospitals have "caught up on their inventory" and the need for donated masks isn't as great. He is, however, still perfecting a design for a flip-up face shield for the dental industry.
"This isn't over yet," Eric noted.
And this isn't the first time Thorsen has made headlines -- on Oct. 1 Gabrielle became the first in the state to pass her Eagle Board of Review and will join the inaugural class of female Eagle Scouts next February. She is a member of Troop 1916, an all-female troop of Scouts BSA based in Bigfork.
When asked about the award, the Thorsens were humble.
"It was really cool," Gabrielle said.
Keri Barr, Cub Master for Pack 4923 of Bigfork, said it was "breathtaking" to see Gabrielle's success. Gabrielle was formerly a member of Pack 4923 but advanced to Troop 1916, Barr noted.

"For her to have just gone above and beyond and dedicated so much of her time to this project was amazing," Barr said. "And her parents for being there and supporting her … [and} the fact that a little 9-year-old girl, without having to be asked, jumped right in and asked how she could help as well. That just fills my heart with joy."
In Barr's mind, the Thorsen's are the epitome of what scouting can do.
"They are above and beyond, they do so many things for the community throughout the year and I'm so glad that somebody recognized the work that they did," she said. "I would hope that more parents would encourage to give back to the community the way that the Thorsens encouraged their daughters."
BREAKOUT
Medal of Merit Recipients:
Columbia Falls Troops 1941B (boys) and 1941G (girls)
Kaylee King
Kyler King
Sophie Nadasi
Elaine Reed
Trey Rice
Lauren Rogers
Boon Shanks
Kira Shanks
Bigfork Troop 1916
Gabrielle Thorsen,
Cyndy Thorsen (Scoutmaster)
Eric Thorsen (Assistant Scoutmaster)
Bigfork Pack 4923
Madelaine Thorsen
Kalispell Troop 1933
Korbin Baldwin
---