Pandemic, politics fuel brisk local liquor sales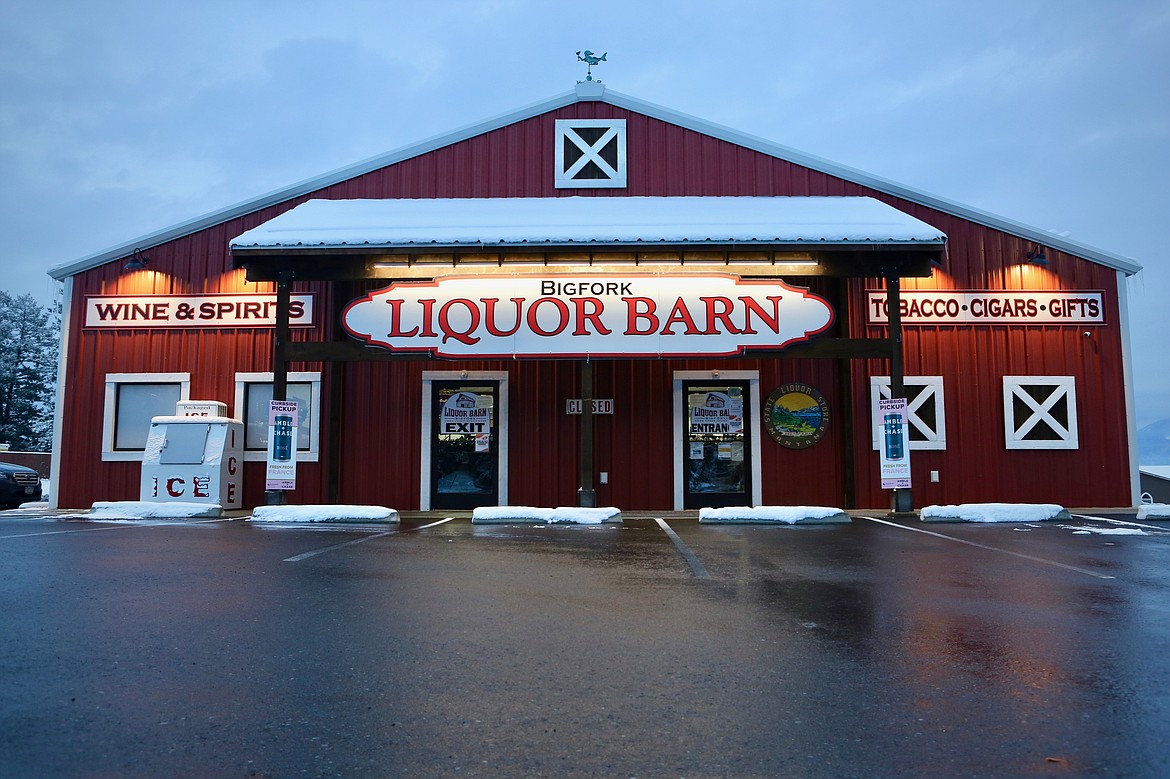 Mackenzie Reiss Bigfork Liquor Barn is pictured Nov. 11. While the store was closed for Veterans Day many hopeful customers drove into the lot over the course of the evening.
by
BRET ANNE SERBIN
For the Eagle
|
November 18, 2020 2:05 AM
COVID-19 cases are rising across the state of Montana, and so, too, are liquor sales.
The state-mandated stay-at-home order earlier this year, along with ongoing capacity restrictions for bars and restaurants, pleas for social distancing and the stress of the 2020 election all have spurred an increase in sales at local liquor stores.
"It was our busiest summer ever," said Jared Zuege, general manager of Whitefish Fine Wine and Liquor Store.
The Montana Department of Revenue, which manages the sale of hard alcohol to agency liquor stores throughout the state, reported an increase in hard liquor sales by more than 20,000 cases from September 2019 to September 2020. Alcohol taxes on those sales went up by more than $4 million.
The pandemic took a chunk out of alcohol consumption at bars and restaurants this year, but individual sales have only gone up.
"People are drinking more," said Zuege. "It's getting diverted from bars and restaurants to liquor stores."
Since March, Zuege said business has been booming at Whitefish Fine Wine and Liquor Store as people turn to drinking in their homes or outdoor locales, rather than going out on the town. Bourbon and tequila are currently the top-selling libations, according to Zuege. But he added, "it's all selling."
The run on liquor and global supply chain disruptions have led to shortages of certain products, Zuege cautioned. He said every beverage that has to cross the U.S. border could experience limited quantities or delays, and the problem could get worse even into the shoulder season.
Zuege said the busy summer season lasted longer than usual this year, and it isn't showing signs of slowing. He expected tourist traffic will continue to flow since the area's biggest winter attraction, Whitefish Mountain Resort, sold a record number of season passes for the upcoming ski season.
"As our case count goes up, tourists are probably going to drink in their hotels a lot," he predicted. "It'll be an interesting winter."
Local residents who have been staying home due to canceled travel plans also have contributed to brisk alcohol sales.
Brenda Boys at Flathead Liquor said local customers have driven major sales increases at the Kalispell liquor store. She reported liquor sales have gone "up significantly" since the onset of the pandemic, with customers buying larger volumes and a wider variety of liquor than ever before.
Boys said she's been surprised by some of the exotic orders that have started coming into the store, such as ingredients for Singapore Slings and Mai Thais from couples who decided to make their own cocktails after they had to cancel their vacation plans to Southeast Asia and Las Vegas.
Boys said she never would have predicted the liquor store's popularity — or its designation as an "essential business" by Gov. Steve Bullock — but she appreciates her newfound job security.
That also seems to be the case at the Bigfork Liquor Barn and Polson Liquor Store. Those stores have been so busy the employees have been receiving extra pay since the spring. Richard Kramer, owner of the Bigfork Liquor Barn, said sales in September and October were up 60% compared to the same months in 2019. His brother Robin Allen runs Polson Liquor Store, where sales are up about 40% versus this time last year.
"It's been really good," Kramer reported.
He explained the Bigfork Liquor Barn has done particularly well because it's a relatively new store that opened in July 2019, but that's not the only reason liquor sales are skyrocketing. Kramer pointed out the strong economy has allowed many shoppers, particularly in Bigfork, to make higher-end purchases. The store is on track to notch $1 million in wine sales for 2020, Kramer predicted.
The Bigfork and Polson stores have also gotten a boost from increasing their home delivery and curbside pickup options. State liquor stores are the only ones allowed to deliver alcohol under Montana liquor laws, and Kramer explained stores like the Bigfork Liquor Barn were well-prepared for the transition because they already use trucks to do deliveries to local bars and restaurants.
In Kramer's view, local liquor stores have yet to hit their full potential, since the state mandates their closure on Sundays and holidays, or about 60 days every year. Plus, he added, the recent success has come at a time when there are virtually no Canadian customers to be found around the Flathead.
"If the border ever opens," he mused, liquor sales could surge even higher.
Reporter Bret Anne Serbin may be reached at (406)-758-4459 or bserbin@dailyinterlake.com.
---