In the trenches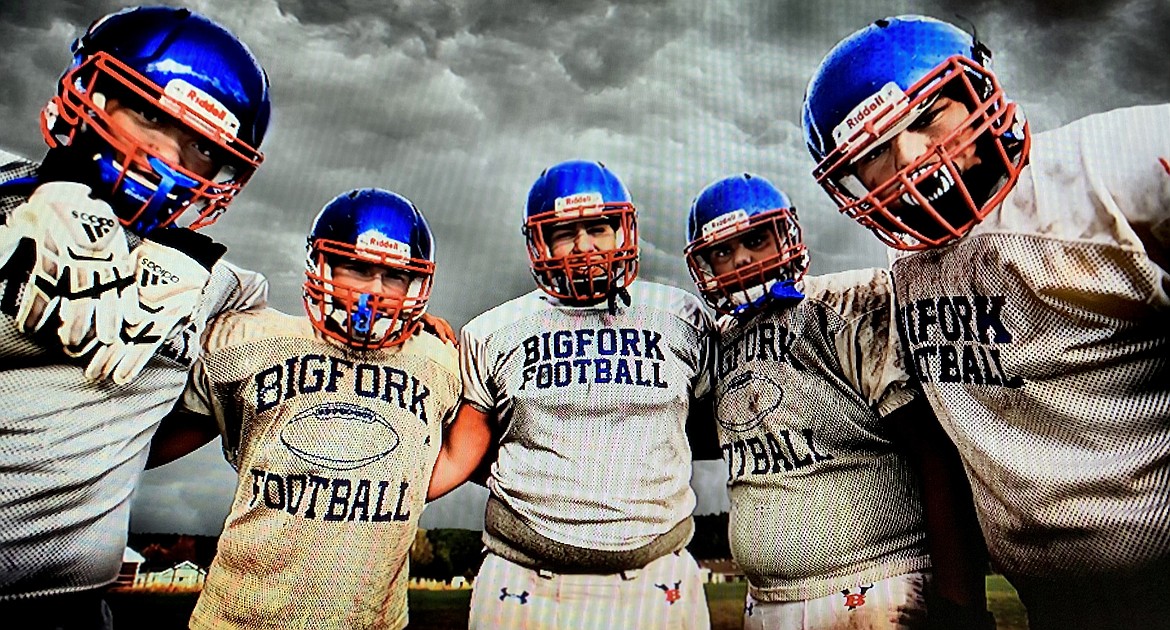 The men in the trenches for the Bigfork Vikings football team, the offensive line of George Brown, Luke Benson, Ethan Rodriguez, Sylvester Rodriguez and Braeden Guse. (Jeremy Weber/Bigfork Eagle)
by
JEREMY WEBER
For the Eagle
|
November 18, 2020 1:35 AM
They are football's men in the trenches. The often overlooked hard-working group charged with protecting others and opening the lanes to success for their teammates. In a season full of record-setting rushing performances for the Bigfork Vikings, it was a young offensive line that helped pave the road to success.
"They are a great group of kids who deserve to be highlighted," head coach Jim Benn said. "There is nothing more unique in sports than the offensive lineman. It's the only position in sports where your primary job is to be a protector and they are definitely a group of unsung heroes."
Coming off a 54-40 win over Polson October 9, a game that saw the Vikings amass the second most single-game rushing yards of any Montana high school team in history and running back Cormac Benn break the school's single-game rushing mark for the third time in 2020, the Bigfork starting offensive line of George Brown, Luke Benson, Ethan Rodriguez, Braeden Guse and Sylvester Rodriguez sat down to take a look back at their success.
"Doing your own job makes you feel good, but seeing other people around me succeed and do their best is even better. It's great to see the people that you are tasked to protect doing great things," Guse said.
"We might not get a lot of glory, but we take pride in what we do. When the running back finds a big hole for a long run, we know that we are the ones that made that hole. We want our teammates to know that they can rely on us to do our jobs," Ethan Rodriguez added.
In a season of uncertainty, filled with COVID quarantines and numerous injuries, the Vikings linemen continually stepped up to play multiple positions to get the job done as the team's runners piled up 3,390 rushing yards and 36 touchdowns en route to a 6-4 record.
According to the linemen, the recipe for success is simple: Effort, attitude and enthusiasm. That, and the knowledge and trust that playing together since elementary school can bring.
"We are like family. We've known each other since we were little children and there is no substitute for that kind of trust and chemistry," Brown said.
"When you have been playing together that long, you know what each other is capable of and what to expect from them. That can be a huge advantage," Sylvester Rodriguez added.
With an average size of six feet and 281 pounds, the Vikings starting lineman corps is no small group, but they say size is not the key to success.
"It really doesn't matter how big you are. If you believe you can do it and you know what to do, then the odds are that good things are going to happen for you. It's all about confidence and technique," Guse said.
According to the group, countless repetition in practice, knowing each other's jobs and fighting the urge to give less than maximum effort on every play makes all the difference.
"There is always the temptation to be lazy and not give the effort that is needed of you. You have to battle that on every play, and it can be tough," Guse said. "It can be all too easy to not give 100 percent effort and it can be the difference between a good line and great one."
So, what's the best thing about being a lineman? After a short debate, the Vikings squad agreed it is overpowering your opponent and watching your teammates score.
"What's the best thing? To put it simply - pancakes. Putting other people on the ground is the best part of being a lineman." Brown said.
"That and seeing your running back get smaller and smaller in the distance as he runs into the end zone." Ethan Rodriguez added.
With Benson as the only senior in the group, this set of Vikings linemen will be looking for even more success when they take the field next season.
"This season has been the most fun I have ever had playing football and I can't wait to keep it going," Brown said.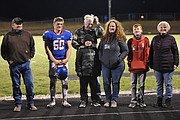 ---