Two classes of fourth graders go remote in Bigfork due to COVID-19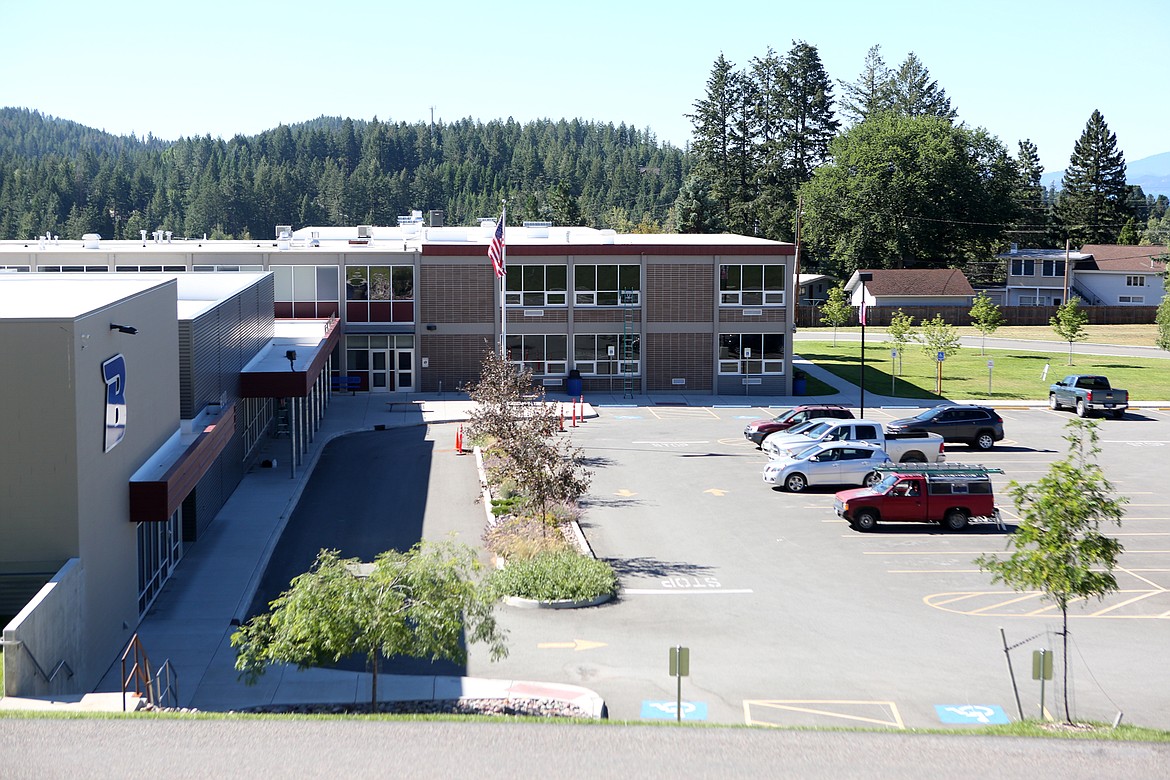 Bigfork High School is pictured Monday, Aug. 10. Mackenzie Reiss
by
MACKENZIE REISS
Bigfork Eagle
|
October 2, 2020 2:40 AM
Two classrooms of Bigfork fourth graders transitioned to virtual learning Friday due to two new cases of COVID-19 within Bigfork Elementary School. All students in the affected classrooms will be quarantined since K-4 students are unable to maintain social distancing in classroom settings, Superintendent Matt Jensen explained.
"When you developmentally are an emerging learner, you need personal contact and lots of variety in how the instruction is presented to you. … The reality is in an elementary classroom, kids don't stay to themselves and teachers interact with every kid," Jensen said. "Even if we get one case in that classroom, they've all mixed and they're all subject to that quarantine."
The school also reported one additional case at the middle school and two cases in the high school, bringing the overall district total to five. Data from the Montana Department of Public Health and Human Services shows that as of Sept. 30, those cases included four students and one staff member.
"We're continuing to review this with our staff and the county to see if we can do a better job of narrowing the scope of these quarantines while also keeping our kids and the community safe," Jensen said.
The school is looking into the possibility of limiting interactions within K-4 classes, but noted that with younger students it can be more difficult to impose strict parameters on how they function within the classroom given "the reality of the age of the kids."
On a more positive front, Bigfork's fifth grade class has returned to campus after three days of remote learning while several individuals awaited COVID-19 test results. One case associated with the grade was reported and six individuals are currently in quarantine.
In an email to parents sent out late Thursday afternoon, Jensen noted that several individuals with suspected cases of coronavirus within the school system have received negative tests, suggesting that a traditional cold might also be circulating.
CASES OF the coronavirus continue to escalate statewide with another 360 cases reported Friday, bringing the total to 13,855. Flathead County saw 24 news cases and has a total of 1,265 cases, with 607 of those being active. Nineteen people have died locally from the virus while 639 have recovered.
Jensen said the school district is tied to the community at-large and can be impacted by the spread or containment of the virus Valley-wide.
"As an educator and as a non-politician I'm advocating for the Flathead Valley to be more conscientious about what we can do to keep cases low to keep students in school. It's not my intention to infringe on anybody's rights … I am on the side of whatever we need to do to keep kids in school," Jensen said.
Students in lower grade levels have a much more challenging time learning when not in the classroom, he explained. Due to their limited attention spans, they thrive when presented with variable forms of instruction - a teaching style that can't be replicated over a screen.
"If people think of their interaction with small children and how long you can keep the attention on one topic with a small child … it's a couple of minutes," he said. "[Being in the classroom] is more important the younger the child is. As kids get older they have an ability to connect virtually and maintain attention with different types of instructional strategies that can be presented virtually."
When younger children have to transition to remote education, the move also puts a burden on their parents since K-4 students need help accessing online learning materials and staying on task.

"It's impacting small businesses and it's impacting parents and it's impacting schools," he said of the virus. "Hopefully as we progress we can have thoughtful discussions as a greater Flathead Valley community about what options are out there to limit the spread."
---