Bigfork School Board considers options to ease burden on staff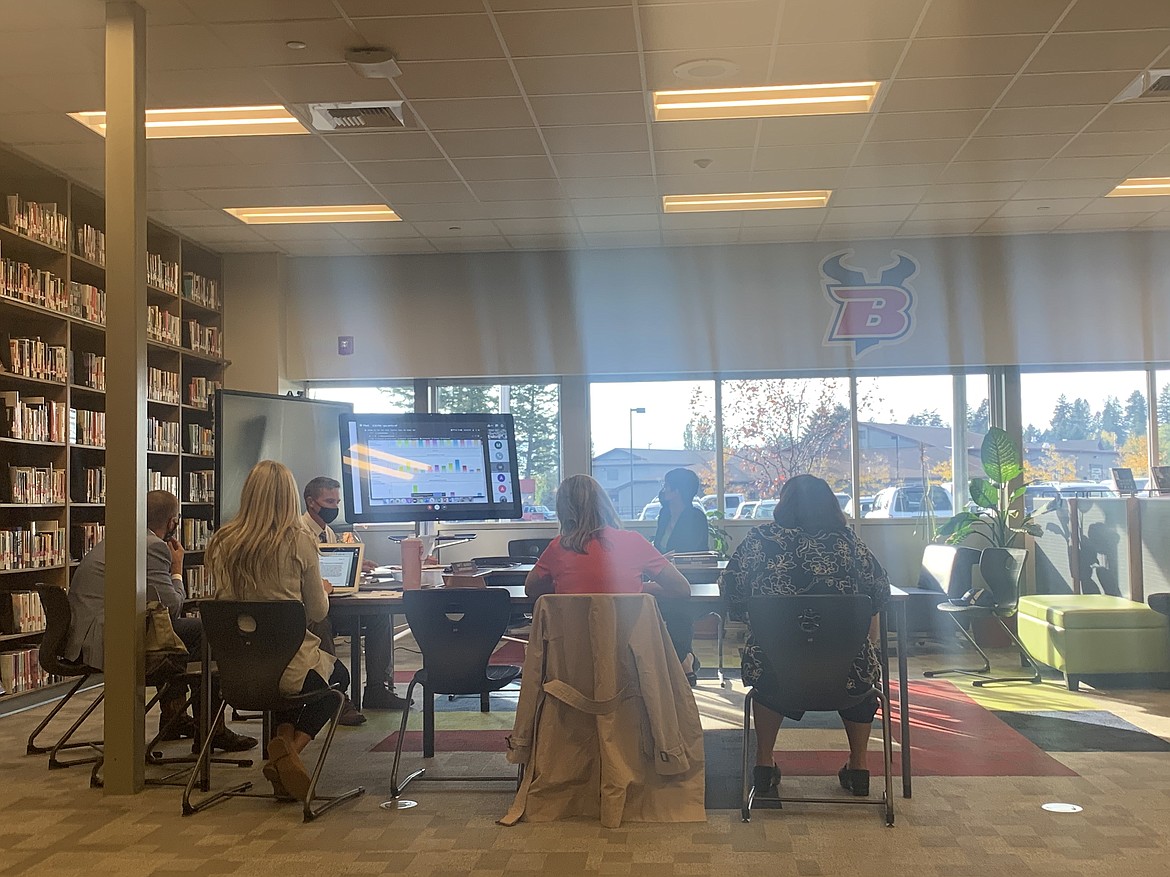 The Bigfork School District No. 38 Board of Trustees met Oct. 7 in the Bigfork High School Library.
|
October 14, 2020 2:05 AM
The Bigfork School District 38 Board of Trustees discussed options for managing remote and online classes to help reduce the burden on staff during their Oct. 7 board meeting.
Currently, some students have chosen to go remote for the entire semester, while others opted to remain on campus with the option to take classes from home when necessary. This flexibility was established to allow students in quarantine to keep up with their coursework and provide a way for those who are sick or awaiting testing to stay engaged.
However, trustees and meeting attendees voiced concerns that students were choosing their mode of learning "a la carte" -- going remote one day and being on campus the next, creating a planning nightmare for teachers, who are already stretched thin with the demands of instructing both in-person and virtual classrooms.
"Kids that are choosing to be out are the ones that we're already losing," commented High School Principal Mark Hansen.
Science teacher Rhonda White noted that 12 of her students were taking class from home.
"I have had more kids home than I have had in my classroom," White said. "I had four kids in my classroom."
Middle School Principal Charlie Appleby said he was concerned about establishing a cutoff point and didn't want to risk losing the ability to teach students on a daily basis.
"We understand that there are going to be people that take advantage of it but right now we have an opportunity to teach every kid everyday no matter what and we really want to make sure that the kids who are taking advantage of it don't ruin it for the kids who are sick and just want to be in class," Appleby explained.
Board members initially weighed the pros and cons of establishing a cutoff percentage at which the school would transition to virtual learning for grades seven and above. Superintendent Matt Jensen first suggested that if between 33-50% of students were learning remotely, either by choice or due to illness or quarantine, the entire school would make the transition.
However, Jensen told the Eagle Tuesday that the school ultimately chose to move forward with a policy where students will have to opt for remote learning for four week periods at a time beginning next week. The block format will give teachers a better idea of what to expect, rather than having to turn on a dime as students fluctuate in and out of the on-campus classroom on a daily basis.
"It's been exhausting. I don't think we can continue in that pace," Jensen said. "What we're finding is more and more students are picking a la cart -- to go virtual one day and they'll be on site the next day. It's not so much a problem in the middle school, but it's a significant challenge in the high school….That variable has been very taxing on our staff."
Compounding the challenges of managing two styles of classrooms are intermittent quarantines and a lack of substitutes. To date, more than 5% of Bigfork Schools staff have tested positive for the virus, a figure that far outpaces the countywide average of 0.95%.
To make the situation more difficult, relief is hard to find. There are just four substitutes for the entire district, Jensen said. Teachers who are out sick, quarantined, or awaiting test results can't be on campus and in many cases, their colleagues are covering for the ill coworkers during their own prep time.
In hopes of recruiting more subs, the board voted to increase per diems by $10 for both uncertified and certified educators, bringing the daily rate to $80 and $85, respectively.
Jensen also noted that there were many high school athletes who were opting to go remote to avoid the quarantine process. Recently, the girl's volleyball team had to put off two weeks of play since so many players were placed in quarantine. But Jensen said that student athletes shouldn't miss out on on-campus learning simply to keep playing sports.
"If you're not a remote learner and you're not in quarantine and you're home — that means that you're sick," Middle School Principal Charlie Appleby in agreement. "If you are home sick then you cannot play."
The school will continue to evaluate the four week block option for remote learning to determine whether or not it is an effective means of stabilizing learning modalities and reducing stress on staff.
"What I'm passionate about is kids learning," Jensen said. "I think we can deliver the content better as an education community if we're not so distracted about when we're serving, who we're serving."
---