Volleyball back in action after two-week hiatus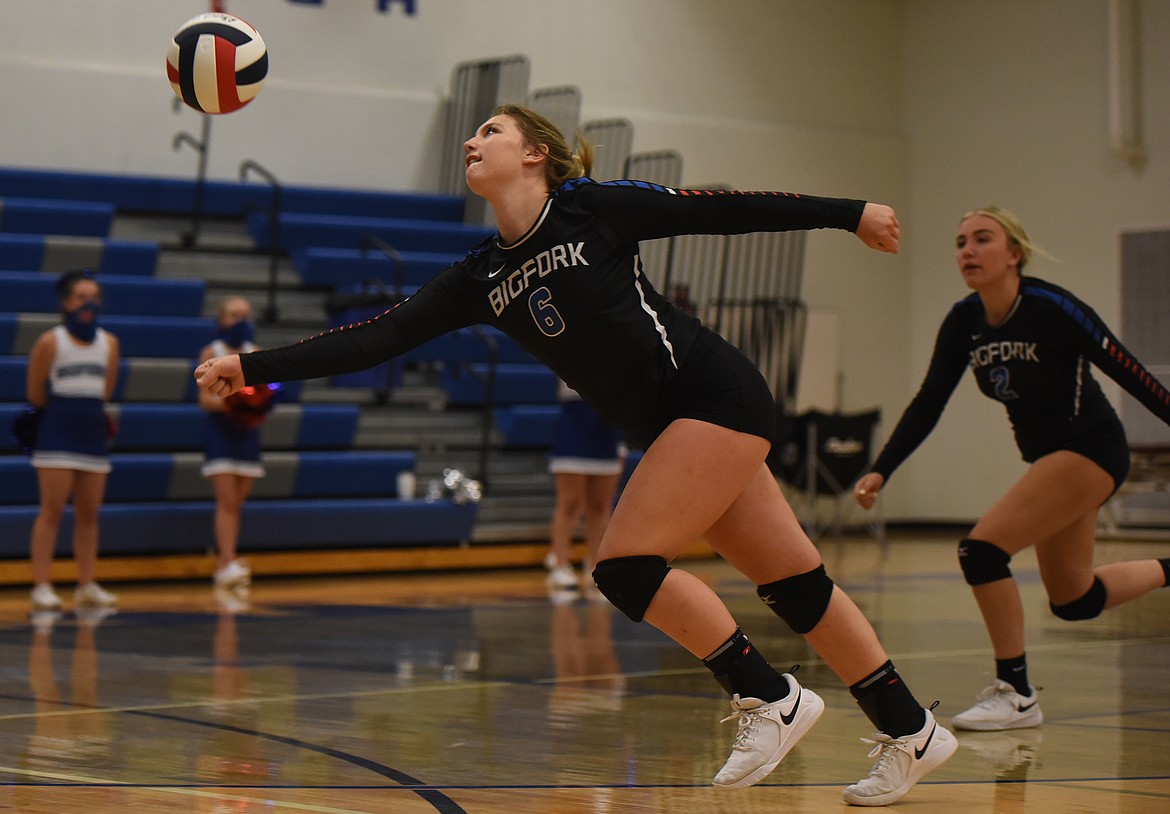 Jessa Newton runs down the ball during action against Loyola. Jeremy Weber
by
JEREMY WEBER
For the Eagle
|
October 21, 2020 2:00 AM
SOCCER
Both the Vikings and Valkyries made the trip to eastern Montana for their soccer playoff matchups as the boys took on Billings Central Friday while the girls played in Laurel Saturday.
The Valkyries faced a tough matchup Saturday as they took on the defending state champion Locomotives, who came into the game averaging eight goals per contest this season with nine seniors on their roster.
The Valkyries did not appear intimidated, though, as their physical defense held Laurel to just a single goal in the opening half played in 28 degree weather with falling snow.
"We knew how good they were offensively, so we wanted to try to slow them down and attempt to counterattack when we got opportunities," head coach Tim Gunzler said. "We didn't make the trip for a moral victory, so we just went after them as hard as we could."
The Valkyries 3-6-1 formation packed defenders in front of the goal to assist keeper Catherine Panor, but the Locomotives finally broke through in the second half to score three goals and earn a 4-0 win.
Despite the loss, Guenzler said he is pleased with his team's performance and that it can be used as a stepping stone for his team, which features only one senior in forward Audrey Buenz.
"If you get to go to the playoffs, you want to get tested by the best. We got an opportunity to do just that and we showed that we would not back down," he said. "I am really proud of our girls. They played better and harder as the game went on. They didn't back down, get discouraged or give up. This just shows that we can go anywhere and take on any team and play them well. That will be huge for us as our program continues to grow."
The Vikings also put up a tough fight in their game Friday as Ben Pilskalns tied the game 1-1 on a penalty kick in the second half against the Rams. Eastern division's top seed, got consecutive goals from Camden Capser to take the lead later in the half and held on to down Bigfork 3-1.
CROSS COUNTRY
Bigfork's cross country runners went into last week expecting to run the divisional race at Thompson Falls on Tuesday, but with several of their runners in COVID quarantine, Thompson Falls was forced to cancel the race. Despite the cancellation, many schools did get the chance to run as Darby High School volunteered to host a race on short notice.
The Vikings had a strong showing in Darby, with two runners setting personal best times to help lead Bigfork to a second-place finish.
Elliot Sanford beat his previous personal record by one second and he came in eighth with a time of 18:35 while first-year runner Elijah Albert shaved 45 seconds off his previous best time to take 23rd at 20:38. Colton Ballard was 15th with a time of 19:38, Shelton Woll was 19th at 20:16 and Colton Wroble took 21st with a time of 20:26.
Overall, the Vikings finished with 74 points to finish behind Lincoln County (28) and Mission (63).
For the Valkyries, Tabitha Raymond set a personal best of 22:51 to come in fifth while Grace Stewart was sixth at 23:09.
Next up for both teams will be the state meet at Rebecca Farm in Kalispell Friday.
"We are looking forward to state. Hopefully, there will not be too much snow and it won't be too cold," head coach Beau Wielkoszewski said. "We've almost made it through the whole season, which is further than I thought we would get when the year started, so we are excited."
FOOTBALL
The Vikings overcame a sluggish start to pick up a 46-6 win at Anaconda Friday.
Bigfork led the winless Copperheads just 10-6 at the half, but scored on every possession in the second half as the Vikings improved to 6-2.
"It was like we didn't get off the bus," Vikings head coach Jim Benn said. "My guess is that we kind of overlooked this game a little bit, but we ironed out some things at halftime. Sometimes that's what has to happen and struggling now could help us down the line. It was a long trip, but we did what we needed to do to get out of there with a win."
The Vikings offensive line had another dominating performance, opening up running lanes as running back Cormac Benn had his fourth consecutive performance of more than 200 rushing yards as he finished with 204 yards and five touchdowns on the ground. Cormac was also the leading receiver for Bigfork in the win, catching two passes for 35 yards and a touchdown.
Levi Taylor also finished with 143 rushing yards in the win while quarterback Patrick Wallen was 2 for 5 passing for 43 yards and a touchdown.
"It was the first game where I felt like we threw the ball effectively," coach Benn said of Wallen's performance. "We didn't throw a lot, but it was enough to open a few things up for us and give us some confidence moving forward."
On the defensive side of the ball, Bryce Gilliard and Isaac Bjorge led the way for the Vikings with five and half tackles each, including five solo tackles from Gilliard. Nick Walker had Bigfork's only sack of the evening while Jackson Nelson had the team's only interception.
The win sets up a battle with the Lions in Eureka Friday to determine the second spot in the conference with the winner earning the right to host a first-round playoff game.
VOLLEYBALL
The Valkyries volleyball season is back in full swing after a two-week COVID quarantine hiatus.
The Bigfork girls celebrated Senior Night with a sweep of Troy Monday evening, 25-13, 25-13 and 25-10.
Jessy Frey had 11 of the team's 30 kills while Mackenzie Holton had 15 of the team's 27 assists.
The Valkyries came up short against conference-leading Thompson Falls Saturday, falling 25-14, 25-16, 25-16.
Myranda Gray had eight of the team's 18 kills in the loss while Allie Reichner had 10 of the Valkyries' 41 digs. Jessa Newton led in assists with seven and Holton had two of the team's three aces.
"We played a good game - one of our cleaner games this season," head coach Ariel Stallknecht said. "Thompson Falls just has a very good team this year."
The Valkyries take on Arlee in their next game Thursday.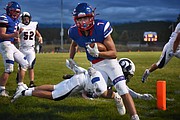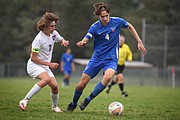 ---