Cross country runners face snow, cold conditions at state meet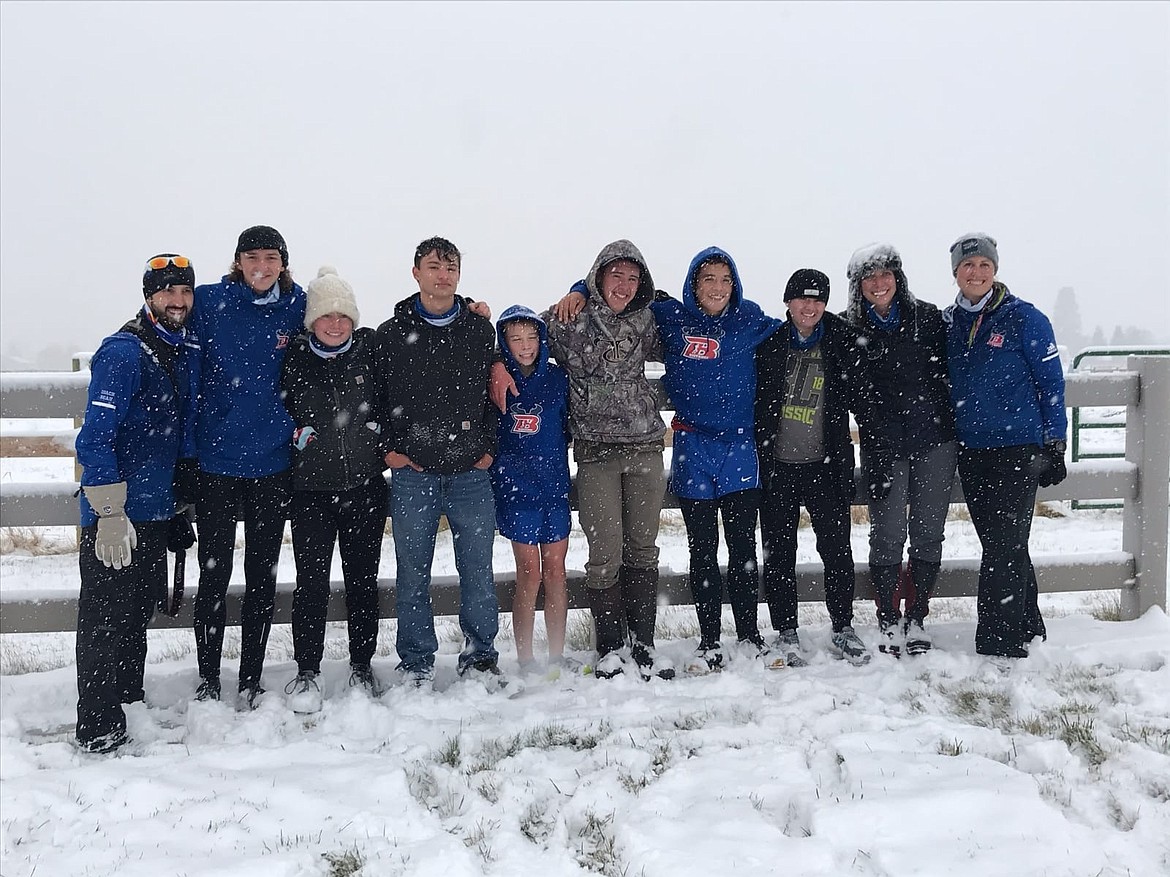 The Vikings and Valkyries cross country runners were in action at the state meet at Rebecca Farm Friday. From left are head coach Beau Wielkoszewski, Elliot Sanford, Grace Stewart, Elijah Albert, Colton Ballard, Shelton Woll, Colten Wroble, Tabitha Raymond, assistant coach Samantha Modderman and assistant coach Holly Wielkoszewski. (photo provided)
by
JEREMY WEBER
For the Eagle
|
October 28, 2020 2:50 AM
CROSS COUNTRY
Bigfork's cross country runners overcame the cold and snow at Rebecca Farm in Kalispell Friday afternoon as the boys earned 10th place at the Class B state championship meet while both Valkyries runners took home All-Conference honors.
For the Vikings, it was their best showing at the state level since 2013.
"I was hoping for a little faster times overall, but everyone was having to run in that crappy weather so I am quite pleased with how we did," head coach Beau Wielkoszewski said. "It is definitely one for all of the kid's memory books and the results pretty much matched what we were expecting."
Elliot Sanford had the top finish for the Vikings, coming in 33rd with a time of 19:19 while Shelton Woll was 59th at 20:25. Colton Ballard earned 68th with a time of 20:33, Colten Wroble was 72nd at 20:36 and Elijah Albert finished 90th at 21:26.
For the Valkyries, Grace Stewart finished 44th with a time of 24:08 while Tabitha Raymond was 54th at 24:29.
With the cancellation of last week's Western B Divisional meet, the divisional results were extrapolated from the state times. The Vikings runners wound up earning third in the divisional results, just two points behind second-place mission, as Sanford was 12th, Woll was 15th, Ballard was 17th, Wroble was 18th and Albert was 23rd.
The two Valkyries runners were not enough to earn a team score, but both earned All-Conference honors as Stewart was seventh in the division and Raymond finished 10th.
For Wielkoszewski and his runners, it was a satisfying ending to a season filled with doubt.
"At the beginning of the year, I didn't think we would even make it through half of the season with all that was going on with COIVID," he said.I"t was a pleasant surprise to be able to run as many races as we did. It's been a remarkable season and we are very happy we even got to have a season this year."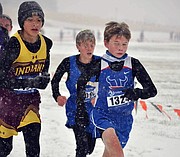 FOOTBALL
The Vikings three-game winning streak came to an end in Eureka Friday as Bigfork fell to the Lions 28-0 in the final game of the regular season.
The Lions scored touchdowns in all four quarters as the Vikings' offense was held under 200 yards for the first time this season.
"We just couldn't quite get things going. We had some opportunities that just didn't quite connect and literally just kinda floundered in the snow," head coach Jim Benn said. "There wasn't a ton of snow, but it did seem to slow us down a little bit. We had a good drive to open the game, we just couldn't seem to get that final block we were needing to open things open to make the final break to the end zone."
Running back Cormac Benn led the Vikings effort with 80 rushing yards and 43 receiving to lead the team in both categories, but it was the first time this season he did not break the 100-yard rushing mark in a game.
Quarterback Patrick Wallen finished 4 for 9 passing for 78 yards.
Isaac Bjorge and Luke Benson led the defense with seven and a half tackles each while Isak Epperly had an interception for the Vikings.
The Vikings will open the playoffs on the road this weekend as they travel to take on the Mustangs in Malta.
For coach Benn, it will be a return to the school where he served as head coach from 2017-2018.
"I know all their starters by name and will be excited to see them all again," he said. "It will be a strange and exciting experience going up against my old team."
Kickoff is set for Saturday at 1 p.m.
VOLLEYBALL
The Valkyries volleyball team picked up a pair of victories, getting wins over Mission and Troy.
Jessa Newton had 11 of the team's 22 assists and Myranda Gray had eight kills as Bigfork took down Mission in four sets October 22, winning 25-15, 17-25, 25-15 and 25-18. Gray also had nine of the team's 17 aces while Allie Reichner led in digs with 19 and Jessica Frey had three blocks.
Gray had six aces and four kills as the Valkyries swept Troy 25-20, 25-19 and 25-10. Reichner added eight digs, Newton had five assists and Frey recorded two blocks in the win.
The Valkyries open the district tournament at Eureka Thursday at 5:30 p.m. With a win, Bigfork would advance to the championship game at 5:30 Friday, with the higher seed hosting the game. A loss would have the Valkyries in the consolation game, also set for 5:30 p.m. Friday.
---