Woodworker wants to teach community his craft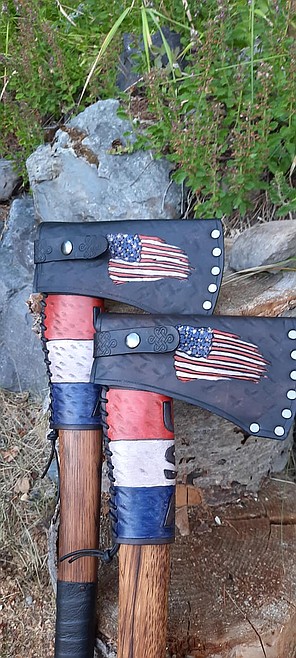 Axes by Roy Raymond, owner of Northalla Workshop. Courtesy photo
by
BRET ANNE SERBIN
For the Eagle
|
September 2, 2020 2:20 AM
Even though Roy Raymond started his new business in Bigfork a few months ago, his artistic approach is hardly novel. As a woodworker and a blacksmith, Raymond is bringing traditional art forms into the twenty-first century in his shop outside Bigfork, where he makes axes, shields and other classic weaponry.
"My dad and my grandpa were big into woodworking. I grew up around it," he explained.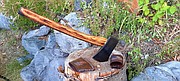 Before launching Northalla Work Shop, Raymond worked as a contractor for almost a quarter century. He had always been involved in various trades and was already running saws and other large machinery on his own by the time he was about 8 years old. But he said he didn't take the plunge into selling his favorite creations until this year, after a serious back injury forced him to look for a new creative outlet.

"I was kind of playing around with the idea, and my wife pushed me," he remembered.

Though he only got his official start a few months ago, Raymond has already sold his unique pieces to buyers as distant as Virginia and Florida. "It seems like people really like them," he said modestly.

Though his work is designed in the ancient Norse style Raymond has admired since he was a boy, his axes and shields have a distinctly American style. Some of his creations include an American flag embellishment he designed himself and a "Don't Tread on Me" shield wrapped in rattlesnake hide.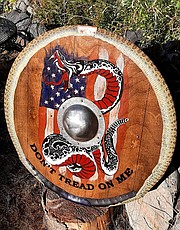 "I've never seen anybody do 'American' with them," Raymond observed.
His weapons are artistic and high-quality, but Raymond also prides himself on making pieces that are not only decorative but also useful.

"They're for working," he insisted. His axes, for example, can be used for camping, working, or even throwing, which has become a trendy new activity in recent years.

Since the business has been off to such a strong start so far, Raymond wants to find other ways to share his traditional pastime with the larger community. In the next few weeks, he's hoping to start basic woodworking and blacksmithing classes at his Bigfork shop.
"I didn't see anybody else doing it around here," he realized, so he started gauging interest in classes through his Facebook page. He credits his 8-year-old daughter, Rosalie, with giving him the idea to introduce woodworking to children, not just adults.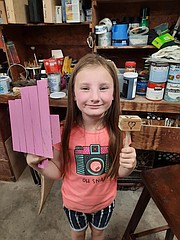 "She's my little shop buddy," Raymond said of his daughter, who recently finished building her own hand shield.
Woodworking might not seem like the most kid-friendly activity, but since Raymond uses hand tools to make most of his items, he believes his work is more accessible than people might at first expect. With the right precautions, Raymond thinks the unique hobby could be a useful way for children like Rosalie's classmates to learn problem-solving strategies and hands-on skills.

He insisted there is a level of woodworking that is appropriate for everyone, and you don't need his lifetime of experience in the shop to try your hand at the long-standing pastime. "I think anybody could do it," he said. "If you can think about…you can make it happen."

At the classes, he plans on teaching children to make cars and birdhouses, and adults can learn to make picture frames and maybe even larger furniture. He hopes the classes will provide a one-of-a-kind opportunity for the members of the Bigfork community that he and his family have come to appreciate since they moved to the area about two and a half years ago.
"I've never met people like I've met here," said Raymond, who relishes all the opportunities his children have been able to take advantage of while living in Bigfork—like throwing knives and axes on their spacious, wooded property.

"This is the stuff I did when I was growing up," he gushed.
Reporter Bret Anne Serbin may be reached at (406)-758-4459 or bserbin@dailyinterlake.com.
---