Vikes, Vals soccer win some, lose some - and tie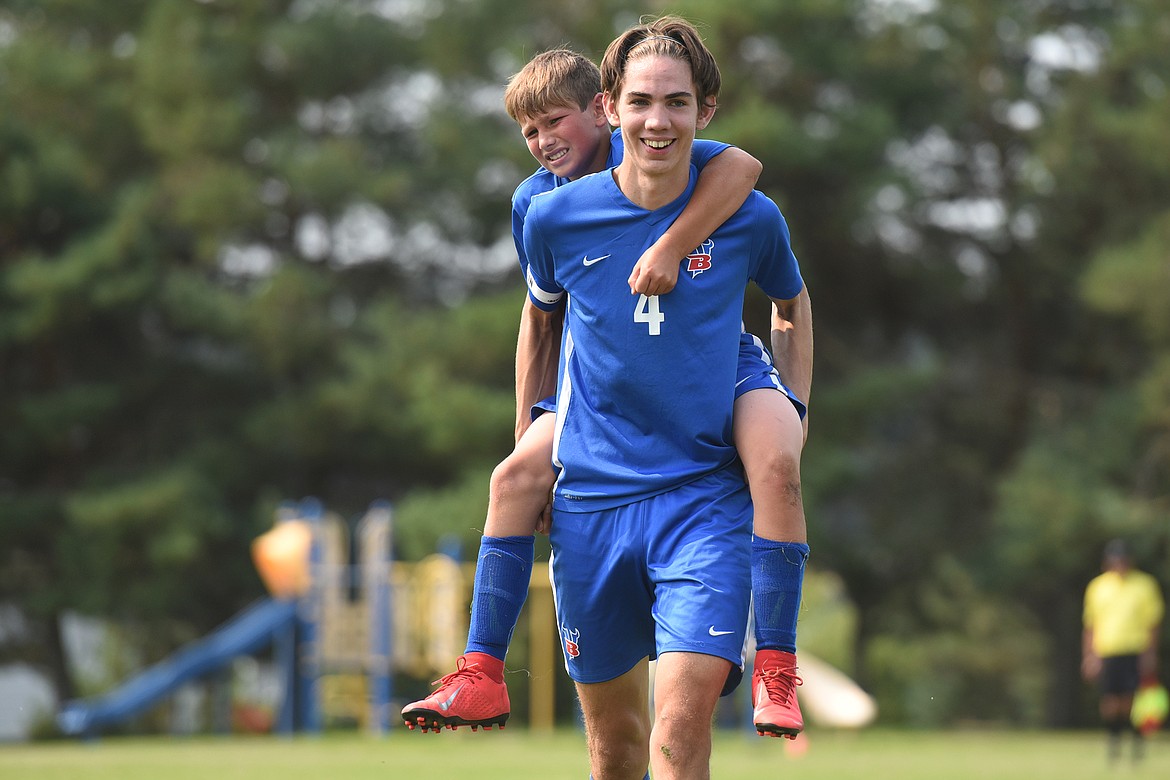 Ben Pilskalns carries injured teammate Traic Fainter from the field in the second half against Corvallis Saturday.
Jeremy Weber
by
JEREMY WEBER
For the Eagle
|
September 9, 2020 2:40 AM
Girls Soccer
Valkyries 0 - Stevensville 2
Valkyries 3 - Corvallis 1
The Valkyries soccer team earned a split this week as they fell 0-2 at Stevensville Thursday before bouncing back at home with a 3-1 win over Corvallis Saturday.
Against Corvallis Saturday, Brette Guenzler got the scoring started when she beat the Lady Blue Devil keeper with a free kick in the game's 17th minute, but Corvallis answered with a goal to knot the score at 1-1 at the half. Calista Worble gave Bigfork the lead for good with an unassisted goal in the 60th minute before Guenzler added another free kick goal in extra time.
"It's a big win for us. I thought we were tired, but the girls were tough and held it together, so I am quite pleased with their performance," head coach Tim Guenzler said. "Corvallis is an experienced team, so we were happy to get the win over a good team."
The Vals will be at Columbia Falls Friday as they take on the Wildkats at 7 p.m.
Boys Soccer
Vikings 1 - Stevensville 6
Vikings 1 - Corvallis 1
The Vikings soccer team bounced back from a 6-1 loss at Stevensville Thursday by earning a tie at home against Corvallis Saturday. The Vikings struck quickly against the Blue Devils as Trevor Hill made a precision pass to Ben Pilskalns, who put the ball past the Corvallis keeper for a 1-0 lead. The Vikings played the majority of the game with an advantage as Blue Devil Logan Moore earned a red card in the first half, but Corvallis tied the game on a penalty kick in the game's 59th minute. The Vikings will face the Wildcats in Columbia Falls Friday at 5 p.m.
---