Creston Army veteran finds peace underwater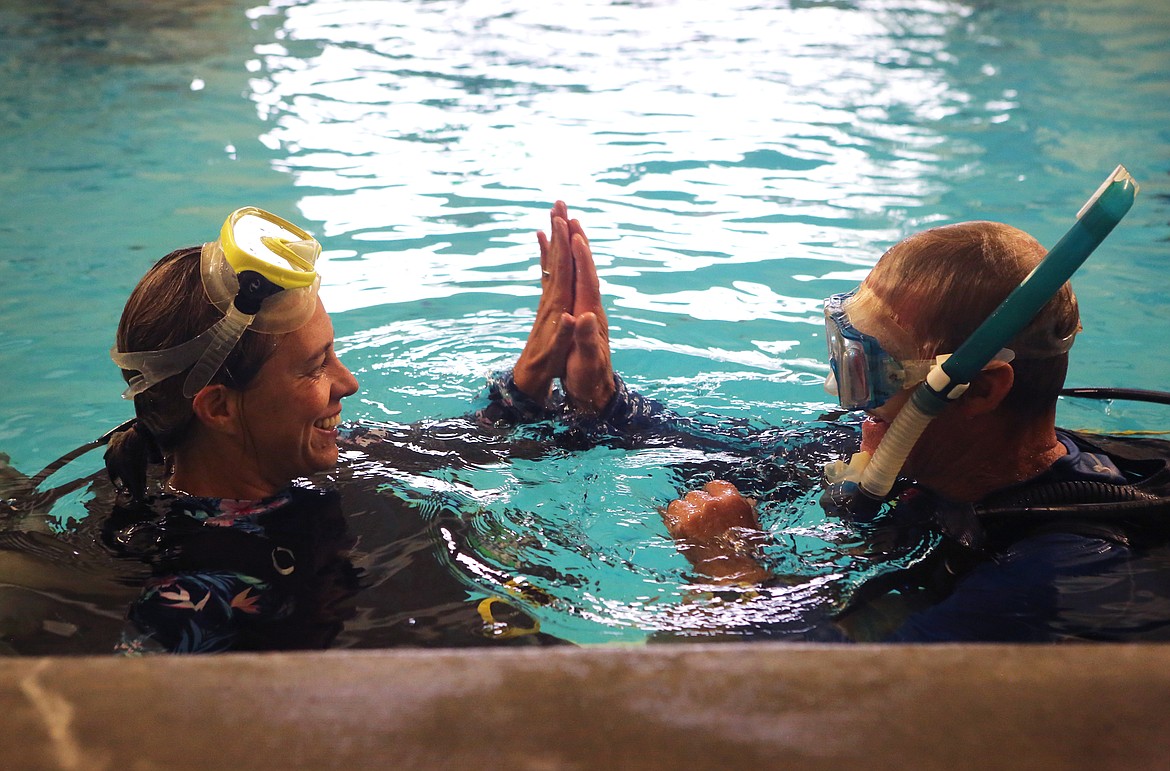 Instructor and Flathead Scuba owner Glen McKinnon works with Christina Ryan,director of the Kalispell Vet Center on Aug. 24 at Flathead Scuba in Kalispell. (Mackenzie Reiss/Bigfork Eagle)
|
September 16, 2020 2:55 AM
Seth Buckman remembers the blast.
The flash of light, the persistent ringing in his ears. He felt, not saw, the medic kicking his leg, making sure he was still conscious. Buckman was blinded to his surroundings inside the Humvee — the force of the IED going off had instantly suspended the dust inside the vehicle, obscuring the world around them.
But Buckman, an Army infantryman, was alive. And later, he'd learn that the other men in his platoon had fared similarly. The improvised bomb had just missed their convoy, exploding right behind Buckman, who'd been riding in the last of the four vehicles. While he walked away from the incident with his life, that ringing in his ears never left him. He's dealt with tinnitus in his right ear ever since the accident back in 2008 on his first deployment to Baghdad.
The Creston resident would deploy a second time to Iraq, this time for 12 months, where he was part of his brigade commander's security detachment.
And after five years of service, Buckman decided it was time for him to leave the Army to see what else life had in store. But when he returned home, he wasn't the same man who had signed on the dotted line all those years ago. The first night back, he carried a pistol on his person, afraid that he might be somehow attacked. He was anxious and quick to anger. And while he didn't notice the symptoms, his family saw the red flags. Eventually, Buckman sought help from the Kalispell Vet Center and that's where he first learned about Underwater Soldiers. The organization, founded by and for veterans and an experienced local diver, introduces local vets to scuba diving here in the Flathead Valley. They use a 12-foot-deep pool at Flathead Scuba for their dive nights, which are held every other Monday.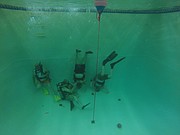 President Shawn Weisz said the group is open to all veterans and hopes more servicemen and women can experience the physical, emotional and mental benefits diving has to offer.
"On a normal dive night we're in the pool here and we're doing what's called a 'Discover scuba' — we're just trying to get these guys some therapy time in the water," Weisz said. "One, we're all hanging out — we're building a community of veterans. Two, the benefits of swimming or scuba are documented ...the benefits are astronomical."
Divers say scuba is like being in another world, one with minimal sounds and distractions, where they can focus on the simple act of breathing in a weightless underwater universe. Participants in a 2011 clinical trial with Johns Hopkins University experienced an 80% improvement in their PTSD symptoms after just four days of diving. While most research focuses on small groups of divers, the results are promising.
And for Buckman, diving has been life-changing. On Monday, Aug. 24, he and half-dozen other veterans spent the evening in the pool. Buckman found a quiet corner, let himself sink to the bottom and promptly turned himself upside down to just hang out and breathe.
"What really helped was I felt really calm, I felt more relaxed. I'm a father now and a lot of the stuff I struggle with is being a father," Buckman explained. "Some nights when I'd come home after scuba there would be things I'd think I'd get upset about … and I was noticing I just let it go."
The positive effects can last for days and now he's made scuba part of his routine, attending dive nights every chance he gets.
Co-founder and U.S. Marine Corps veteran Charles Williams has also been impacted by spending time underwater. Williams served in the infantry from 2004 to 2013 and completed two combat deployments in Iraq, the second of which forced him to medically retire from the Corps.
"It was the combat that I was exposed to in 2005 in Ramadi," Williams said. "There were a couple days that were pretty rough that actually stemmed it."
He has a 100% disability rating from the VA because of injuries sustained to his joints and muscles that cause him to live in near constant pain, along with anxiety and PTSD. When he was still in the service, Williams didn't realize he had a problem — he resided in the barracks, surrounded by other Marines who were coping with many of the same issues. The stress, anger and difficulty sleeping were normal.
Later on, his wife encouraged him to seek help. Williams tried a bevy of therapies and found that talk therapy wasn't his cup of tea, but getting outside and doing things with other vets actually made a difference.
"Being able to help out some other guys helps me, too. That's why you see a lot of veterans organizations that are actually run by veterans," he added.
Williams, Weisz and Vet Center Outreach Program Specialist Adam Jones launched Underwater Soldiers at the end of 2019, following in the steps of Mark Cook, who used to run a veterans dive group at Flathead Valley Community College. Thanks to help from volunteer instructors and Flathead Scuba owner Glen McKinnon, the group held its first dives in early 2020, and now works with about a dozen veterans. The group doesn't certify participants, although participants can get their dive license from the shop. Instead, Underwater Soldiers gets veterans in the water so they can experience the therapeutic benefits of diving and the camaraderie of being with other vets. Some choose to swim around the pool floor, others pass a weighted torpedo shark back and forth and still others like Buckman and Williams, find their own space in the pool to breathe.
"You can completely zone out the entire world and just concentrate on breathing. I usually lay on the bottom of the pool with my eyes closed," Williams said. "It washes everything away. It goes out the window. They compare it to being in outer space — complete weightlessness, no real sounds. Nothing but you and your breathing."
GET INVOLVED
Find Underwater Soldiers on Facebook by searching for "Underwater Soldiers 406" or call Charles Williams at (406) 260-1526 or email info@underwatersoldiers.com.

---