First Interstate Bank gives back on annual Volunteer Day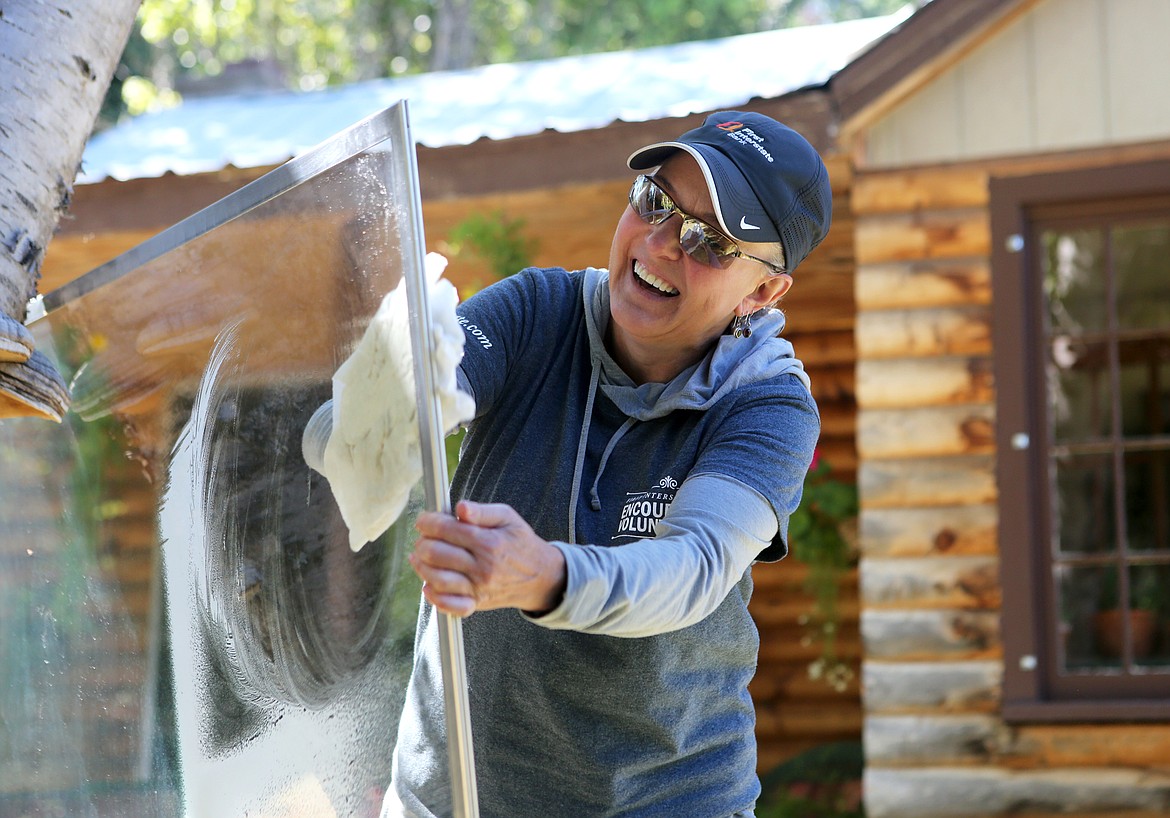 Susan Williams, a corporate compliance manager with First Interstate Bank, washes windows for a local senior during the bank's volunteer day, Sept. 9. (Mackenzie Reiss/Bigfork Eagle)
Mackenzie Reiss
by
MACKENZIE REISS
Bigfork Eagle
|
September 16, 2020 2:05 AM
Volunteers with First Interstate Bank hefted half a dozen garbage bags full of cheatgrass into the back of a small SUV as homeowner Lynn Woods watched with delight. She wasn't able to do the yard work herself -- especially with her arm hanging in a sling -- as she'd just undergone rotator cuff surgery.

"It's a huge gift," she said. "The bank does this because they love the community and they want to do their part to make it the best."
Last Wednesday, First Interstate Bank locations across six states closed their branches at noon so their employees could spend the rest of the day volunteering in their local communities. The seven employees at the Bigfork location partnered with senior assistance organization, My Glacier Village, to perform chores for local seniors, and helped the ACES After School Program clean up their new space on Commerce Street. This year marks the third annual Volunteer Day for the bank, said Bigfork team member Becca Brandewie.
"This year we decided to help our seniors out because a lot of them can't get help now because of the pandemic," Brandewie explained. "We wanted to fill a hole. That's part of First Interstate's desire to be part of their community and give back."
Volunteers did everything from mowing and weeding to window washing and planting last Wednesday afternoon. Once they finished their projects at seniors' residences, the crew convened at ACES to help beautify the front yard and relocate a sandbox. ACES provides after school care and meals for school-aged children and recently moved from the Bigfork Community Center to a building next door.
"I really want this to be a welcoming place, a pretty place," said ACES Site Coordinator Cathy Hay. "They're basically making us a presence on this street. It's a huge, huge, awesome asset to us."
The experience was also a boon to First Interstate staffers, Brandewie noted. It's not everyday that they get outside and do manual labor together, after all. And some positions within the bank can be daily isolated, so the volunteer day provided a chance for those employees to get to know their community and fellow coworkers better.
"It's outside of the work environment, we get to help people, we get to meet our community more," she added. "I'm grateful First Interstate gives us the chance to do this to close down the branches and get out there."
---