Vikings fall to Florence at home
Bigfork quarterback Patrick Wallen hands the ball off to runner Cormac Benn in the second quarter against Florence Friday.
Jeremy Weber
by
JEREMY WEBER
For the Eagle
|
September 23, 2020 2:55 AM
The Vikings football squad found themselves in a tough matchup at home Friday as they fell to the Florence Eagles, 33-14.
Three first-half turnovers by Eagles helped the Vikings keep the game close in the first half as Bigfork trailed 14-6 at the half, but Florence outscored the Vikings 19-8 to pull away over the final two quarters.
Despite the loss, Vikings head coach Jim Benn was happy with his team's performance against an Eagles team that took defending state champion Manhattan Christian to overtime in a loss earlier this month.
"We have lost our last two, but I am still pleased with the direction we are headed right now. We are doing good things and we are competitive. I think we have a good chance to finish out our season with a few more wins," he said. "We did a good job of capitalizing on their mistakes and also did well keeping them out of the end zone early, we just had some chances of our own that we didn't take advantage of."
Florence scored four of its five touchdowns through the air against the Vikings, but the Bigfork defense also picked off Eagle quarterback Pat Duchien three times, with two interceptions by Isak Epperly and one in the end zone by Jackson Nelson that prevented a Florence touchdown in the first quarter. Cormac Benn also recovered a fumble for the Vikings defense in the first half.
On the offensive side of the ball, the Vikings outgained the Eagles on the ground, led by Cormac Benn's 217 yards on 30 carries while Levi Taylor added 45, quarterback Patrick Wallen had 24 yards and George Bucklin added 16.
Wallen finished the night 5 of 14 passing for 24 yards.
Bryce Gilliard led the defense with five tackles while Bucklin, Taylor and Wallen each had four and a half.
The Vikings will be down a few players this week as they host Loyola for Homecoming, as COVID-19 quarantine forces two varsity players and several JV players home for two weeks.
"This is just the world we are living in right now. We are doing the best we can and I think our school is taking a good approach to dealing with it and doing all it can to keep everyone safe," coach Benn said.
Coach Benn says it has been a rough couple of weeks for his Vikings, but he still has high hopes for the rest of the season.
"We just need to shore a few things up and deal with some health issues in a few key positions. We should be healthy soon and ready to compete at our peak level," he said. "Our goal right now is to earn the second seed in the conference and host a first-round playoff game."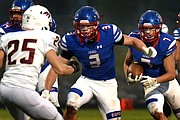 VALKYRIES SOCCER
The Valkyries soccer team suffered a heartbreaking loss at home against Libby Saturday, falling to the Lady Loggers 2-1 despite dominating most aspects of the match.
Bigfork held possession for most of the match and took 37 shots to Libby's eight, but the Lady Loggers capitalized with two goals to grab the victory.
"I have been coaching for 30 years and Saturday may have been my toughest loss yet. It was just one of those games," Valkyries head coach Tim Guenzler said. "We outshot them and kept the ball on their end most of the game, but Libby got a couple of breaks and they capitalized on them. We did everything we needed to win the game, it just didn't work out for us."
Bigfork's only goal of the contest came in the 26th minute as a cross from Calista Worble was put in the net by Audrey Buenz.
The loss came after the Valkyries matchup with the Lady Bulldogs in Whitefish was cancelled due to smoke earlier in the week.
VIKINGS SOCCER
The Vikings picked up an 8-2 win over the Loggers Saturday as Ben Pilskalns led the way with five goals. Levi Peterson added two more and Landon Byerman had one in the victory. No other information was available.
Both the Vikings and Valkyries were scheduled to be in action at Columbia Falls Tuesday before hosting Polson for their Homecoming games Thursday, beginning with boys at 5 p.m. with the girls set to begin at 7 p.m.
Both teams will make up their smoked-out matches at Whitefish Monday as the boys face the Bulldogs at 3 p.m. with the Valkyries game set for 5 p.m.
CROSS COUNTRY
Bigfork's cross country team did not have a meet last week but will be back in action Thursday at the Thompson Falls Invite and Tuesday at the Whitefish Invite.
---