Schafer's brunch brings something new to to the table
by
MACKENZIE REISS
Bigfork Eagle
|
April 7, 2021 2:40 AM
When David May and business partner Rob Wink opened Schafer's Restaurant in the fall of 2014, they knew they'd have to create a menu that was worth the drive.
"We are not on the way to anywhere. People don't find us by default … You have to be intentional to come to Woods Bay, so we knew that we had to be above average," May said.
Their experience-focused approach is evident in the restaurant's Sunday brunch offering, which showcases a mix of morning staples with specialty creations to surprise and delight even the most discerning palates.
"We didn't want a typical breakfast lunch cafe menu," May said. Yes, they've got a few traditional offerings, but as for the rest of the menu?
"We just wanted to have fun," May added.
Alongside classic eggs benedict and biscuits and gravy are unexpected dishes like the bananas foster waffle topped with bourbon whipped cream, a smoked steelhead benedict featuring fresh fish raised in the Columbia River and avocado toast made with burrata cheese and a balsamic glaze, courtesy of Chef Jeans Matheros. If guests don't want to take advantage of the out of the box offerings, they can order a custom omelet or egg scramble with the meats and veggies of their choosing
Another not-to-be-missed entree is the chilaquiles -- the Schafer's alternative to huevos rancheros -- which feature house-made chorizo, feta, eggs and a cilantro-lime crema. For those hankering for noon-time fare, the seared ahi salad is a best-seller, May noted.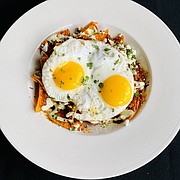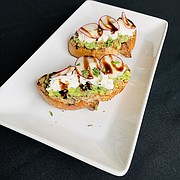 And those with a morning sweet tooth can indulge in the newly-added sourdough pancakes finished with molasses poached strawberries.
Schafer's innovative menu is the product of many decades of restaurant experience. May brings 50 years of culinary expertise to the Schafer's partnership, including 16 years as kitchen manager at the Bigfork Inn followed by another six as the owner. But Wink is the true connoisseur of the duo -- as May says, "some people golf, some people go fishing — he eats out. When he gets up in the morning, he's looking forward to where he's going to eat that evening. That's Rob."
In addition to a unique menu, May and Wink also wanted to create a fine dining brunch experience — without the hefty price tag. Guests can enjoy lake views and made-to-order meals for around $12-18 per person. A full bar is also available as is deck seating during the summer months.
"It's a small, intimate dining room with a world-class view," May said.
Reservations are highly recommended for brunch which is offered exclusively on Sundays, beginning at 10 a.m. with final seatings at 1 p.m. Schafer's is located at 14735 Sylvan Drive, directly adjacent to the Mountain Lake Lodge, and can be reached at (406) 837-3463.
ABOUT THE SERIES
Over the next few weeks, the Bigfork Eagle will highlight local eateries as part of our Bigfork Eats series, leading up to Taste of Bigfork, April 25. The annual food showcase brings the best of local dining together in a single evening. Sample special offerings from local restaurants from 2-5 p.m. in downtown Bigfork with a glass of wine and local music. Tickets are $40 and can be purchased at Electric Avenue Gifts or the Bigfork Area Chamber of Commerce. For more information, call 837-5888.
---