Stone Hill Kitchen and Bar offers fine dining with a local focus
by
MACKENZIE REISS
Bigfork Eagle
|
April 14, 2021 2:00 AM
You might be surprised what you can find at the end of a dirt road. One such avenue winds up a rocky hillside on the edge of Bigfork, giving way to Stone Hill Kitchen and Bar. The restaurant, tucked amid a handful of residences, is fairly unassuming from the outside, but looks, as the saying goes, can be deceiving.
Stone Hill is one of Bigfork's premiere fine dining restaurants and prides itself on sustainability, an educational company culture and serving innovative cuisine with local and responsibly-sourced ingredients. Although the restaurant is in its infancy, having opened in April 2019, Stone Hill has already made a name for itself. Last year, the Bigfork eatery received a Restaurant Award of Excellence from "Wine Spectator," which is given to dining establishments that offer at least 90 well-chosen selections that match the menu in both price and style.
"We had several guests last summer come in and say we are here because your restaurant is in 'Wine Spectator,'" general manager Stephanie Meyers noted. "People who are serious about wine follow restaurants from that source."
And guests who order by the glass also have the opportunity to sample the wine before committing, allowing diners to expand their palettes, risk free.
"If you like wine, it's a great opportunity to try something new," she added.
Stone Hill's menu also boasts variety, and is printed daily based on availability of ingredients.
Among the most popular main offerings is the caramelized miso-glazed Flathead Lake trout, served with a mushroom, hazelnut, farro pilaf. To close the meal, a local favorite is the double chocolate fondant paired with ice cream made from cedar tree fronds with a surprising floral and delicate flavor.
Using local ingredients in fresh ways has been at the heart of Stone Hill's mission since the restaurant's inception. Owners Andrew and Bonnie Matosich wanted to create relationships around memorable dining experiences -- and not just between guest, chef and restaurateur, but with local growers as well.
"Whenever you can keep things close to home, it's the best all around," Meyers said. "You're producing the freshest food and you're supporting your neighbors."
They source mushrooms from Valley Girl Mushrooms out of Kila, produce from Wicked Good Produce and their seafood comes from Flathead Fish and Seafood in Columbia Falls. Other ingredients, staff gather themselves. They pick huckleberries off Crane Mountain and harvest cherries from a patron's property. This winter, they're also planning to forage for mushrooms.
"We want [the staff] to know how to do this and how to use ingredients creatively," Meyers said.
Montana isn't just on the plate -- it's in the lifeblood of the establishment. The Matosich's have roots in Montana, but left the Big Sky state after graduating college to work for the Central Intelligence Agency on the East Coast. They relocated to the West Coast to pursue careers with Disney and Summit Entertainment before returning home, Meyers said of her aunt and uncle.
"They had fond memories of going to restaurants in Bigfork with my grandparents and liked the idea of having a family project that involved a restaurant of their own," Meyers said.
Stone Hill is a project with heart behind it -- one of the family's tenants is education and they've worked hard to cultivate a teaching environment that encourages younger staff members to explore and expand their culinary skills. They've hired multiple team members from Flathead Valley Community College's culinary arts program alongside experienced talent such as their new executive chef Rikku O'Donnchu. The European native has trained under a Michelin star chef in England and worked at world-class establishments like Chez Dominique and The Fat Duck.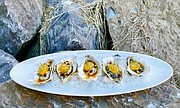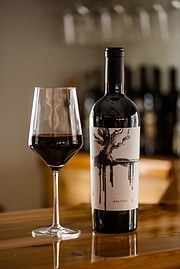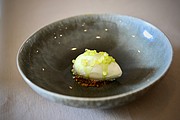 Meyers said O'Donnchu shares Stone Hill's affinity for seasonal-based dining and innovation in the kitchen.
"Part of our goal is to feature things that you don't think of being in Montana," Meyers explained. "A lot of people think bison and huckleberries -- and it's not that we don't use those, we do -- but there are also other things in our area and in Montana that we work on featuring."
Patrons are invited to explore the menu at Stone Hill Kitchen and bar from 5-9 p.m. every evening, except Wednesday when the restaurant is closed. Reservations are highly recommended but Meyers also noted that there is no dress code. Stone Hill is also hosting a number of special dining events this spring. In addition to participating in the April 25 Taste of Bigfork event downtown, Stone Hill will be celebrating Montana ingredients at their Taste of Montana event on April 30. On May 11, the restaurant will craft a wine-focused menu paired with Spanish wines. To make a reservation, contact Stone Hill Kitchen and Bar at 837-2720. The restaurant is located at 7951 Montana 35.
---