Brainstorming trail connectivity and recreation opportunities around Bigfork
by
TAYLOR INMAN
Bigfork Eagle
|
December 1, 2021 12:00 AM
Community members met with land trust groups, Montana Fish, Wildlife and Parks and National Forest officials to discuss how to best utilize upcoming recreation projects around Bigfork. The meeting was hosted by Montana Access Project Founder Diane Conradi and Flathead Lake State Park Manager Amy Grout, who said the goal of the meeting was to start conversations about these upcoming projects and see if any opportunities for collaboration or connectivity were possible.
"Diane and I were talking, and there is so many little pieces going on, and nobody has the capacity I think right now to take on a huge project, so by getting everybody together we can maybe look at what some of the great things we could do in the community of Bigfork," Grout said.
They identified current projects such as Somers Beach, the Sportsman's Bridge Rebuild, the Harrell Forest project, the Swan River Nature Trail, Wayfarers State Park and the Highway 35 Rebuild. Conradi said there's more people seeking recreation opportunities and more money available for these projects than ever before. She said there are an abundance of funding opportunities through both the federal and state government at this time, but getting those grants means staying competitive and presenting "projects that are ripe and ready-to-go."
"We're here tonight to take a look at the assets that are here now, the current situation, to take some time to envision the opportunities and have a chat about what it will take to turn those ideas into action," Conradi said.
The meeting included updates about projects that are currently in the works, such as the Harrell Forest project. The Trust for Public Land and the Flathead Land Trust spoke about developing the Harrell Forest into a system of trails that could be easily accessible from downtown Bigfork, which is a half mile away. The property was once slated to have more than 17 homes built on it before it was donated to by Alan and Cindy Horn. Lucas Cain with the Trust For Public Land said they are currently looking at how to develop the land by gathering community feedback and getting boots on the ground there.
"We are in the preliminary stages of understanding what's possible out there...really getting out on the ground and kicking dirt and seeing what's possible. So, it's looking like anywhere between four and five miles of well-built, sustainably-built trails will be possible," Cain said.
Somers Beach was recently made into a new state park at the beginning of October, when Montana FWP bought the stretch of land for $2.8 million dollars from the Sliter family, who have been hoping to use the area for conservation since the 1980's. For years, the Sliters have allowed public access to the area but without amenities like a bathroom or parking area. Grout said they are working with BNSF, who owns a parcel of land in the middle of the state park, to create a parking area and lake access on their property. She said even though some of it will be closed from March through July because it's a waterfowl protection area, there's possibilities to keep it open for recreation.
"The U.S. Fish and Wildlife property is closed down between March and July for nesting, but there might be a way to do a trail corridor, so a hint of possibility to continue recreation through there even during that closed period," Grout said.
The Swan River Nature Trail is one of the most popular recreation areas in Bigfork, created by the Community Foundation for a Better Bigfork in 2018 in conjunction with PacifiCorp, who owns the land. CFBB President Paul Mutascio said PacifiCorp is required under a FERC agreement to create recreation opportunities through their property, and so the CFBB asked the corporation to build a parking area and bathroom. Mutascio said their trail system will be improved with the addition of a bathroom, which would be required to expand the trail system. He said PacifiCorp was reluctant to fund and support the bathroom at first, but once the CFBB showed them the amount of "poop trails" and the environmental implications of that, they agreed to build the parking lot with a bathroom.
Mutascio said the parking area and bathroom are still under construction, but he said the CFBB continues to work with PacifiCorp to improve the trail, despite still figuring out what the corporation will require of them to maintain it.
Attendees at the meeting were asked to write down ideas in groups after project presentations. Cycling accessibility, improved sidewalks and winter activities such as a skating rink and expanded nordic skiing were among the popular ideas, but connectivity was the overall resounding goal. Groups also discussed potential solutions to accomplish these ideas by asking to open up communication between other landowners, who could help connect certain trail projects to others. Conradi asked those in attendance to consider picking up the torch for some of these ideas.
"It's a proposal for a planning process that has follow through, steps, engagement, vision, action, funding, budgeting, and etc." Conradi said.
Even though no official action was taken at the meeting, ideas about partnerships and larger, more connected projects excited those in attendance and could be the first step in creating more expansive recreation opportunities around Bigfork and the north shore of Flathead Lake.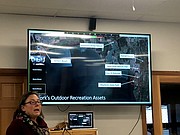 ---