Valkyries dynamic duo helped lead soccer team to new heights
|
December 1, 2021 12:00 AM
Bigfork's Brette Guenzler and Scout Nadeau have spent a lot of time on the soccer pitch together since they began playing together in elementary school, but this season the dynamic duo and their teammates stood somewhere no Valkyrie soccer player had ever been before - the Class A state semi-finals.
This season, the pair of All-Conference second team selections helped lead the Valkyries to their first winning season in program history, culminating with Bigfork upsetting Southern A top-ranked Stevensiville in the opening round of the playoffs.
Down 2-0 to the Yellowjackets with under nine minutes to play in regulation, the Valkyries rallied to win 3-2 in overtime to provide the Valkyries first-ever playoff win.
"Forever, the focus of this program was on not losing. Now, I feel like we are focused on winning," Guenzler said. "It makes a big difference in the way we play and how we approach the game."
"Our team just has such a passion for winning. We always seem to want to win more than whoever we are playing. We play with our hearts as much as our legs. It's who we are and it really showed against Stevensville," Nadeau added.
For Guenzler and Nadeau, the playoff win was the end of a long road - a road that began with a winless season for the Valkyries just four years ago.
Guenzler and the Valkyries suffered through a winless season in her freshman year in 2018 and won only two when Nadeau joined the team as a freshman in 2019. In 2020, the team fought its way to four wins and a playoff berth before this year's breakthrough season.
"We have been through this together and we know what it is like to not win. So doing this side by side has been so cool," Nadeau said. "Now, we get to win out there with our best friends, which is amazing."
"The journey has been amazing. It's so great when you get to be a part of something where everyone is working as hard as possible," Guenzler added.
Together, Guenzler and Nadeau have worked to help foster the same love of the game that drew them to soccer in the first place.
There is so much that goes into soccer that most people don't get," Nadeau said. "Soccer is all about creativity. I think that people think that you are just trying to find the next pass, but it is really about finding the right pass at the right time."
Soccer really is a player's game. It's a thinker's game. There are no timeouts in soccer. We have to figure it out on the field," Nadeau added. "The great thing about soccer is all of the moving pieces and the toughest part of soccer is all of the moving pieces."
While the pair combined to score 30 of the team's 51 goals this season, they were quick to point to the team effort that led to this year's success.
"A lot of people think that we just kick a ball around or that you just kick a ball in the net. It's so much more than that. There is so much that goes on away from the goal that people never think about. Our defenders are so good that they make us look good," Guenzler said while singling out teammates Danica Bucklin, Zoe Guffin, Braeden Gunlock and Olivia Kirby. "Scout and I get a lot of credit for our offense, but our defense deserves even more credit. They save our butts every time when we lose the ball. Team chemistry is big in soccer and this year's team had the best chemistry of any team I have ever played on."
With Guenzler moving on to play at the collegiate level at Western Colorado in the fall and Tanko joining the University of Texas at Dallas, it will be up to next class of seniors in Nadeau, Kirby, Maddison Chappius and Ashlyn Savik to continue the Valkyries success next season, something Guenzler says she has full confidence in the group being able to achieve.
"I think it is so cool to finally see people excited to be a part of this program," she said. "Nobody wanted to play soccer here when I was a kid. Things really have changed and we need to keep that momentum going."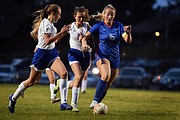 ---