Valkyries basketball team stays undefeated after perfect week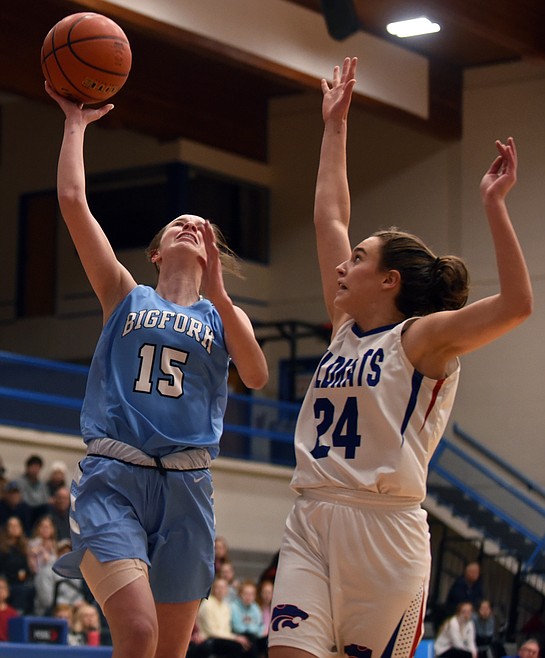 Bigfork's Ava Davey goes up for two points against Wildkat defender Lexi Oberholtzer in the Valkyries' 55-31 at Columbia Falls Monday. (Jeremy Weber/Bigfork Eagle)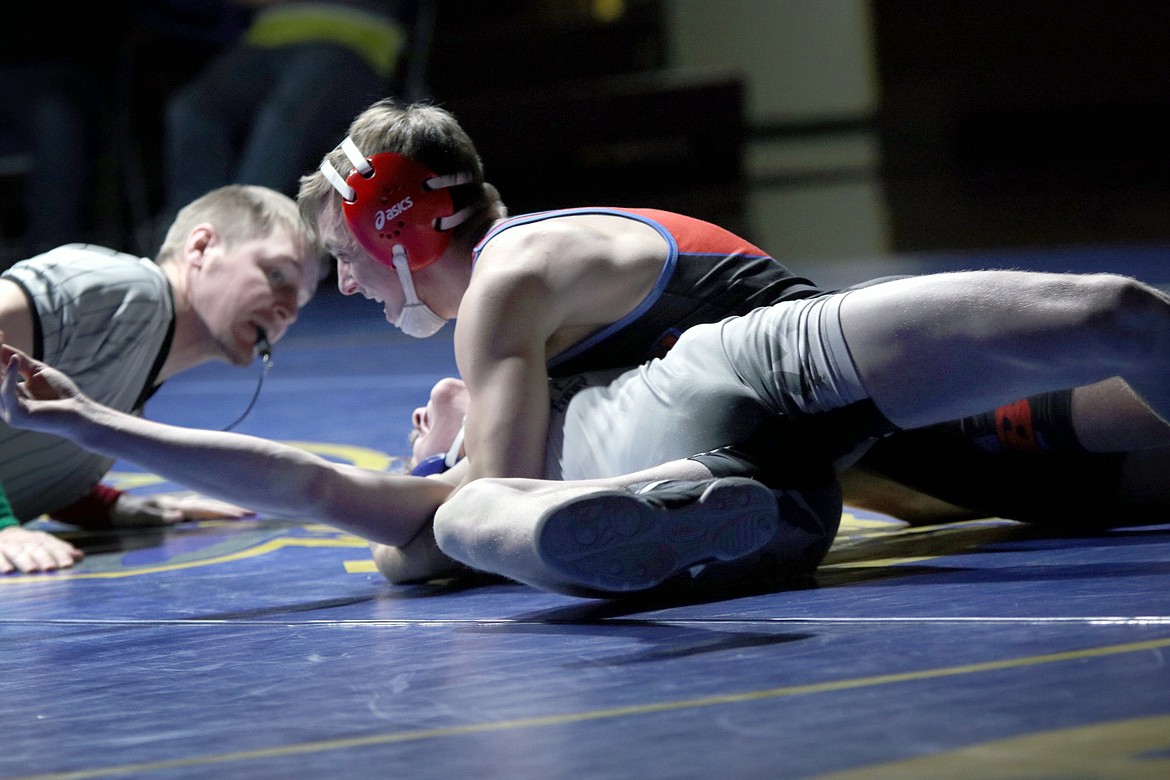 Ryder Nollan wrestles in Polson earlier this season. (Sally Anderson photo)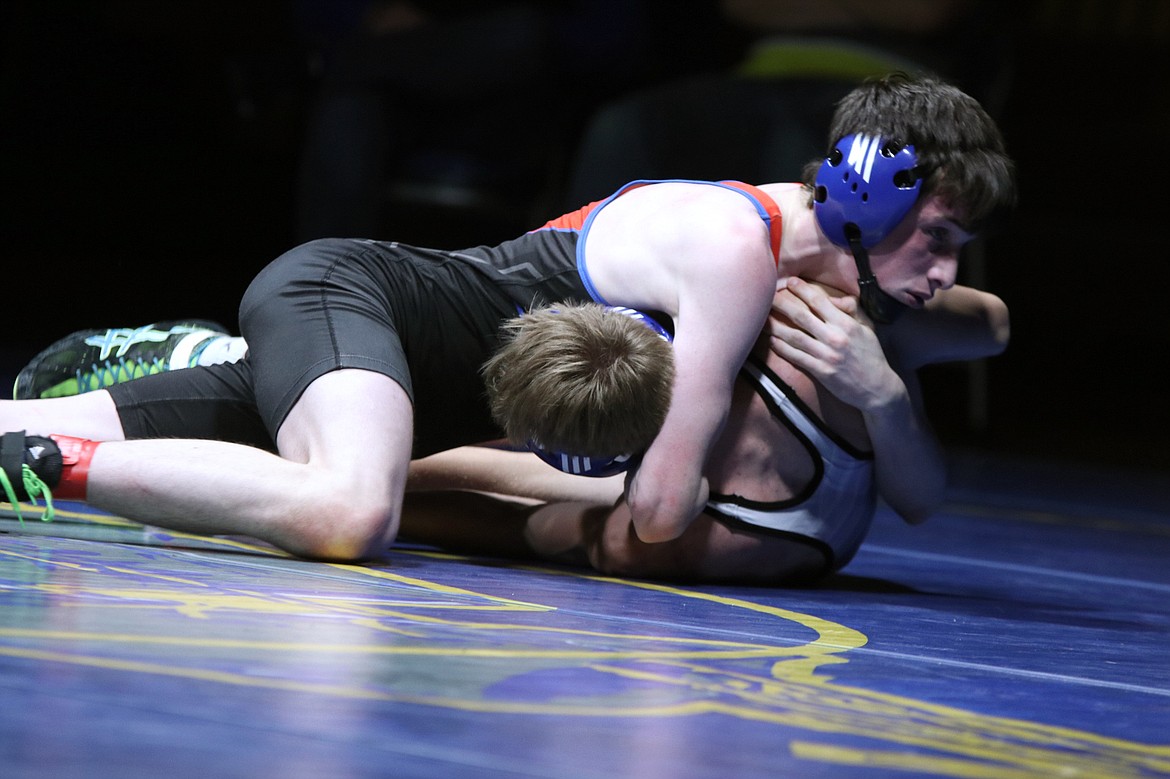 Michael McCarty wrestles in Polson earlier this season. (Sally Anderson photo)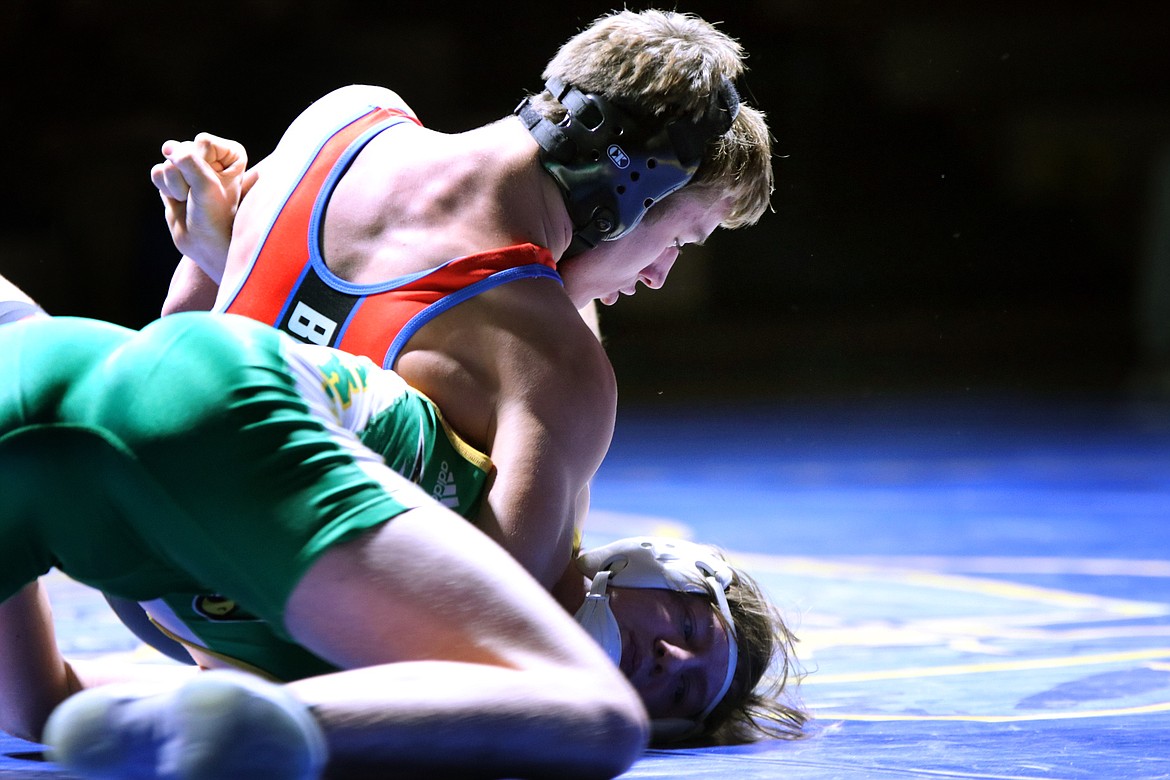 Vaughn Pendlay wrestles in Polson earlier this season. (Sally Anderson photo)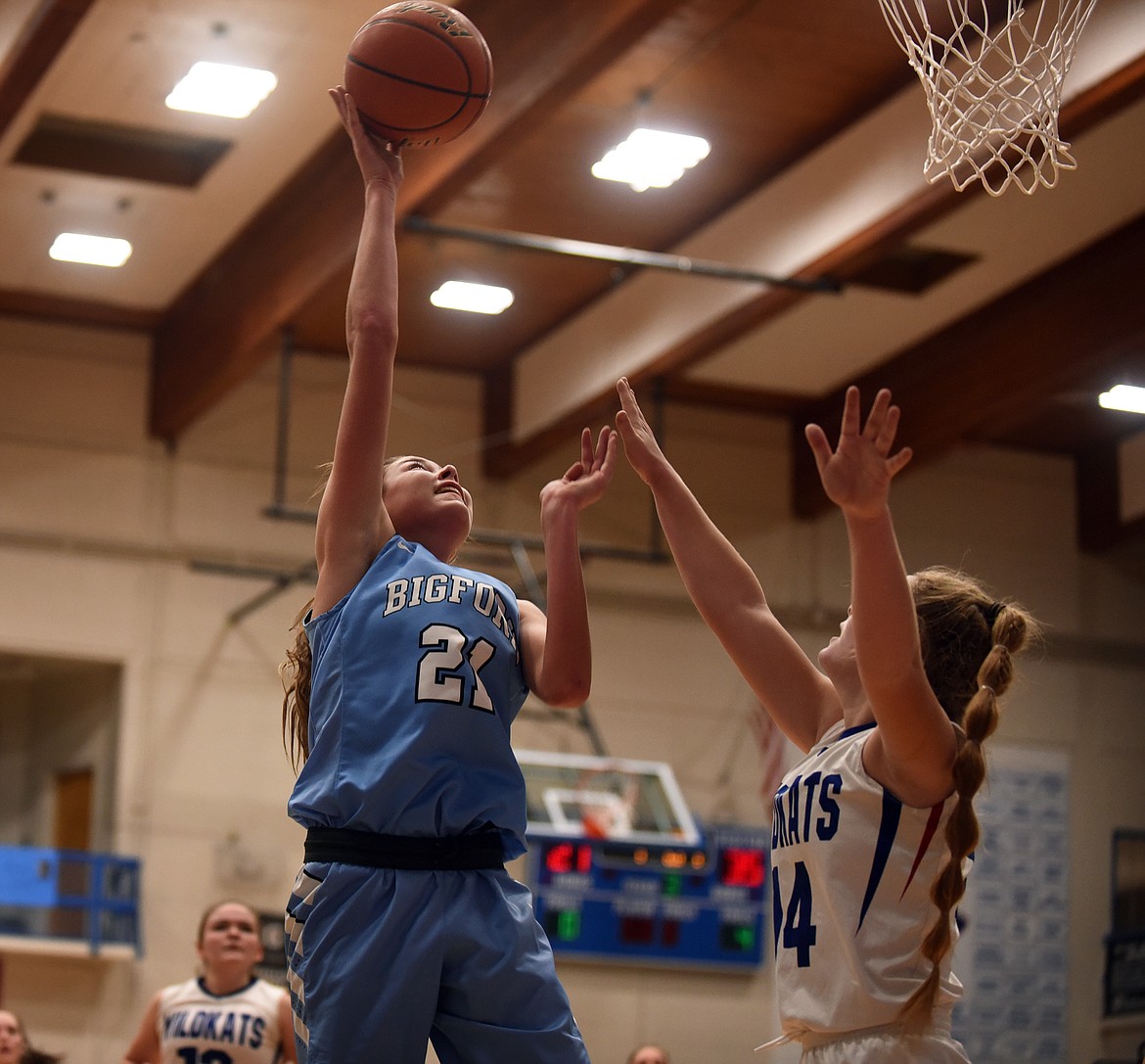 Bigfork's Braeden Gunlock goes up for two of her 10 points over Wildkat defender Hope McAtee in the Valkyries' 55-31 win at Columbia Falls Monday. (Jeremy Weber/Bigfork Eagle)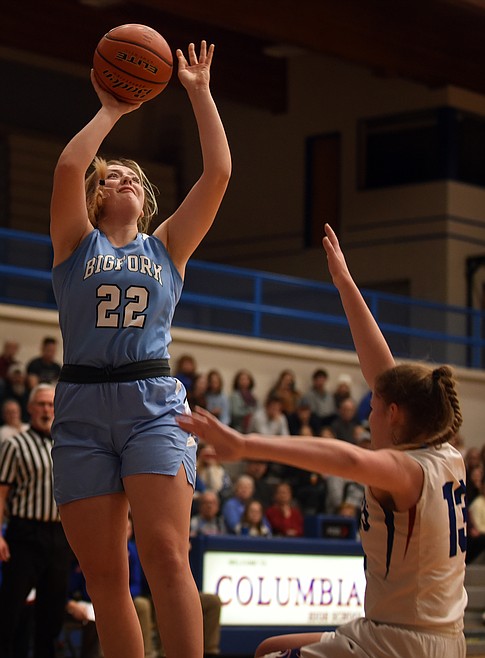 Bigfork's Scout Nadeau pulls up for a jumper over Columbia Falls defender Grace Gedlaman Monday. (Jeremy Weber/Bigfork Eagle)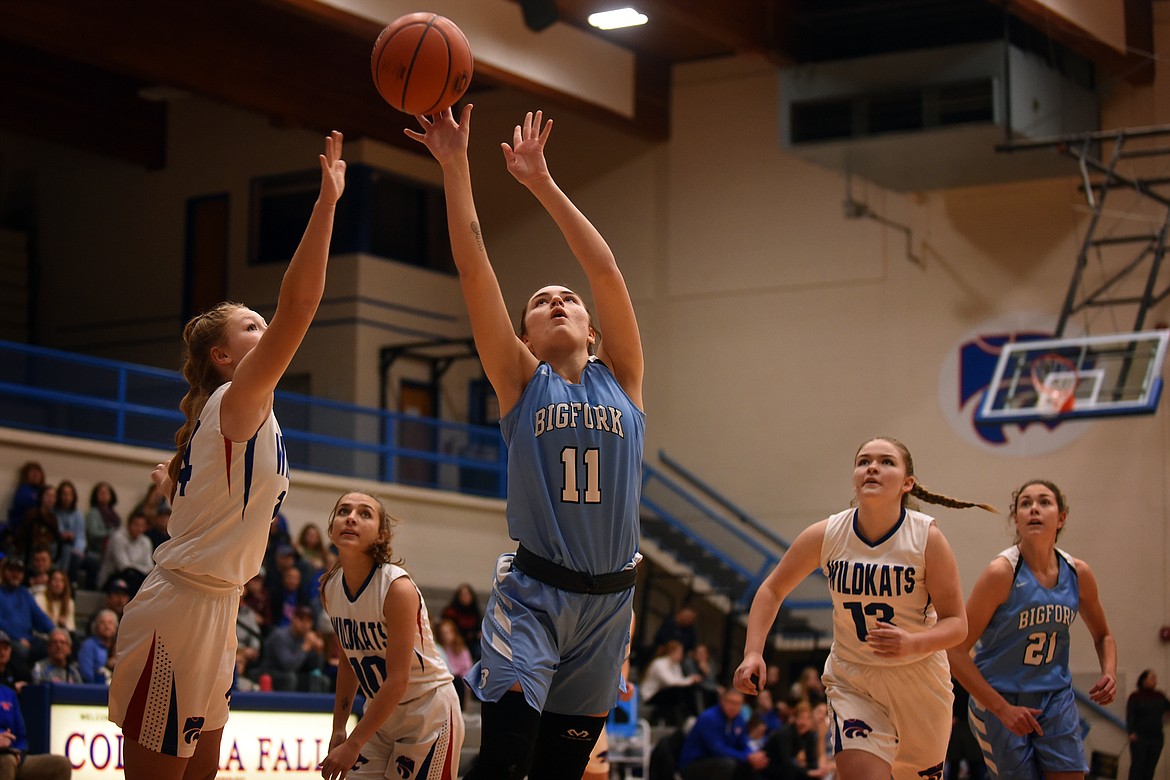 Bigfork's Emma Berreth goes up for two of her game-high 19 points against the Wildkats in Columbia Falls Monday. (Jeremy Weber/Bigfork Eagle)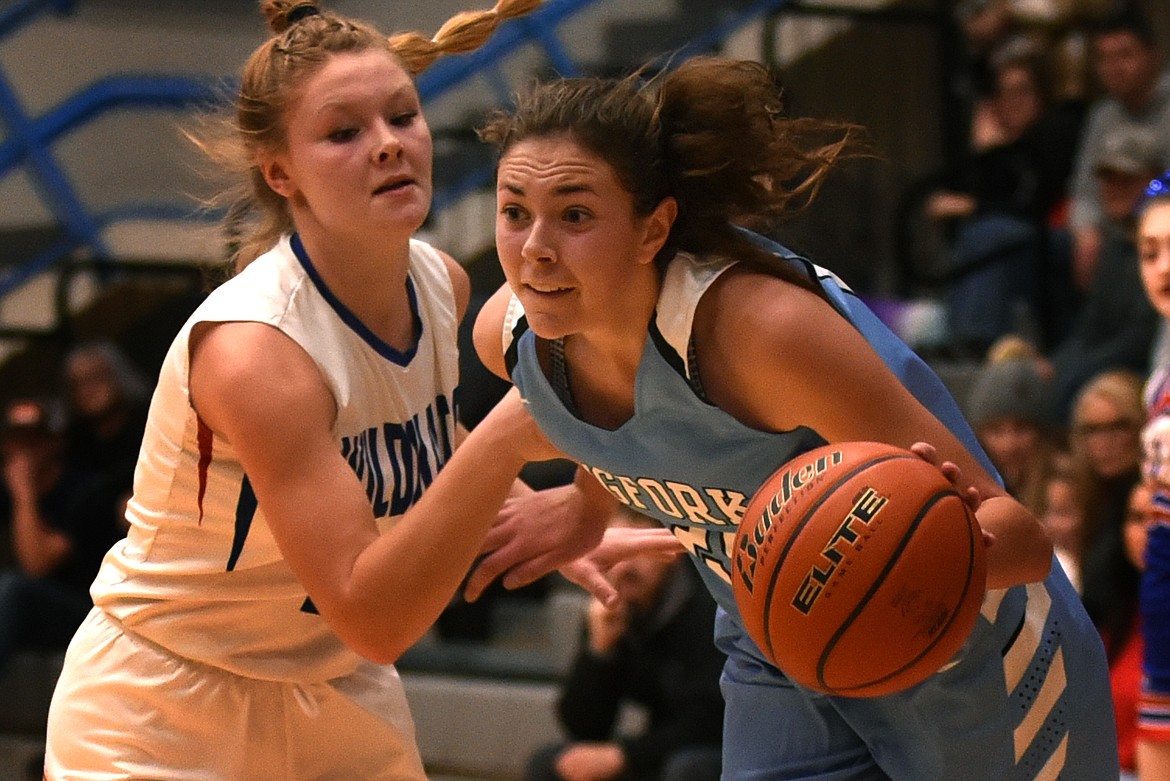 Bigfork's Braeden Gunlock drives past Wildkat defender Hope McAtee in the Valkyries' 55-31 at Columbia Falls Monday. (Jeremy Weber/Bigfork Eagle)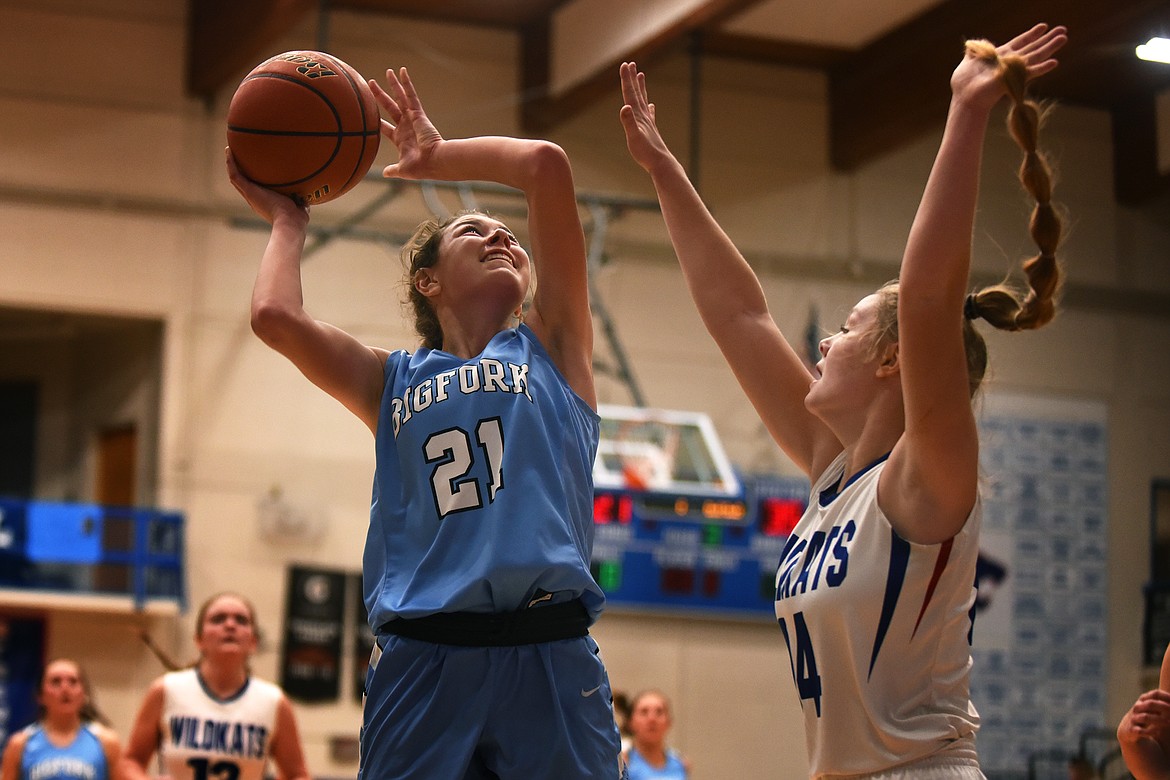 Bigfork's Braeden Gunlock goes up for a shot over Wildkat defender Hope McAtee in the Valkyries' 55-31 win at Columbia Falls Monday. (Jeremy Weber/Bigfork Eagle)
Previous
Next
by
JEREMY WEBER
For the Eagle
|
December 22, 2021 12:00 AM
It was another full week of Bigfork High School sports heading into the Christmas break last week as the Valkyries basketball team picked up three wins to remain undefeated, the Vikings hoops squad won one and lost two and the wrestling team was in action in Libby. The Valkyries swim team was scheduled to compete in Missoula Saturday, but did not make the trip after Friday's bomb threat at the high school.
GIRLS BASKETBALL
The Valkyries moved to 5-0 on the young season last week with convincing wins over Mission, Eureka and Columbia Falls, winning all three by 18 or more.
The Valkyries led by eight at the half against Mission Dec. 14, but used a 20-0 third-quarter run to really break the game open as Bigfork went on to win 71-45.
Emma Berreth led the way for Bigfork in the win with 20 points, nine rebounds and two assists while Braeden Gunlock added 13 points and nine rebounds. Madison Chappuis finished with 11 points, seven rebounds and five assists in the victory while Callie Gembala had 10 points.
The Valkyries took down the defending conference champion Lady Lions in Eureka Thursday, using an 18-7 second-quarter spurt to pull away for a 54-36 win.
Gunlock finished with 15 points, seven rebounds, three assists and four steals while Berrerth led the team in scoring with 16 points. Chappuis scored only two, but filled up the rest of the stat sheet with 12 rebounds, five assists and five steals. Ava Davey also scored in double figures with 10 points.
The Valkyries had four players score in double figures in Columbia Falls Monday night as Bigfork cruised past their Class A foe, 55-31.
The Valkyries never trailed in the contest as Berreth led the way with 19 points while Chappuis added 14 points, 10 rebounds and five assists. Scout Nadeau scored 12 and Gunlock had 10 points, eight rebounds, four steals and a pair of assists.
The Valkyries took on the Lady Horsemen in Plains after press time Tuesday and will return from the holiday break Jan.6 when they host Troy.
St. Ignatius 10 15 0 20 - 45
Bigfork 17 16 18 20 - 71
MISSION - Kason Page 16, Kooper Page 13, Evans 2, Currie 12.
BIGFORK - Emma Berreth 20, Ayers 3, Madison Chappuis 11, Ava Davey 4, Braeden Gunlock 13, Scout Nadeau 7, Callie Gembala 10, Martinz 3.
Bigfork 15, 18, 8, 13 - 54
Eureka 14, 7, 6, 9 - 36
BIGFORK - Emma Berreth 16, Madison Chappuis 2, Ava Davey 10, Braeden Gunlock 15, Scout Nadeau 9, Callie Gembala 2.
EUREKA - Truman 6, Brown 1, Sanchez 7, Coteron 10, Pluid 9, Stanger 3.
Bigfork 11 14 14 16 - 55
Columbia Falls 9 7 13 2 - 31
BIGFORK - Berreth 19, Chappuis 14, Davey 2, Gunlock 10, Nadeau 12, Gembala 4, Martinz 4.
COLUMBIA FALLS - Robison 4, West 1, Gedalman 6, McAtee 14, Alton 1, Oberholtzer 5.
BOYS BASKETBALL
The Vikings suffered two close losses to Mission and Columbia Falls last week, but also picked up a victory over Eureka.
Trailing 33-30 heading into the fourth quarter at Mission Dec. 14, the Vikings' comeback came up just short in the final quarter as Bigfork fell to the Bulldogs, 45-42. The Vikings were able to nearly close the gap despite shooting just one for 19 from three-point range and committing 22 turnovers in the contest.
Bryce Gilliard was the only Viking in double figures with 11 points and also added eight rebounds and three steals. Isak Epperly finished with eight points, 10 rebounds, five assists and three blocks.
Bigfork led by only three after one quarter against Eureka Thursday before the Vikings outscored the Lions 45-16 over the final 24 minutes to earn a 58-26 victory.
The Vikings out-rebounded the Lions 41 to 12 in the win while committing only four turnovers.
Epperly's 19 points, 11 rebound and four assists led the way for the Vikings in the win while Gilliard added 12 points and five rebounds and Colin Wade had 10 points.
Bigfork took a 43-38 lead into the fourth quarter at home against Columbia Falls Monday, but fell in overtime, 63-57.
Led by Epperly's 19 points, the Vikings trailed 33-29 at the half but rallied to take a five point lead into the fourth quarter before being outscored in the extra period, 10 to four.
Along with Epperly's 19 points, Gilliard and Wade each added 11 and George Brown was also in double figures with 10.
The Vikings took on the Horsemen in Plains after press time Tuesday and will return from the holiday break Jan.6 when they host Troy.
Bigfork 8 8 14 12 - 42
Mission 9 12 12 12 - 45
BIGFORK: Bryce Gilliard 11, Wyatt Johnson 9, Isak Epperly 8, Levi Taylor 6, George Brown 4, Colin Wade 2, Cole Knopik 2.
MISSION: Cederick McDonald 16, Zoran LaFrombois 11, Kellen McClure 9, Ross McPherson 4, Justin Brown 3, Jadence Peone 2.
Bigfork 13 18 10 17 - 58
Eureka 10 9 1 6 - 26
BIGFORK: Isak Epperly 19, Bryce Gilliard 11, Colin Wade 11, George Brown 10, Kyle Fowlick 4, Cole Knopic 2, Wyatt Johnson 1.
EUREKA: Caleb Utter 8, Dan Dunn 7, Joey Kindel 5, John Grieve 2, Trent Truman 2, Braden Casazza 2.
Columbia Falls 13 20 5 15 10 - 63
Bigfork 16 13 14 10 4 - 57
COLUMBIA FALLS: Jace Hill 19, Alihn Anderson 13, Andrew Miner 10, Cade Morgan 8, Mark Robison 8, Mason Peters 5.
BIGFORK: Bryce Gilliard 21, Wyatt Johnson 12, Levi Taylor 8, Isak Epperly 6, Colin Wade 5, Kyle Folwick 3, Cole Knopik 2.
WRESTLING
The Vikings wrestling squad made the trip to Libby Dec. 14 as they took on the Loggers and Lakeland, Idaho.
Michael McCarty, Ryder Nollan and Vaughn Pendlay all picked up wins for Bigfork against Libby/Troy, but the Vikings fell 54-24.
McCarty was able to pin Dawson Rose in 3:07, Nollan took just 1:57 to pin Elijah Edwards and Pendlay needed just 55 seconds to pin Wyatt Gregg.
Nollan, Pendlay and Traic Fainter took down their opponents against Lakeland, but Bigfork fell in the match, 54-18.
Fainted pinned Jaren Knopp in 3:30, Nollan needed six minutes to pin Lucas Williams and Pendlay pinned Dylan Scott in 3:03.
The Vikings will be back in action Jan. 4 at Arlee.
Bigfork 24, Libby/Troy 54
103: Traic Fainter (BIGF) over (LITR) (For.)
113: Xavier Reatz (LITR) over Diego Rodriguez (BIGF) (Fall 0:25)
120: Marley Erickson (LITR) over Json Merringer (BIGF) (Fall 0:17)
126: Zekiah Meyers (LITR) over (BIGF) (Fall 0:54)
132: Michael McCarty (BIGF) over Dawson Rose (LITR) (Fall 3:07)
138: Ryder Nollan (BIGF) over Elijah Edwards (LITR) (Fall 1:57)
145: Cael Schwindt (LITR) over Wyatt Elwell (BIGF) (Fall 3:59)
152: Joey Wise (LITR) over Ian Wolfe (BIGF) (Fall 1:27)
160: Vaughn Pendlay (BIGF) over Wyatt Gregg (LITR) (Fall 0:55)
170: Matthew Niemi (LITR) over (BIGF) (For.)
182: Jace DeShazer (LITR) over Evan Tidwell (BIGF) (Fall 0:44)
205: Gaige Bache (LITR) over (BIGF) (For.)
285: Aydan Williamson (LITR) over (BIGF) (For.)
Bigfork18, Lakeland (ID) 54
103: Traic Fainter (BIGF) over Jaren Knopp (LAKE) (Fall 3:30)
113: Matthew Williams (LAKE) over Diego Rodriguez (BIGF) (Fall 0:52)
120: Duke Williamson (LAKE) over Json Merringer (BIGF) (MD 18-5)
126: Reilly Saxe (LAKE) over Angus Anderson (BIGF) (Fall 0:44)
132: John Meredith (LAKE) over Kaden Torgenrud (BIGF) (Dec 2-0)
138: Ryder Nollan (BIGF) over Lucas Williams (LAKE) (Fall 6:00)
145: Payden Wysong (LAKE) over Wyatt Elwell (BIGF) (TF 16-0 2:35)
152: Weston Sobel-Schlewitz (LAKE) over Ian Wolfe (BIGF) (Fall 4:04)
160: Vaughn Pendlay (BIGF) over Dylan Scott (LAKE) (Fall 3:03)
170: Devon Suko (LAKE) over (BIGF) (Fall 1:48)
182: Hutton Hegbloom (LAKE) over Evan Tidwell (BIGF) (Fall 5:05)
205: Gage Oles (LAKE) over (BIGF) (For.)
285: Preston Jeffs (LAKE) over (BIGF) (For.)
---