Barbershop revives classic traditions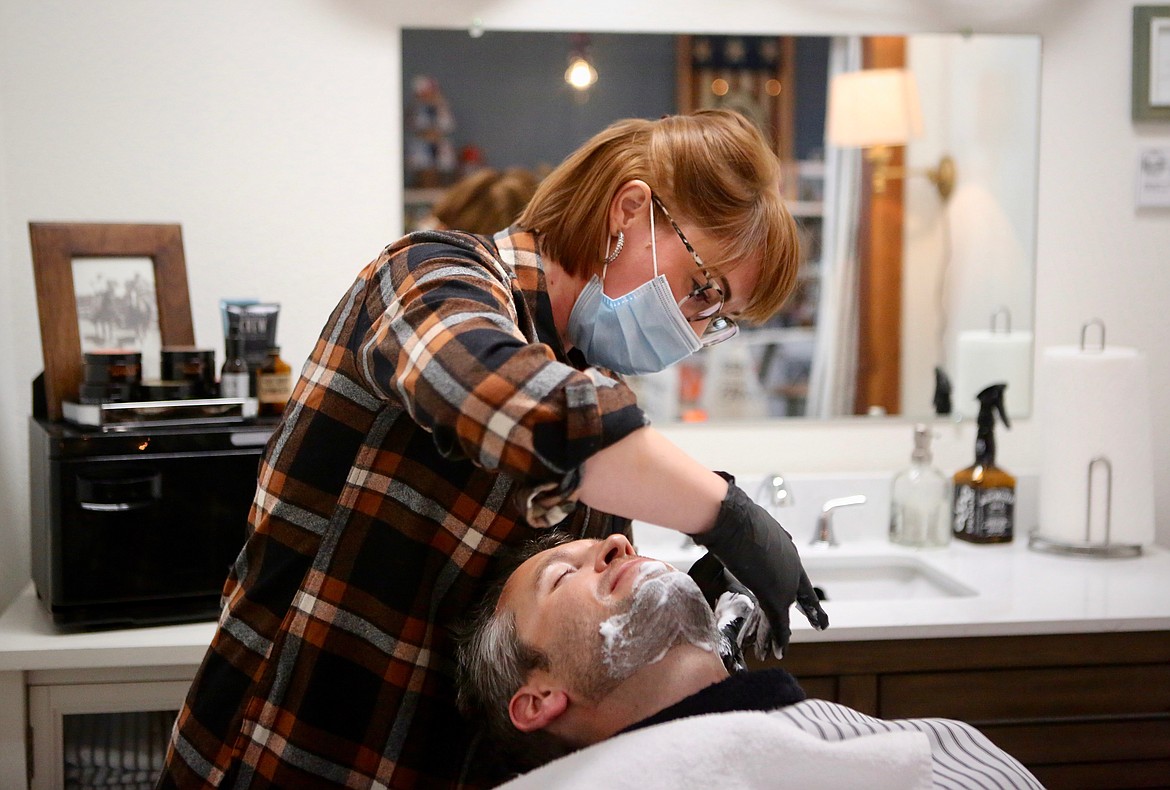 Markie Parks, owner of the new Swan Highway General Store & Barber Shop, shaves Mark Herman, a part-owner of Echo Lake Cafe on Thursday, Jan. 21.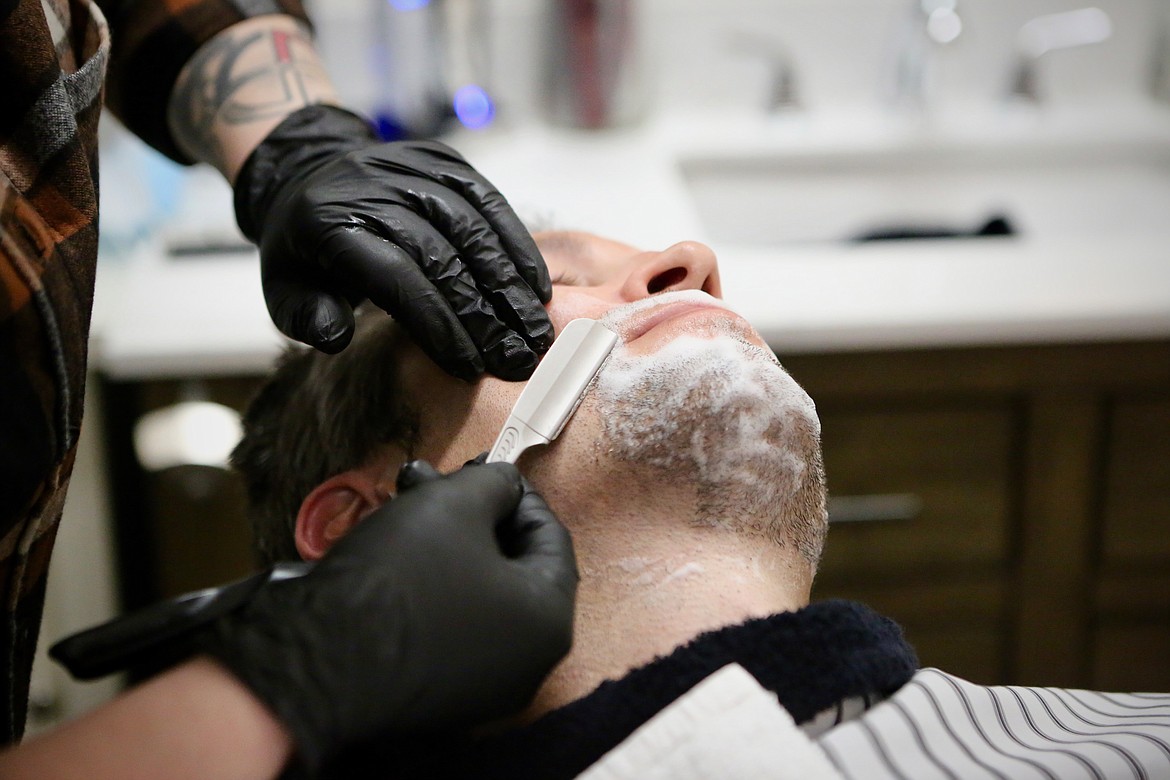 Markie Parks, owner of the new Swan Highway General Store & Barber Shop, shaves Mark Herman, a part-owner of Echo Lake Cafe on Thursday, Jan. 21. Mackenzie Reiss/Bigfork Eagle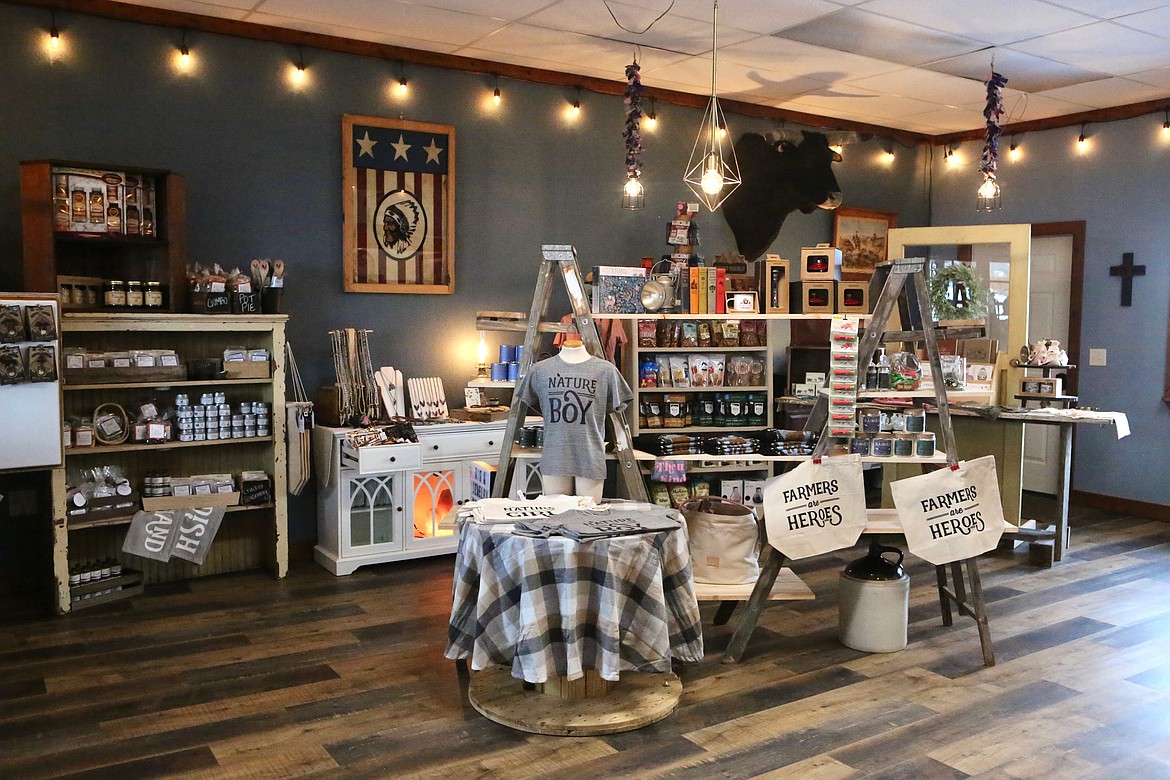 The Swan Highway General Store & Barber Shop is pictured on Thursday, Jan. 21. Mackenzie Reiss/Bigfork Eagle
Previous
Next
by
BRET ANNE SERBIN
For the Eagle
|
February 10, 2021 2:45 AM
There's a classic feel to the area around the intersection of the Swan Highway and Echo Lake Road.
The crossroads has long been home to the Echo Lake Café, a bastion of small-town charm and rural tradition.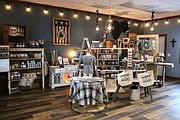 Now, entrepreneur Markie Parks is hoping to add to that authentic atmosphere with the introduction of Swan Highway General Store & Barbershop, a new business straight out of an era that has become history just about everywhere but Bigfork.
"I'm super motivated to bring back traditional barber services," said Parks, the business owner and barber at the dual barbershop-cum-general store.
She's motivated by the family legacy of barbering and the down-to-earth environment of her new home.
Parks' career follows in the footsteps of her late grandfather, a U.S. Army veteran who became a barber in Southern California after his military service.
She said her grandfather's dedication to the craft inspired her, not only to enter the field, but also to keep alive the practices that were popular back when her grandfather was holding the razor.
"There's a huge generational gap," Parks noted.
Her goal is to bridge that gap by reviving traditional services like hot lather shaves done with a straight razor.
"That stuff went out of style a long time ago," Parks said. "I'm bringing it back."
It was this appreciation for the antique that attracted Parks to the Bigfork area.
She grew up raising rodeo bulls in Texas and traveling around the country to deliver the animals to competitions. Along the way, she stopped in Montana, and it quickly became her favorite among all the destinations she'd visited.
"I've wanted to live in Montana since I was probably 17," Parks recalled. "It was one of those things that never came to fruition."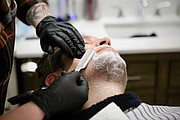 Instead, she found herself further west in Washington State, where she received her barber's license. For the past three years, she worked as a barber there, but Montana was always on her mind.
Finally, in August 2020, Parks found the space on the Swan Highway and decided to take the plunge into relocating and starting her own barbershop. She sold her home in Washington, moved in with her parents in Dayton and opened the doors to the Swan Highway General Store & Barbershop in November.
Parks recognized that it was a bold move, but she said her first few months have exceeded her expectations.
"I think every day I am surprised in such a good way that it is all that I wanted it to be," she gushed.
Starting her first business has no doubt had its challenges, but Parks said she's encouraged by the people she meets and the feedback she receives from her clients. They appreciate having access to a true classic barbershop, since many of her customers have gone years without a hot towel shave, and some of them have never had that experience.
She's confident her approach is one that will never go out of style. "No matter how technologically advanced we get, people still need haircuts," she pointed out.
The location, too, seems to be a big draw. Parks stressed her barbershop can accommodate any hairstyle, age or gender, which makes it convenient for families who no longer have to drive into Bigfork for a haircut.
To add further convenience, Parks' barbershop doubles as a general store, offering an assortment of food, drinks, housewares, toiletries and apparel. In the spring, Parks plans on introducing even more grocery store staples, as well as baked goods from her sister's bakery in Washington.
She also said she welcomes any feedback from customers on the items they would like to see at her shop, because she wants the store to cover the needs of anyone in the nearby rural community. "I'm really open to suggestions," she said.
Between the two sides of the business, Parks stressed, "there's something for everyone."
Swan Highway Barber Shop & General Store is located at 1189 Swan Highway Bigfork, MT 59911. Winter hours are 10 a.m. to 2:30 p.m., Sunday and Monday; 10 a.m. to 4:30 p.m. Thursday through Saturday; closed Tuesday and Wednesday. After hours haircut appointments are also available.
Reporter Bret Anne Serbin may be reached at (406)-758-4459 or bserbin@dailyinterlake.com.
---