Love in the time of COVID-19
by
MACKENZIE REISS
Bigfork Eagle
|
February 10, 2021 2:55 AM
In most classic love stories, the sweethearts are faced with an obstacle they must overcome for their union to continue. It might be distance, a family member's disapproval or differences in class or culture. For Sophia and Haig Ermoian, the coronavirus pandemic, which might seem a natural hindrance to their budding romance, turned out to be the very thing that brought them together.
"If it wasn't for COVID I don't think we would have gotten this close, this quickly," Sophia said.
Their story began back in 2018. Haig, a widower, told his friends that he was ready to begin dating again and asked if they had any recommendations. That's when Sophia's name came up. She was a successful divorcee living in California where she worked for a performing arts center. Their courtship began with hour-long phone calls, building up to Haig's first visit six weeks after they began talking. For months, the pair continued visiting one another before Haig invited Sohpia to join him on a 21-day cruise to Hawaii and Tahiti.
"Twenty-one days in a cabin on a ship in the middle of the ocean," Sophia noted with a laugh. "It's a small ship with not a lot of activity so if you don't get along with someone it's a little apparent."
But their time at sea went swimmingly and they even spent Christmas together later that year. Things took an interesting turn in March. Haig flew out to see Sophia and celebrate his birthday. They had plans to see a concert and visit family, but as the virus began to spread it became clear that that wouldn't be the case. Haig flew home to Montana, worried that they might close the airports. But after a week and a half, decided that if COVID-19 was going to mean staying close to home, he'd rather have company than go it alone.
"He called me and said, 'Why don't you just come up here? If you're alone and I'm alone why don't you come up here?" Sophia recalled.
She decided to make the leap and packed up her computer, her dog Huck and drove north. At first she figured on staying a month, but as the pandemic escalated and more and more things shut down, she found less cause to return home. Instead, they passed the days together in the comfort of Haig's home on the edge of the Swan River (check).
"We played a lot of dominos," Sohpia said with a smile. "He's sorry that he gave me some of the strategy because I can beat him now."
She loved his dry sense of humor that could get her rolling with laughter for five minutes straight, while he appreciated her outgoing nature -- the perfect balance to his more reserved personality. They came from similar backgrounds — both raised in family-centric environments; hers being Italian and his, Armenian.
"A month turned into Memorial Day weekend," she said.
A proposal was the logical next step.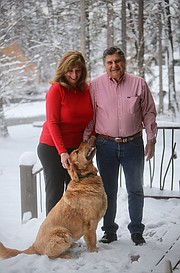 "[Haig] said something like, 'You want to get married? And I said, 'Yeah -- get a ring and get on your knee,'" Sophia said, "But he said, 'I can't get on my knee or I'll never get up.'"
Other traditions went out the window, too. Gone was the potential for a large ceremony with all of their relatives. Instead, they wed in Haig's backyard in an intimate ceremony with about 20 friends and neighbors. One of their close friends got ordained via mail to marry the couple and the affair was a cultural melting pot. They broke glass in the classic Jeweish tradition, in honor of their many Jewish friends, and guests threw pennies at them, as they do in Armenia, while they walked down the aisle together.
"It just makes sense if you get the right partner," Haig said.
They hope to have a larger celebration, perhaps this year, and finally introduce their families to one another.
"We're kind of old to have a love story," Sophia said, looking at her now-husband.
But are they really?
The couple is proof that you can find love again — and that nothing, not even a global pandemic — can get in the way of a true match.
---