Caring for creatures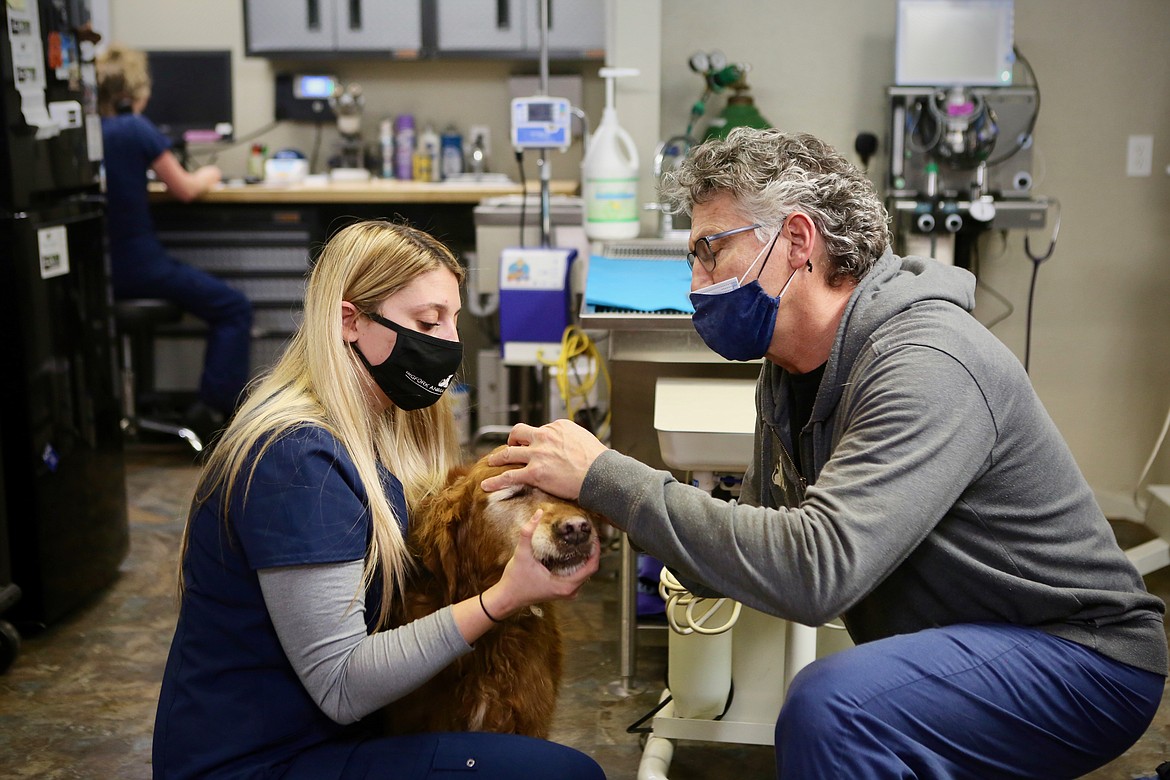 Veterinarian Dr. Jim Thompson cares for a canine patient at the Bigfork Animal Hosptial. Mackenzie Reiss
by
MACKENZIE REISS
Bigfork Eagle
|
January 6, 2021 2:45 AM
Everywhere you turn, a furry face seems to look back inside Bigfork Animal Hospital on a busy Friday afternoon. A black feline luxuriates in front of a computer monitor, surveying the day's activity in traditional cat-like fashion. Two vet techs kneel on the floor holding and comforting a curly-haired bernedoodle while she undergoes an IV treatment and above, a pair of small canines rest in cages after their respective surgeries. In a back corner, veterinarian Dr. Jim Thompson takes a call before emerging into the fray to consult with his staff over a cat x-ray.
It's just an average day at the animal hospital. Surgeries in the morning, followed by a string of visits throughout the afternoon. The demands of a small-town veterinary practice sometimes mean 12-hour workdays and a highly-variable patient load. While vets in larger communities have the luxury of referring out to specialists, Dr. Thompson handles a wide plethora of cases in Bigfork -- and farther north at his other practice, Whitefish Animal Hospital.
"In a small town you get to know people and we hope to maintain that small town feel," Thompson said of the Bigfork outfit. "For the most part you have to do it all, unless it's totally beyond your level of expertise."
Thompson has practiced veterinary medicine for 34 years, first in the busy metropolitain hub of Phoenix, before relocating to Whitefish in 1992. Thompson's heart was set on medicine by the time he entered high school, but he needed to decide whether he wanted to practice on humans or animals.
"I was like, I can either work with animals or I can work with people. At the time, I thought I didn't want to be yelled at by people," Thompson laughed.
He also wanted to ski and it was that desire that ultimately led him to Whitefish where he purchased Whitefish Animal Hospital. The clinic was housed in a small a-frame building and it was Thompson's for a downpayment of just $500.
"We walked in the door and [the vet] had a cat in one hand and a cigarette in the other," Thompson recalled. He knew from that moment that he could improve the practice. He also wanted to work exclusively on small animals, a focus he continues at Bigfork Animal Hospital, which he purchased two years ago. He now splits his time between the two locations, adding another layer of variety to an already diverse career.
"As a general practice veterinarian you're doing everything -- you're the radiologist, you're the pharmacist, you're the surgeon," he explained. "I probably average 12 hours a day, if not more. Most of the time we don't get lunch."
But the rewards are significant. Thompson has a particular fondness for orthopedics and often spends hours at the operating table putting beloved pets back together. He once fixed the broken leg of a cat that belonged to a little girl whose family had gone through a troubling time. After the surgery, the girl sent him a thank you note, which he keeps to this day. Other cases of note included repairing an eagle's broken leg. After the animal went through rehabilitation, Thompson was invited to watch it take flight and reenter the wild. And one of his first patients in the Whitefish a-frame involved some creative financing.
"A guy came in with a dog that had a broken leg and didn't have any money. I said, 'Do you have anything you can trade?'" Thompson said.
The dog's owner didn't have the cash, but he did have a rifle and was willing to hand over the weapon as collateral until he could come up with the money. It's this kind of meet-them-where-they-are attitude that is a hallmark of small town businesses, like the animal hospital. However, Thompson acknowledged that finances can be a trying aspect of his work.
"Sometimes we get caught in the middle. I'll have somebody come in, maybe with a fracture, and they may not have the money to do that and it's very difficult. It's not that we're the bad guy — I do have to pay my employees," he explained.
Thompson has noticed that a growing number of pet owners are willing to do more for their animals, which allows him to provide the fullest extent of care possible to extend or improve the animal's life. He does some pro bono work for local animal shelters and for select private cases, and to that end, has established the Mooch Fund to help offset those costs.
"We don't have a lot of money [in the Mooch Fund] but it gives us a resource … anytime we can do that, I will," Thompson said.
Among the most challenging parts of being a veterinarian is the emotional side of the job. He is aware that his animal patients are considered members of the family to their owners and for some, are their sole companions. This is most acute when faced with the difficult task of euthanizing a pet.
"It's very emotional," he said. "When we euthanize animals, you're doing the physical act but you also have to be that emotional support [for the owner]."
To help ease the pain of losing a pet, Thompson held celebration of life gatherings at his Whitefish practice. Prior to the COVID-19 pandemic, which put these events on hold, pet owners could gather and share stories and photos of their lost pets.
"I think for a lot of people it was good for them to realize that they're not the only ones," Thompson noted.
Grief isn't the only thing helped by a team environment. Both of Thompson's practices rely on a group of dedicated veterinary professionals. Oftentimes, the demands of the clinic mean that staff have to stay late or work through lunch during a surgery.
"I'll hire somebody for their attitude first -- I can train them on the veterinary medicine stuff," Thompson said. I've got a great crew and I can't do it without them."
---