Firearms sales set new records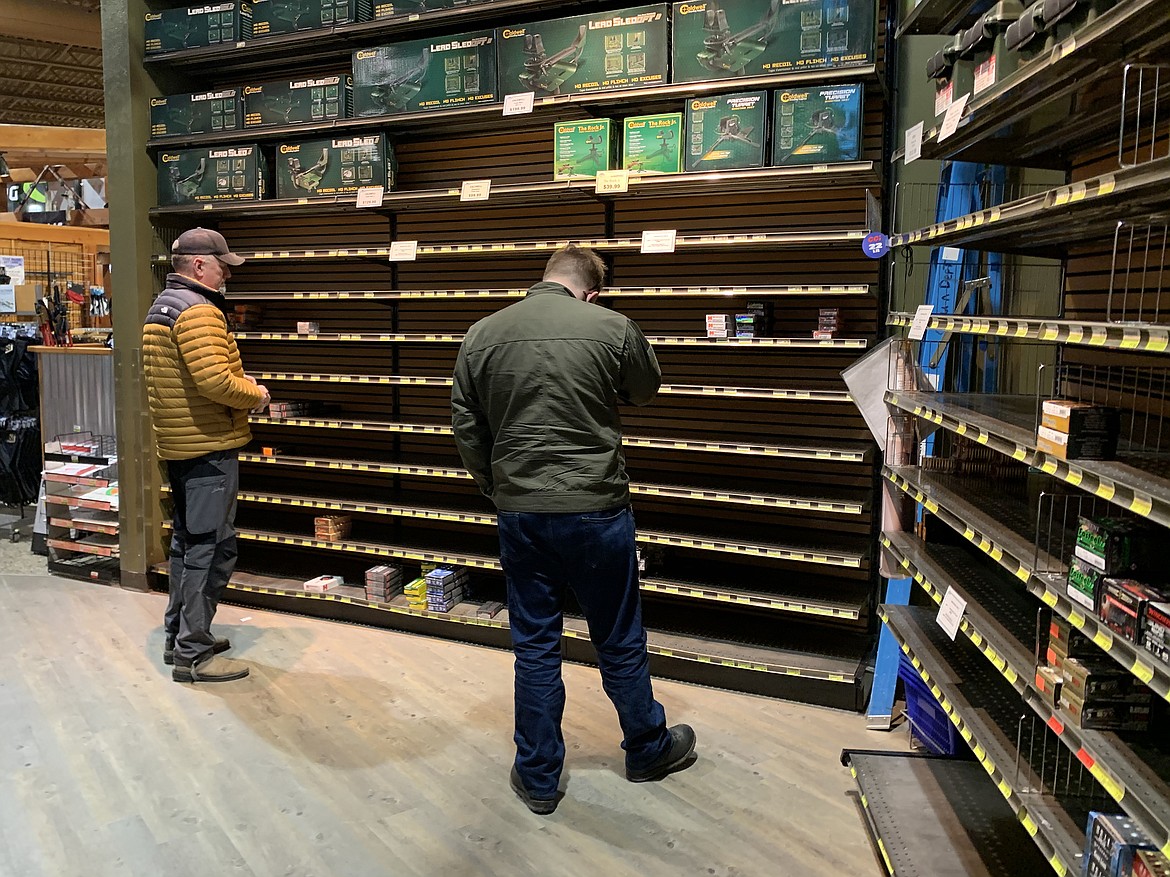 Customers look over the sparse selection of ammunition at the Kalispell Sportsman & Ski Haus Wednesday as a shortage has left the shelves bare for months. (Jeremy Weber/Bigfork Eagle)
by
JEREMY WEBER
For the Eagle
|
January 13, 2021 2:30 AM
An election year with massive political unrest and a surging pandemic created the perfect storm for firearms and ammunition producers and retailers in 2020 as sales set new records across the state and the country.
The surging sales have left sales racks and ammunition shelves bare as 2021 begins, with no end to the shortage in sight, according to local store owners and managers.
"We have the least amount of firearms available for sale in the building that I can remember in a very long time and that's all due to supply and demand," Sportsman & Ski Haus President Joe Power said while standing in front of the Kalispell store's diminished selection Wednesday. "We went into October with a normal amount of hunting ammunition and by the first week of November, that was all gone. That was gone and so was all of our handgun ammunition. Like any other sporting goods store, we have tens of thousands of rounds on order right now. It's not an ordering problem, it's a production and distribution problem."
According to Power and other retail owners in the area, the run on firearms and ammunition began in March 2020, shortly before the governor's first stay-at-home order, and has held steady ever since.
"Our sales spike started way before the election. It's really been since March. COVID kicked it off and the election just accelerated it," Snappy Sport Senter Vice President Jon Lupton said. "The sales increase has pretty much been across the board. Popular calibers, anything for personal protection, those sales have been high, but it has really been everything. It's getting to the point where people are grabbing guns in the more unusual calibers because there is still some ammo available."
According to Lupton, his store saw a two and a half to three times increase in firearms and ammunition sales in 2020 compared to an average year, but restocking the shelves has been tough.
"We've seen shortages before, but never anything quite this widespread," he said. "Our factory reps tell us that it's hard to run a production line when entire shifts can be wiped out by COVID precautions. It's hard for them to meet demand in those kinds of conditions."
In addition to the increased sales of handguns and tactical firearms, Kyle Joos, manager of the Sportsman & Ski Haus Kalispell store, said 2020 also saw a significant increase in the number of hunting rifles and field shotguns sold at the store. He attributes the increased sale to the number of new residents who moved to the Flathead Valley during the pandemic.
Local firearm manufacturers also have seen a sales boost. Jacob Hutchens, national sales manager for Kalispell-based Falkor Defense, has seen at least a 60% increase in sales since March 2020, a trend he expects to continue.
"2020 was actually a very good year for us as a firearm manufacturer. Our sales increased steadily over the entire year, but we have seen an increase since the election — a lot more sales, web traffic and phone calls," Hutchens said. "It's hard to say how long this will last, but based on previous reactions to political events, I would say we will see similar sales through the rest of this year at the least. I think the firearms industry as a whole will continue to see a rise in sales over the next few months."
While the surge of new firearms purchases have been a boon to local retailers, stores that specialize in used guns said the opposite has been true for their businesses. Richard Cheney, the owner of Short Colt Antique Arms in Bigfork, said that while sales have been strong, it has been nearly impossible to find new inventory.
"Nobody seems to be selling their firearms right now, and that is not good for shops like mine. Everyone wants to buy right now, so used firearms dealers are having a hard time finding new inventory. The $400 and $500 guns are disappearing pretty quickly, but the $1,000 and $2,000 stuff is still on my racks," he said. "We are living in some pretty trying times, but we are Americans. We'll get over all of this craziness and get back to normal."
While Cheney's fellow store owners agree the industry has seen shortages like this one before, they say the scope of the current shortage is unlike anything they have experienced before.
"We've been through three of these in the past 20 years because of various events. It's shocking that we are going through another one, but this one is a little different because even the less common calibers of ammunition are not available. People are buying up all of the available ammo and it's not just the political climate; COVID has certainly affected this situation," Sportsman & Ski Haus' Joos said. "Nobody has an answer for the ammo shortage. Everybody has opinions, but most of them are crap. After the last shortage, it took three years for the .22 ammo to get back to normal, but it did. This, too, will blow over."
---