Vikings dominate Troy at home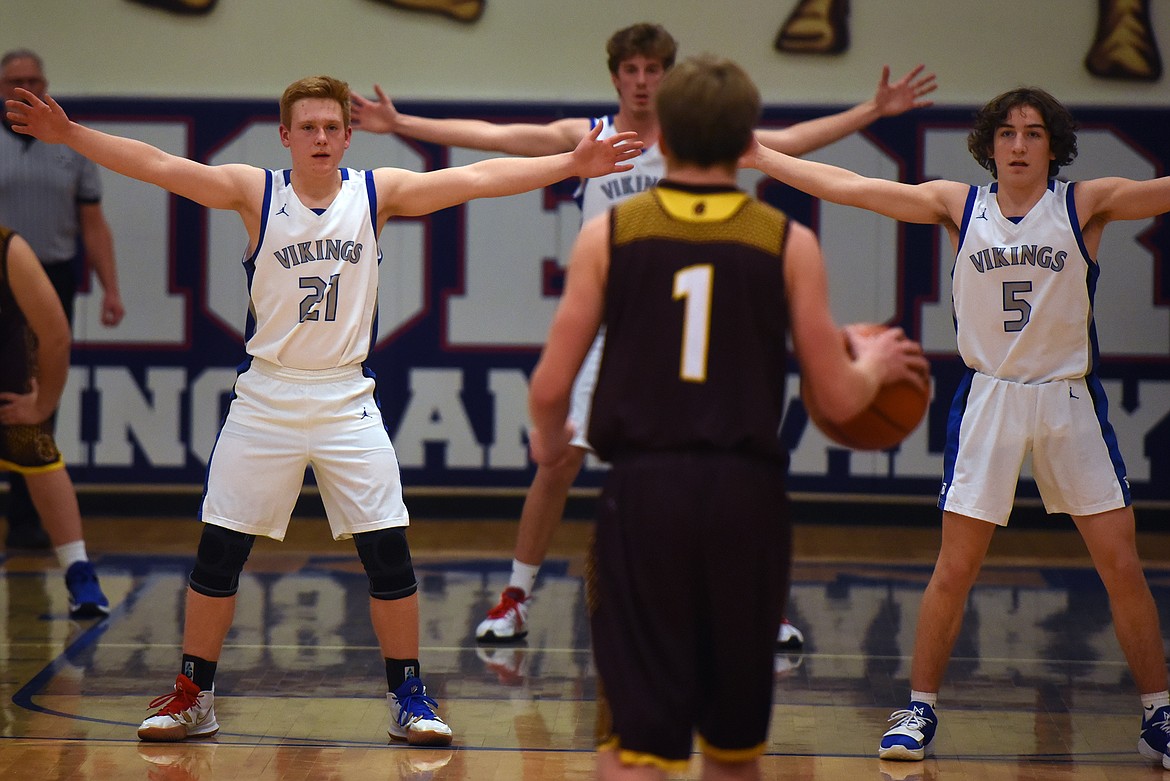 Troy guard Trevor Grant brings the ball up the court into the awaiting Bigfork defense of Colin Wade (21), Bryce Gillard (center) and Walker Fisher (5). Jeremy Weber
by
JEREMY WEBER
For the Eagle
|
January 13, 2021 2:40 AM
It was another full week of sports action for the Vikes and Vals as the Vikings took on Troy Thursday before traveling to Deer Lodge Saturday. The Valkyries saw most of their contests cancelled as their scheduled opponents battled COVID restrictions, but the girls were able to get in a last-minute matchup with Columbia Falls Saturday. The wrestling team was back in Florence for the second time in two weeks as they took on Florence and Townsend in a pair of duals. Swimming saw its first action of the season as the squad competed in Kalispell.
VIKINGS BASKETBALL
The Vikings came up just short in their first true test of the season Saturday as they fell to the Wardens in Deer Lodge, 53-51.
Bigfork held a 51-48 lead with a minute to play, but the Wardens knocked down a three to tie things up before scoring in the game's closing moments to escape with the win as a desperation heave by the Vikings fell short at the buzzer.
"We played a good game but they are a tough team to beat. They're probably the top team in their league, so it was still a good trip for us," head coach John Hollow said. "We had our chances but we just couldn't quite get it done at the end of the game."
Bigfork had its best game of the season from beyond the arc, knocking down nine of 24 threes but could not overcome 21 turnovers.
Despite the loss, Hollow was pleased with his team's performance.
"We played well and it gave us a good idea of where we are, what we do well and what we need to get better at. We battled all game against a strong, experienced, senior-laden team that likes to play a physical style of basketball," he said. "I thought we did a good job with everything. They just wound up getting one more bucket than we did."
Walker Fisher went six for 11 from three and led the Vikings with 20 points in the loss, but no other Bigfork player reached double figures as Isak Epperly and Bryce Gillard were the next leading scorers with seven each. Colin wade contributed six points, Nick Walker and Cormac Benn each scored four and Levi Taylor had three.
Walker and Benn each had six rebounds to lead the Vikings on the boards and Epperly added six assists.
It was all Vikings Thursday evening as Bigfork cruised past visiting Troy, 69-17.
Benn had 16 to lead the way for the Vikings in the win, Walker added 15 and Epperly scored 10 as Bigfork turned 39 Trojan turnovers into 34 points. The Vikings scored 54 points in the paint and pulled down 35 offensive boards on their way to outrebounding the Trojans 51-17.
Hollow said the game gave his squad a good chance to work on areas that needed improvement.
"I thought we did a good job against Troy being able to focus and work on what we needed to so we could get better," he said. "As crazy as this year is, we are glad to get in every game we can."
Taylor was the game's leading rebounder with eight while Walker and Benn added seven each.
The Vikings were back in action after press time Tuesday evening as they hosted Thompson Falls. Bigfork is scheduled to play again Saturday as the Vikings host Florence.
VALKYRIES BASKETBALL
The Valkyries battled frustration last week as their games against Troy and Deer Lodge were cancelled, but the team was able to pick up a last-minute game against Columbia Falls on Saturday.
Prepared to play an inter-squad scrimmage after the freshmen game against Flathead Saturday, head coach Cortnee Gunlock received a call offering a game against the Wildkats, who had seen their game against Polson also cancelled.
The Valkyries fell to the Wildkats 77-42, but were glad to be able to get a game in on short notice.
"It was a big letdown for us last week. It was hard to keep the girls engaged in practice, to be honest, so being able to get a game in was great for us," Gunlock said.
The Valkyries fell behind 25-7 after one quarter against Columbia Falls and could not fight their way back into the game as Bigfork had no time to prepare a gameplan.
"It was evident that we didn't have mental preparation or time to put together a game plan at all, but we would have played better," Gunlock said. "I was disappointed in our defense in the game. We have some fundamentals that we need to work on, but I think a lot of that was just not being able to prepare."
The Valkyries were able to get significant playing time for several younger players as Bigfork was missing three usual starters in the contest.
"We got the younger players a lot of experience against C-Falls, so that's a positive," Gunlock said.
Emma Berreth was the only Valkyries player to score in double figures as she finished with 16 points while Callie Gambala scored seven, Jessa Newton and Anika Ranson each added six, Madison Chappius scored five and Quinn Nissan had two points.
The Valkyries are scheduled to host Thompson Falls Thursday and Florence Saturday.
VIKINGS WRESTLING
The Vikings wrestler picked up a pair of wins at Florence Saturday as Bigfork dominated Townsend 72-6 before earning a victory over Florence via tiebreaker.
All eight of the Vikings' who saw action against Townsend won via Fall as Townsend's only points came via forfeit in the 126-pound weight class.
Angus Anderson had the fastest pin of the match as he took down opponent Thomas Buresh in 21 seconds in the 120-pound division while Vaughn Pendlay, Sheldon Woll and Eli Tidwell also pinned their opponents in less than a minute.
Ryder Nolland, Archie Brevik, Joseph Farrier and Evan Tidwell also picked up victories.
Anderson and Brevik pinned their opponents against Florence in their matchup, but the dual remained close going into the final matches. Bigfork took a 33-30 lead after Dale Reylea picked up an 11-8 decision over Dallas Blair in the 182-pound weight class but trailed 36-33 after Evan Tidwell fell in his match against Luke Maki. Fletcher Postlewait battled to earn a 9-4 decision over Jared Pallo in the heavyweight division as his win tied the dual at 36.
Bigfork came away with the victory via tiebreaker with seven wins (including forfeits) to Florence's six.
The Vikings will be at home this weekend as they host the Bigfork Mixer Friday and Saturday.
SWIMMING
The Valkyries were in action in Kalispell Saturday as they opened their season at the Summit.
Sophi Logue, in her first action since winning the state title in the 100 butterfly last season, finished second in the 200 individual medley and also took fourth in the 100 freestyle while Sydney Slawter was sixth in the 100 backstroke and seventh in the 500 freestyle.
Head coach Charlie Ball said the first competition is always about finding out where your swimmers are and making a plan for the rest of the season.
"Our first meet is always about getting a baseline and seeing where our swimmers are at in their first race of the season," she said. "After that, we can start fine tuning and working on individual progress."
The Valkyries had several other top-15 finishes at the meet as Soraya Brevik shaved two seconds off her personal best time to earn 13th in the 200 freestyle. The team did well in the 100 breaststroke as Allie Reichner took ninth, Grace Stewart was 12th, Tabitha Raymond was 13th, Erika Dowling was 14th and Kylie Kinslow earned 15th.
The team is scheduled to be in action at Polson Saturday, but pool maintenance issues have that meet in doubt. Ball says that she hopes to pick up a virtual meet if the team is unable to compete in Polson, but the team lacks a home facility in which they could swim.
"I wish I had a facility where we could host our own meets, but right now we are at the mercy of what other facilities in the area are willing to do in order to help us out," Ball said.
---